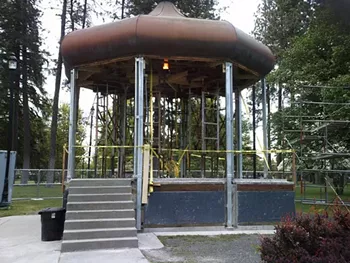 If you're headed to ArtFest in this weekend and haven't been by Coeur d'Alene Park in a while, you're going to notice something different about the gazebo. First of all, you won't be able to look to closely — the structure at the center of the Browne's Addition park is enclosed in a chain-link fence as it undergoes a major renovation.
The copper-domed structure, also known as the pavilion, has been closed to the public since the beginning of May for a $200,000 restoration project that is replacing its wooden parts with more durable materials — concrete and steel. The foundation and dome will remain the same.
Coeur d'Alene Park was Spokane's first public park, built on land donated by A.M. Cannon and the eponymous J.J. Browne. The gazebo was built as a replica of the original bandstand (at a cost of $90,000) and opened to the public in 1990. Only a few years later, vandalism and weather had already taken a toll.
Advocates pointed out its deterioration — the concrete foundation crumbling at the corners, the wood splintering and warping, blue and yellow paint flaking from the beams. After months of discussion and planning, the renovation is a joint effort from the Browne's Addition Neighborhood Steering Committee, the City of Spokane parks department and the Spokane Parks Foundation, with the money coming from various sources.
Earlier this month the dome appeared to float, supported only by a latticework of scaffolding after the painted wooden beams were removed. Now its new supports are taking shape, day by day, but the project won't be finished until mid-summer.