After 40 years, Mel's Nursery is ending its run as a North Division landmark for floral, furniture and gifts. The sprawling store and greenhouses will close in September.
"On behalf of all of us at Mel's Nursery, we want to thank the community and all of our loyal customers for making Mel's what it is today," owner Sue Nimmer Shaw says in a press release. "This business decision is bittersweet, but just another chapter in our lives."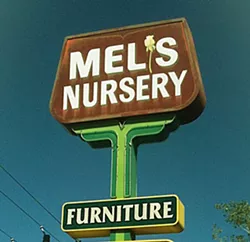 The property is being sold to the neighboring
Wendle Motors
, which is located where Shaw's father, Morrie Nimmer,
used to own the "Y" Drive-In theater
. Mel's Nursery got its start in 1970 as a fruit and plant stand in front of another drive-in Nimmer once owned, the Auto-Vue, before moving to its current location in 1983.
Shaw says they weren't looking to sell, and the deal was "just something that happened."
"There is no one I would rather sell to," Shaw says in the release. "Wendle has been a great neighbor."
Shaw doesn't rule out a possible "mini-Mel's" in the future, depending on how things work out.
Mel's has placed numerous times in numerous categories like Best Gifts and Best Home Decor in The Inlander's annual Best Of readers poll. Closeout sales will begin this Friday both outdoors at the nursery area and indoors, longtime employee Diane Newton says.
"I think a lot of people are going to want to come say goodbye to a landmark," she says.