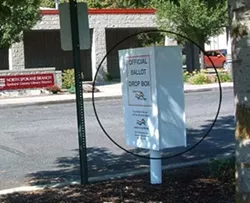 Turnout during local primary elections is historically lame. Last August it was
27 percent in Spokane County
. Even that was higher than the 22 percent state average.
Let's try to break the 30 percent mark this time around, shall we?
Those of you who are registered to vote have received your ballots in the mail and (we trust) read our rundowns on who's asking for your vote for the Spokane City Council, the Valley City Council and the state senate seat representing the far-flung 7th District. If not, bone up, and/or check out the County's Voter Guide.
Ballots must be postmarked or dropped at one of these locations by 8 pm tomorrow (results starting flowing at 8:15):
Airway Heights (1213 S Lundstrom St)
Argonne (4322 N Argonne Rd)
Deer Park (208 S Forest Ave)
Downtown (906 W Main Ave)
East Side (524 S Stone St)
Fairfield (305 E Main St)
Hillyard (4005 N Cook St)
Indian Trail (4909 W Barnes Rd)
Liberty Lake (23123 E Mission Ave)
Moran Prairie (6004 S Regal St)
North Spokane (44 E Hawthorne Rd)
Otis Orchards (22324 E Wellesley Ave)
Shadle Park (2111 W Wellesley Ave)
South Hill (3324 S Perry St)
Spokane Valley (12004 E Main Ave)
STA Plaza (701 W Riverside Ave)
Elections Office (1033 W Gardner Ave)
The two candidates with the most votes in each race will continue on to the general election Nov. 5.