It's time yet again to introduce readers to another kitty who's gone viral on the Interwebs for its unusually cute looks. Really though, this cat has got to be one of my absolute favorite Internet cat discoveries in a while (that's saying a lot — really)! She is so darn CUTE.
So, without further delay, I'm pleased to introduce Cat Friday readers to the one and only Baby Bug!

This little Vegas-based cutie clearly doesn't look like most other cats; she's got a petite pink nose that causes her amber eyes to appear more widely set than other cats, but of course these traits are what make Bug so. darn. cute!
Her owner recently told cat blog Catsparella how Bug went from being an odd-looking kitten in a high capacity shelter (Bug would have been at risk for euthanasia had she stayed there much longer) who'd been passed up multiple times because she was "weird looking," to becoming an Instagram celebrity with more than 11,000 followers.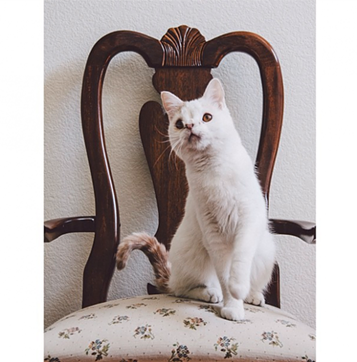 Baby Bug's facial deformity doesn't cause her any health problems, her veterinarian says, it just makes her unique looking and we think that's really cool. Not only that, Bug's human mom says Bug's personality is just as goofy and silly as her cute looks. Her characteristic meow sounds more like "brrrrrrrrrreow!" and Bug loves to ride on her human's shoulders, eat ice cream and play with hair ties.
Baby Bug is definitely a cat you should start following on Instagram right meow. And you know what? Shame on all those people who passed Bug over in the shelter because of her unusual looks. Don't people get it by now that looks have nothing to do with a cat's (or person's, for that matter) personality? Or that "different"-looking cats are usually the ones who become huge Internet celebrities? (Not that Bug's owners had that in mind when they adopted her). Consider how many other odd-looking yet adorable cats there are who've become massively famous on the Internet: LIL BUB, Grumpy Cat, Colonel Meow, Princess Monster Truck, Venus, and now Baby Bug!