The Halloween season is upon us and costume-planning for adults, kids and even pets is in full swing. That got us thinking... Why not ask Cat Friday readers to send us photos of their cats wearing totally ridiculous — yet completely adorable — costumes, for the first ever Cat Friday Halloween Cats Photo Contest?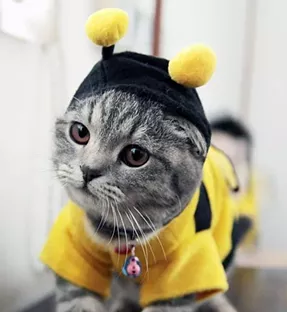 The beloved October holiday is in about three weeks, so there's still plenty of time to get shopping, online or at the pet stores, or better yet — making a goofy and cute cat costume of your own. Don't have any ideas? Trust us — a Google image search will be plenty inspiring.
Maybe people think of this as crazy, because what cat is going to actually put up with wearing a costume? Cats are known for turning into immobile lumps of fur and whiskers when any kind of object or article of kitty-sized clothing is put on them, and most cat owners are fully aware of this. But hey, maybe your cat is the docile kind that doesn't mind this so much, and that's why we want to see your cat in a costume. It doesn't matter what, or how fancy — a little hat, an adornment around their neck or a full-blown outfit with accessories. We'll include all of our favorite ones in a special Halloween-week (Meow-loween!) edition of Cat Friday.
Think about it. Your cat will not only gain Cat Friday notoriety, but it could just be the launch point for its viral, online fame.
Email photos to CheyS@Inlander.com no later than 11:59 pm on Wednesday, Oct. 30. Please include your cat's name and where he/she is from! Then check back on Halloween to see if your cat is featured!