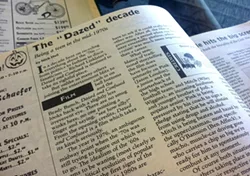 The very first issue of the
Inlander
, back in October of 1993, featured stories about the opening of Boo Radley's and the newest Pearl Jam album. The second issue featured a cover story about the "coffee craze" and a review of Richard Linklater's
Dazed and Confused
:
"Like the montage of photos in our high school yearbooks, Dazed and Confused conjures memories not everyone will welcome. But even those suffering the most severe denial may find themselves growing a little bit nostalgic when they hear Aerosmith's 'Sweet Emotion, or worse, chiming in on the chorus of Alice Cooper's 'School's Out.'"
The movie looked back 17 years to 1976, a time of T-shirts emblazoned with Adidas logos and notebook doodles of marijuana leaves (according to that same review). Now, of course, we're looking back even farther on 1993, which I remember as an era of Lisa Frank stickers and watching Aladdin on VHS at slumber parties.
Join us in doubling the nostalgia with a showing of Dazed and Confused this Thursday for a special edition of the Suds & Cinema series at the Bing Crosby Theater. No-Li will be pouring $3 beers, and we'll have a short documentary about the history of the Inlander before the feature film.
Join the Facebook event here.