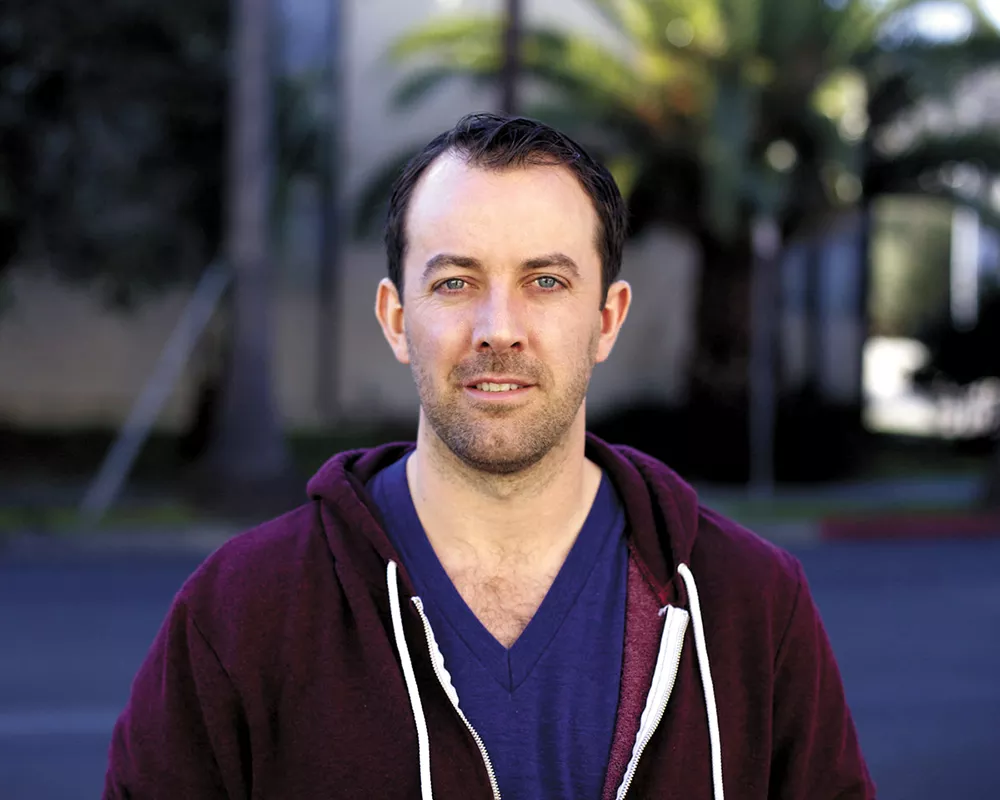 Dan Cummins is an easy kind of funny. When you talk to him, it doesn't feel like he's trying to make you laugh... he just does. And so does he. It's easy to see that the Spokane-bred comic has changed in the past three years, since he moved from the Lilac City and got serious about his career in Los Angeles. He's parted ways with a lot of his absurdist material, shed the onstage persona of his earlier days. Now he stands at the mic, acts like himself and talks about his life, which is so much funnier than anything he could have made up.
In anticipation of his show Saturday night at the Bing, we called up Cummins to chat about his shifting style and why he still writes jokes about his kids.
INLANDER: When we last talked to you in 2009, it seemed like you were on the cusp of something huge. What have you been up to since then?
CUMMINS: Right — I was just about to do The Tonight Show for the first time. And I was just about to tape the hour special for Comedy Central and move down to L.A. All that stuff happened and things are good. It's interesting, though: you put certain expectations on yourself in this business. It's like "household name or bust." And that really is so unfair, no one does that with another job, like "I'm going to be the president of this company or it isn't worth it."
But things are better, things are moving up. I had help from unexpected places, like Pandora. Pandora has given me new life. Over a million stations have been created based on my stuff.
Since you've moved to L.A., it seems like your style has changed quite a bit.
I haven't put up enough videos of the newer stuff. There's that Leno video of the newer style. ... On the Hear This album, just even listening to it, it's very different than what I recorded in Spokane. I just fell in love with stories, like real stories. I'm a big David Sedaris fan. I love writing jokes, I like to go on imagination hunts to weird places in my mind. [But] it became more important to me to reveal more of what I think about this and that. I started doing that in Crazy with a Capital F, but the next album, for some reason, I told myself that everything that I say that I did is going to absolutely be true.
I'm sure that if you are telling true stories, they're going to come across as more authentic.
You're just naturally going to be more passionate about it. ... I talk about my fiancée, we talk a lot about communication stuff. I do a little bit about men/women communication styles. And I talk about how her stories can be long-winded, but I play a legitimate voicemail of hers onstage that she didn't leave to be funny, it's something she truly left me.
Does she care that you use her in a bit?
Actually, the audience gets more upset on her behalf than she gets. I do have her permission for this. It's funny, because I would talk about all of these things that have kind of a hateful spin on them, and [the audience is] totally cool with all that. Then I'd tell them "I'm going to play a voicemail [from my fiancée]" and they were like "Whoa."
That's funny, because in the piece we wrote about you before, you talked about the toll your career took on your family. But that doesn't deter you from writing jokes about them.
I definitely don't ever want to do a joke that will be damaging. The closest I get is that joke where I say, "When you have more than one kid, you love them the same. But you like one better." That joke has made me more nervous. But on the CD, I definitely talked [my daughter] up more, and on this material, I feel like I comedically owed her to make her look like the good guy. ♦
Bada Bing! Comedy Series feat. Dan Cummins, Marc Yaffee and Harry J. Riley • Sat, Nov. 23, at 8 pm • Bing Crosby Theater • 901 W. Sprague • $15 • All-ages • ticketswest.com • (800) 325-SEAT