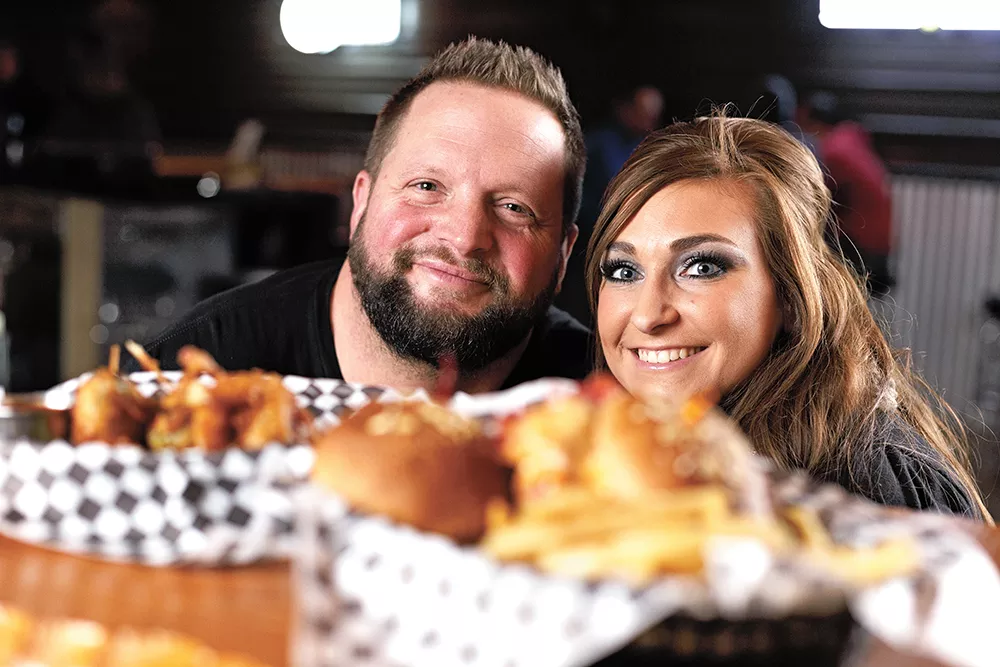 William Webster says he just couldn't pass it up.
Outside his new smokehouse and bar on North Monroe Street, cold rain is turning the neighborhood gray. Across the street is a boarded-up hardware store and a parking lot; next door there's a credit union and more open lots. Cars rush through the intersection where Northwest Boulevard splits off to Indiana Avenue. Webster sees a place to put down roots.
"Everyone's like, 'Oh, you're in that neighborhood.' We've heard that since we started this project," he says. "And it's funny — it's a blue-collar neighborhood, we're not, like, in the 'hood."
Webster, 39, has reason to be confident. Ever since he opened Herbal Essence in 2003 after earning acclaim at Ankeny's, each subsequent project — Isabella's, Zola, Geno's — has been a little bit farther from the city core. And the crowds have followed.
No other local chef has opened and sold as many successful spots in the past decade. But this one is different. Until now, he's never owned the whole property. And he's never put his own name on the project. Here, it's spelled out in 150 belt buckles embedded in the bar: WEBSTER'S.
Webster's Ranch House Saloon is a team effort. Webster and his new wife, Cody, spent the summer staying up late making plans and building out their ideas. They did most of the construction themselves, giving the bar a pared-down Western theme with metal-and-wood walls trimmed with rope and washing boards. They placed the belt buckles and poured the bar. They got slabs of wood for tabletops from a man who was selling carved bears at the fair, then finished and built the tables themselves. William created the food menu; Cody did the drinks. And the work hasn't slowed down.
"She helps take care of the front of the house, I take care of the back of the house," William says.
Two weeks after the restaurant opened in early October, William and Cody were married.
"I think I was more worried about the restaurant than the wedding, to be honest," Cody says. "The wedding seemed easy compared to all this. It was like a vacation."
They didn't want to alienate the folks who frequented the spot when it was previously Working Class Heroes, and Webster's is a place where the beer-swilling, meat-eating football crowd will feel right at home. A screen fills a wall for showing games, and there's sand out back for volleyball next summer. But the casual, unhurried atmosphere belies the creative menu and attention to detail that characterizes any Webster establishment.
Smoking meats is an opportunity to do something different, William says, and the smaller menu, prepared daily by longtime chef Noah Leffel, keeps the quality consistent.
"It's what I enjoy," William says. "You get to spend more time fine-crafting 10 items instead of building a gigantic menu like at Isabella's or at Geno's."
The menu includes a few salads, but the true focus here is on anything "so rich it melts in your mouth." Soon, they're planning to do Kobe beef sliders topped with pan-seared pork belly.
Don't be shy about ordering the "Wolf Turds" — deep-fried, bacon-wrapped jalapeño, stuffed with cheeses and sausage — or try the smoked brisket.
"Once you get brisket done right — we didn't get it right at first, it took a month of cooking to make it right," he says. "But once you get brisket smoked right, it's money. It's perfect."
Served in Mason jars, the no-nonsense cocktails are made with high-end spirits, including Maker's Mark and Jim Beam. Cody recommends the Jameson & Ginger.
There are beer specials during games, and a $5 food menu during happy hour that's been drawing the after-work crowd. It's not downtown — and the Websters like it. They met through the same late-night circles that revolved around the MarQuee Lounge, but those days were over even before the MarQuee closed.
The Websters are happy to open the doors and let the neighborhood discover the drinks and food for themselves. That's how it was at Zola, William recalls — he and Dan Spalding decided to open the doors on a Tuesday and a few dozen people showed up. That's how it happened at Isabella's, too.
"This is how everything of mine is ever done," William says. "When you put that hype so high in the beginning, you seem to decline. You get that massive rush in the beginning — I like it the opposite direction." ♦
Webster's Ranch House Saloon • 1914 N. Monroe • Open Mon-Thu, 11 am-midnight; Fri-Sat, 11 am-1 pm; Sun, 10 am-10 pm • facebook.com/WebsterSaloon • 474-9040