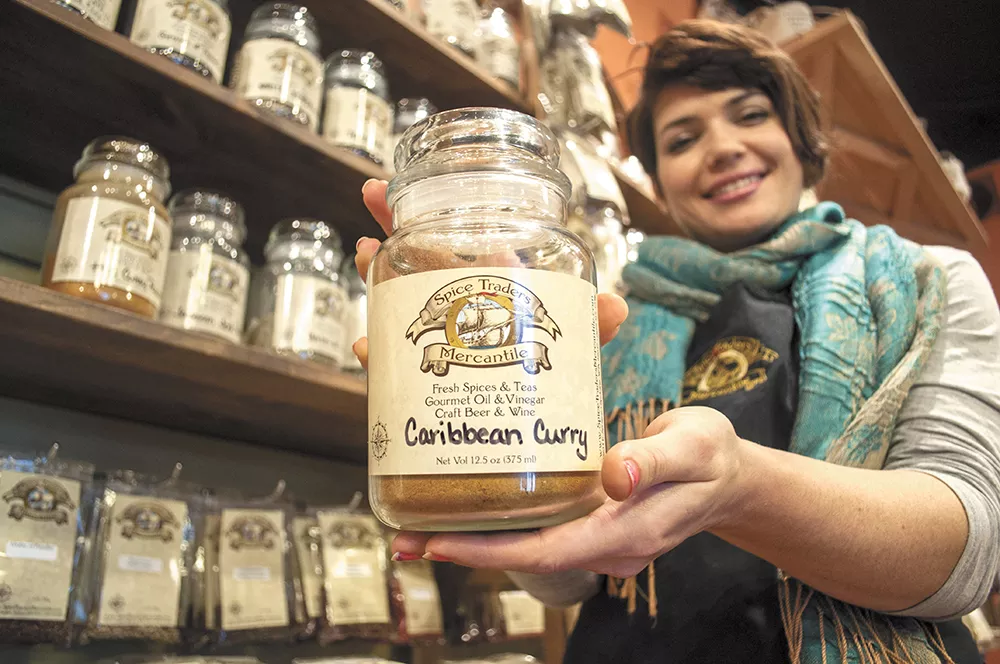 Jars of spices from all over the world speckle the wall with green, orange, bright red and pale colors.
There are 120 spices and spice blends in the nautical-themed shop. Most are from the Middle East and Asia — spices like zahtar, besar, baharat and togarashi.
Spice Traders Mercantile purchases its spices in small batches, so they don't sit on the shelf for weeks or months, says Bill Coyle, who owns and runs the shop and the adjoining Plantland Nursery with his wife, Jan Love. (They refer to themselves as the Creator of Chaos and the Princess of Prosperity, respectively.)
Being a specialty food shop, Spice Traders has more than just spices ($3/ounce on average). It stocks 80 kinds of loose-leaf tea, local honey from a farm down the street, craft beer in bottles, and wine from around the world not typically found in supermarkets.
In the middle of the room, the numerous silver jugs of olive oil and balsamic vinegar make the shop a tasting room, too. The oils and vinegars drip out of the spigot like molasses, and a small paper cup can give you a taste of each of the 10 flavored first-cold-pressed extra-virgin olive oils and 28 kinds of balsamic vinegars (about $2/ounce). The vinegars, infused with natural flavoring with no sugar added, come in flavors like fig, strawberry, garlic-cilantro, chocolate and bergamot-lemon.
"They pair extremely well with anything," Coyle says. "It's endless; I'm always experimenting and finding interesting things to do with [the balsamic vinegars]."
Mixing balsamic vinegar with salad — what most people think to do — is way down on the list, he says. Coyle suggests using it to glaze meat, pour over ice cream or cheesecake, cover fresh-cut fruits, steam with vegetables, blend into sauces or soups, or even bake.
Soon, you'll be able to attend cooking classes at Spice Traders. The shop, which opened two years ago, is currently expanding its space to double the current size. They planning to bring in new products and hold events and classes in the additional space, which they hope to have ready by the new year, Coyle says. ♦
Spice Traders Mercantile • 15614 E. Sprague, Spokane Valley • Open Tue-Sat, 10 am-6 pm • spicetradersmercantile.com • 315-4036