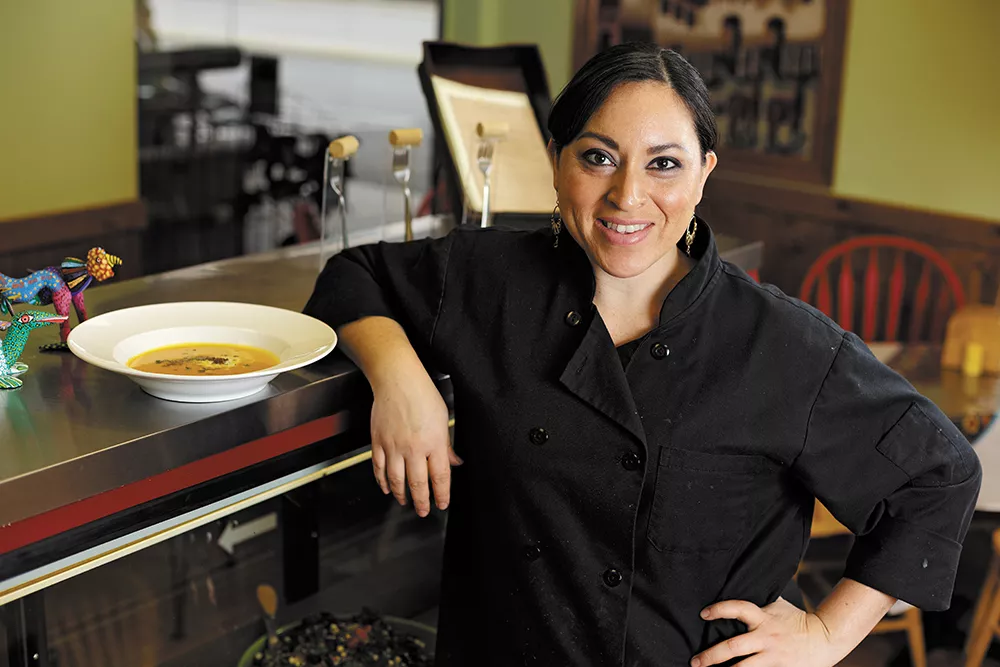 Incorporating nutrient-rich foods from around the world is something Cafe Carambola's Colomba Aguilar does naturally. "I try my best to re-create foods we discover through our travels," says Aguilar, who explains the origin of the style of cooking she calls Nuevo Latin Fusion: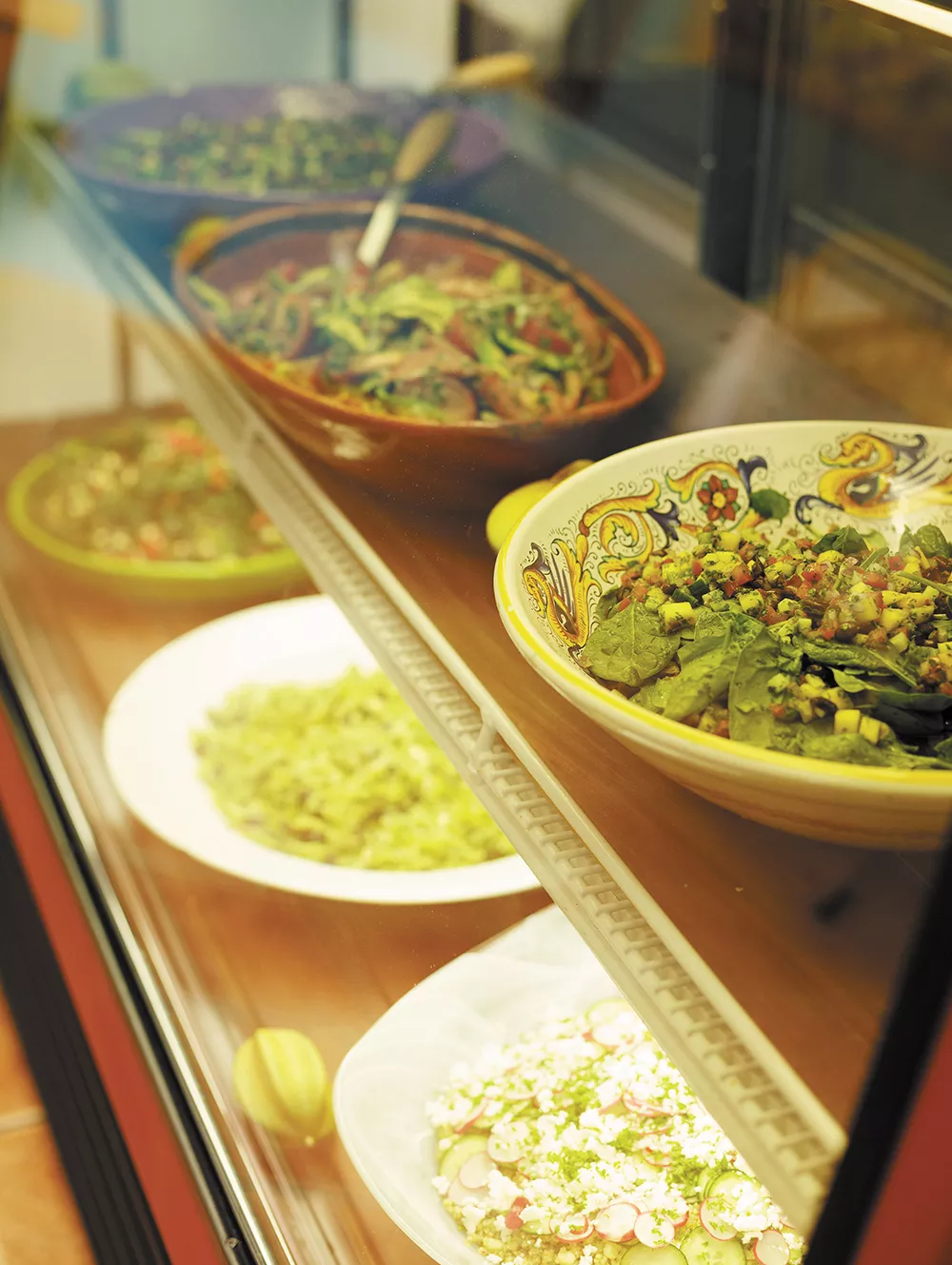 "When I was in culinary school [at San Francisco's Le Cordon Bleu], I had the chance to volunteer and attend an incredible food conference in Napa that I felt was life-changing." Aguilar attended college at Brigham Young University, then spent 18 months in Argentina, eventually realizing her future needed to involve food.
"[The conference] showcased foods from all over Latin America, along with music and dancers from these countries. I decided I wanted to experience firsthand what each of these countries has to offer."
During an internship in the Yucatan, Aguilar met her future husband Carlos. The couple relocated to Coeur d'Alene in 2005, and within a short time, started a family and opened Cafe Carambola.
"I plan our trips around different foods and specialties that are found in different regions of wherever we are visiting," says Aguilar. "We love to eat our way through different places and to meet locals and get into their kitchens."
That means a menu chock-full of fresh, zesty salads and sandwiches at the weekday lunch spot. Tabbouleh, for example, gets a twist with farro grain, green apples, red peppers, garbanzo and pepitas (pumpkin seeds), while the Incan quinoa salad marries tangy tomatillo and queso fresco with the crunch of sweet corn and radishes.
Although her travels have taken her throughout Central and South America, the flavors she knows best are from Mexico. Her parents — both excellent cooks, says Aguilar — are from the north, while Carlos introduced her to central Mexican cuisine.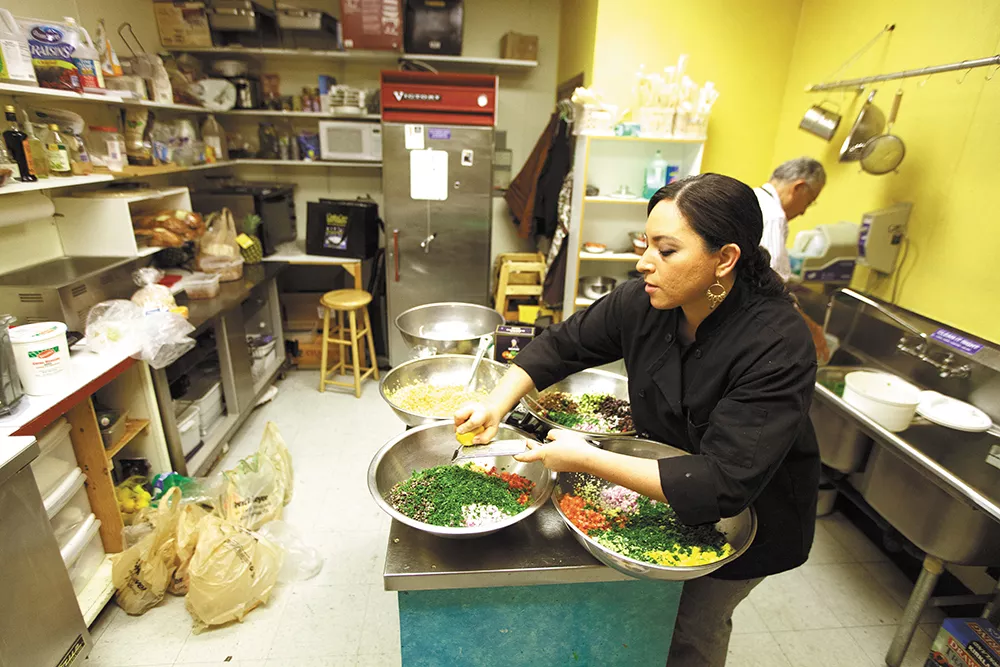 "I feel it is because of our love and appreciation of natural, clean and wholesome food that we tend to seek out and create food that fits this same description," says Aguilar, who also teaches cooking classes and offers catering services.
Subjects of her past classes this year at the Jacklin Arts & Cultural Center include tamales — once considered fit for only the gods — Mexican brunch and a range of soups.
"I absolutely love teaching," she says. "I feel like I'm the one who learns the most from doing so." When she's not cooking — her parents and Carlos help run the cafe — Aguilar enjoys photography, dancing, being with her family and "entertaining friends with fabulous meals."
Even outside the kitchen, she loves to learn about food: "I also make it a habit to read cookbooks, along with books that are all about the nutritional benefits of different plants and foods." ♦
---
Sweet Potato and Quinoa Soup with Gingered Yogurt
Sweet Potato and Quinoa Soup
2 medium-sized red garnet sweet potatoes
1 medium-sized white onion
¼ teaspoon ground cinnamon
½ teaspoon ground cumin
1 large bay leaf
¼ teaspoon ground cayenne pepper
¼ cup quinoa (white or red)
3 cups chicken or vegetable stock
1 cup coconut milk
Gingered Yogurt Topping
½ cup plain Greek yogurt, room temperature
½ teaspoon fresh ginger, grated
2 tablespoons cilantro, minced
juice of half a lime
salt to taste
1. Scrub sweet potatoes, leaving peel on, and dice into half-inch pieces.
2. Dice the white onion.
3. Preheat a medium stockpot over medium heat.
4. Add ground cinnamon, cumin, bay leaf and cayenne. Stir spices until well-toasted and very fragrant.
5. Immediately add diced onion and cover. Let the onion sweat for 5 to 6 minutes.
6. Add sweet potato, quinoa and soup stock.
7. Cover and bring to a boil, then reduce heat to a simmer. Check mixture after 15 minutes. The quinoa should be cooked and the sweet potatoes should be softened.
8. Purée the soup in a blender until completely smooth (remove bay leaf first if you're not using a high-speed blender).
9. Return soup to the pot and stir in coconut milk.
10. Consistency and thickness of soup will vary according to the size of sweet potatoes used; add more stock as needed.
11. Season to taste and keep on lowest heat.
12. In a food processor or blender, combine yogurt, ginger, cilantro and lime juice. Process until smooth. Add a pinch of salt.
13. Ladle soup into bowls and garnish with a dollop of the gingered yogurt topping.
Serves 4 to 6