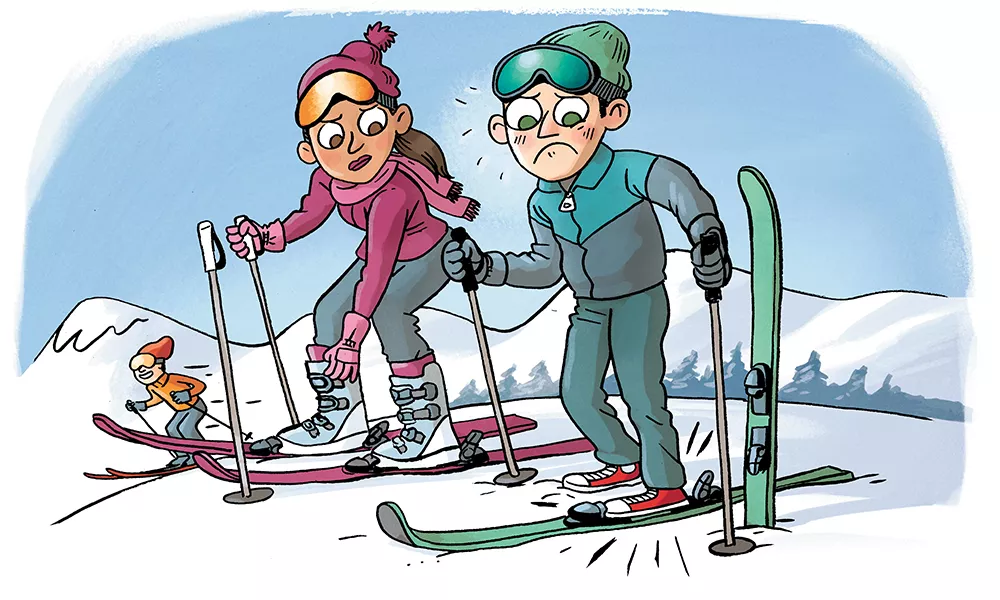 I've been skiing for many years. I find myself comfortably in a routine when it comes to making sure I have everything I need for my day on the hill, but it never ceases to amaze me how easy it is to make one of these rookie mistakes. Just remember, it doesn't matter how long you've been skiing; you will most likely experience one of these rookie mistakes — or create your very own.
A friend confessed to me that she was so excited about a powder day, she left her condo, loaded her gear into her car and made her way to the parking lot. She quickly ran up a flight of stairs, hoping to make first chair for yet another great day. She was concerned about how her legs would feel after skiing from first to last chair the day before, but as she ran up the stairs, she thought to herself, "Man, my legs feel great!" She got into the village, threw her skis down, and went to click into her bindings — only to realize the reason her legs felt so good was because she was in her running shoes, not her ski boots.
A couple of seasons ago, I was at Lookout Pass on opening day. I got to the parking lot early, loaded the chair with eager skiers and snowboarders. Rode the lift with old winter friends and made new ones, and got wrapped up in the season's first ski day. At the top of Chair 1, I pulled out my cellphone to take a photo and noticed the time. It was 11 am. I had skied for two hours; I couldn't believe it! The first day of the season and my legs weren't tired at all. All that pre-ski season training had paid off! I was running late for a meeting back home, so I skied to the parking lot, calling my first day a success. I took my boots off, loaded my stuff in the car and made my way to the interstate. Then I realized what had really happened as I read the clock in my car. The time had changed automatically on my phone; adjusting for the Mountain time zone, it was actually only 10 am.
You're amped. It's your first ski day. You eagerly load up your car, thoroughly check off items on your gear list. You've got it all. You make your way up to the ski resort. Go through the painful process of putting your boots on — one of the hardest transitions is from summer flip-flops to rigid ski boots — and make your way to the chairlift. As you throw your skis down, you're chatting with friends, catching up on summer memories and predictions for the upcoming season. You click your boots into your bindings and push away with your poles, only to find that you're not gliding. Then it occurs to you: "Summer wax. I seriously forgot to scrape off my summer wax." A rookie mistake that you can't blame on your ski tuner.
The least favorite — and most common — is standing in line on a powder day and realizing, only when your favorite liftie makes their way down the line to scan your season pass, that you left it at home. You head to the back of the line after you've procured a replacement pass for the day. ♦