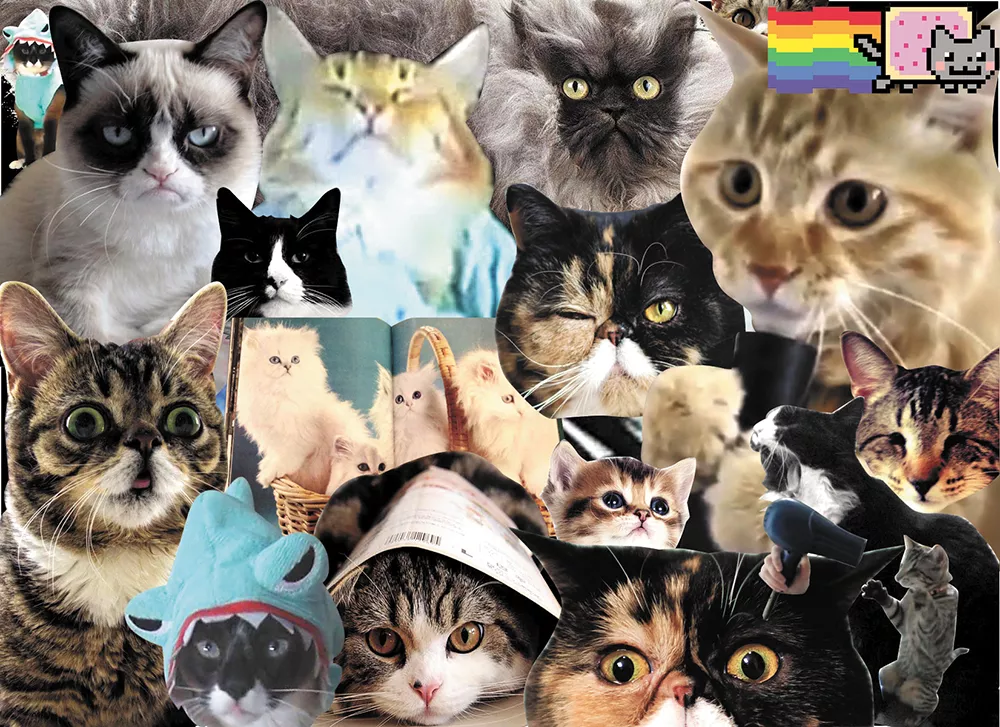 It was 1984 and Charlie Schmidt was unemployed.
For a couple of weeks that year, the Spokane artist and a group of friends took turns making goofy, improvised videos in a basement using a friend's newly purchased Sony Betacam. The hangouts were never intended to be anything other than some guys messing around with what was then a high-end camera. No one planned to upload the nonsensical footage on a yet-to-be-invented video sharing site called YouTube, let alone share it on a fledgling thing called the Internet.
Neither Schmidt nor his friends could predict how far a grainy, 55-second clip captured 30 years ago would go. In it, the camera is focused on a fluffy orange cat wearing a baby-blue shirt and a dazed expression. An offscreen force moves the cat's paws to pound out a simple yet catchy tune on an electronic keyboard.
After being uploaded back in 2007 and going viral a few years later, "Keyboard Cat - THE ORIGINAL," has racked up more than 33 million views, becoming one of the most watched cat videos of all time and paved the way for countless cat videos to come, including those in a curated selection being screened at the Internet Cat Video Film Festival. The unpredictably popular event, which debuted at Minneapolis' Walker Art Center back in the summer of 2012, stops in downtown Spokane next week as part of an international tour.
Looking back on it all, Schmidt marvels at the unlikely chain of events that brought the clip the notoriety it has today.
"It shouldn't exist," he says matter-of-factly from his South Hill home office. "The thread between me and when I first shot that, and why and what was going on, and why it has survived and got out there — it's mission impossible."
On the table in front of him lies Bento, or "Benny," as Schmidt affectionately calls the 5-year-old, round-faced tabby — the modern face of the Keyboard Cat universe. Bento's white-tipped paws are neatly resting on top of a small white keyboard, sleeves rolled up on the baby-blue, cutoff newborn onesie he's wearing. He's not the feline star of the original viral video — that was Fatso the cat, who reached the end of her lifespan more than a decade ago — but Schmidt couldn't imagine a more perfectly mannered cat for the job.
More of us than would like to admit have clicked "play" on a cat video. Some might even consider themselves cat video aficionados, because we live in a time when such a distinction exists. The intent of the Internet Cat Video Film Fest is to take solo viewing experiences, or those shared by small groups crowded in an office cubicle, and create a shared, social event, according to festival creator Scott Stulen, a museum curator at the progressive Walker Art Center.
It's a social experiment that's proven successful. The 2013 festival lineup has been screened in 15 cities, some international, and makes eight more stops this year.
"The core of the event is that people want to meet other people who share their passion for cat culture," Stulen says. He adds, "There is an aloofness and independence, and it's easy to project human characteristics on cats... and that's why I think cat videos have so much traction online."
While the original plan was for Lil Bub, the famous dwarf cat known for her unusual looks, to make a special appearance at the Spokane screening, there was a miscommunication between the event organizers and promoters. In Bub's place, Schmidt and Bento the Keyboard Cat were invited to attend. It will be the first major public appearance by Keyboard Cat at a local event, Schmidt says.
And after all the unexpected success, including hiring a manager, air time with several mainstream ad campaigns, Keyboard Cat merchandise and being inducted into the "Internet Cat Video Hall of Fame," Schmidt's take on it all remains: "You can't predict any of this, nor can you do it on purpose." ♦
The Internet Cat Video Film Festival • Thu, Jan. 16, at 7:30 pm • $20-$35 • All-ages • Knitting Factory • 919 W. Sprague • ticketweb.com