Like all minimum wage workers in Washington, Kierra Fitzpatrick got a very modest 13-cent-an-hour bump to her paycheck on Jan. 1.
"I honestly didn't really notice it had increased," says Fitzpatrick, a 19-year-old Eastern Washington University student who works at the McDonald's on Third Avenue in Spokane. "Gas prices went up at the same time."
If Gov. Jay Inslee gets his way, a much larger raise may be coming her way.
"In every community there are people who don't share in our state's prosperity, and we need to do something about that," Inslee said in his State of the State speech last week.
Since 1998, Washington's minimum wage paychecks have kept pace with the cost of living, but haven't risen beyond that. Inslee called for increasing the state's $9.32 minimum wage by up to $2.50. That's not quite as high as SeaTac's narrowly adopted $15 minimum wage, but considering Washington already has the nation's highest state minimum wage, the proposal sent state think tanks into overdrive.
An email from the conservative Washington Policy Center says studies tied minimum wage increases to job losses, while the more liberal Washington State Budget and Policy Center published a blog post arguing studies showed the opposite. They're both right.
In other words, this isn't a topic like global warming, vaccinations or GMOs, where nearly all the academic research points to one conclusion. Instead, what seem like very simple questions — Does raising the minimum wage cost people jobs? Or does it lift people out of poverty? — have kept economists bickering for decades.
Expect the debate to heat up once again. State Rep. Jessyn Farrell of Seattle is preparing to release a bill to gradually ratchet up the state's minimum wage by several dollars over the next few years. "This is the right time," the Democrat says. "Inequality is at its highest since the onset of the Great Depression."
Will it hurt business?
If there's any place that promises clarity, it's the greatest state minimum wage disparity in the nation: the Idaho-Washington state line. Idaho, at $7.25, has the lowest minimum wage allowed by federal law. Work an eight-hour minimum-wage fast-food shift in Liberty Lake, in other words, and take home $16.56 more than working in Post Falls — enough for breakfast, lunch and dinner.
If the much lower wage has been a boon for Coeur d'Alene during the recession, the stats don't show it.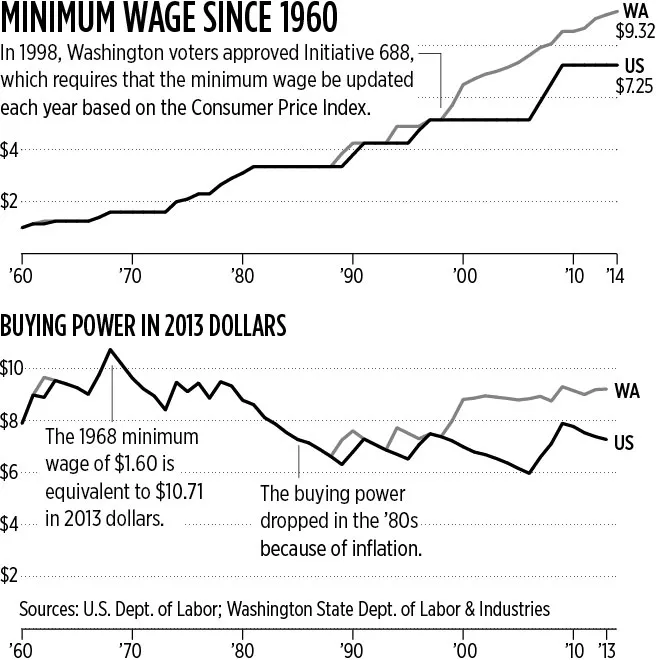 Pre-recession, the unemployment rate in Kootenai County was about 1.5 percentage points lower than in Spokane County. But soon after the markets crashed, unemployment in Kootenai County soared. Today, the two have nearly identical levels of unemployment.
Kootenai and Spokane counties aren't perfect comparisons, but they fit the overall research: A 2010 Harvard and MIT study compared every single county bordering a county from another state and found that a higher minimum wage never significantly hurt employment in those counties.
Some studies do show job losses after minimum wage increases, but those losses tend to be small. The bigger problems tend to be in the states that make sudden, large increases — at least one study found that New York's 39 percent minimum wage increase over three years resulted in pronounced job losses for low-skilled, less-educated workers.
"Predicatively, the more you raise the minimum wage, the greater the impact," says Erin Shannon, director of WPC's Center for Small Business. She agrees that minor yearly increases haven't hurt Washington, but thinks a big jump might.
Specific industries have even more challenges. Washington restaurants not only contend with a high minimum wage, they're in a state without a "tip credit." In Idaho, restaurants can legally pay servers as low as $2.13 an hour, as long as they make at least the minimum wage with tips. Washington restaurants can't.
"If minimum wage goes to $15 an hour, we'll have some servers making $70 an hour when you figure in some of their tips," says Marshall Powell, general manager for several Spokane restaurants including the Elk Public House and Geno's. "I'm all for the minimum wage to go up, as long as they institute a tip credit."
Washington's restaurant industry struggles. "We employ three fewer people per restaurant. Our average is 14. The national average is 17," says Anthony Anton, president of the Washington Restaurant Association. "We have one of the highest teen unemployment rates in the country."
Anton says high labor costs have caused some Washington restaurants to ditch manpower-heavy tasks, like making soups or salad dressings entirely in-house.
Preston Hawkins, co-owner of three Sonic drive-in franchisees in Spokane and North Idaho, says his locations see one major difference between the two states. "[In Washington] we try to hire people who have already been trained," Hawkins says. "We're more inclined to hire untrained in Idaho, because of the training expense."
When wages are higher, giving untested workers a chance becomes a more expensive risk.
Will it help solve poverty?
On her minimum wage salary, Fitzpatrick is trying to pay for living expenses and Eastern Washington University tuition. "As a college student, it is hard to live off minimum wage when going to school," she says. "Let's say I'm fortunate enough to get 20 hours a week. Once you deduct car insurance and bills and rent, you don't have much left over."
Teenagers like Fitzpatrick make up a much smaller slice of the labor force than they once did. Fitzpatrick says most of her coworkers at McDonald's are in their late 20s and early 30s. Some of them are trying to support families on their salaries. Three are pregnant.
A full-time minimum wage worker supporting a household of three falls below the poverty line in Washington state. Yet raising the minimum wage can be an inefficient solution: Not everyone in poverty receives a minimum wage; not everyone receiving a minimum wage is in poverty.
Researchers from San Diego State and Cornell simulated increasing the federal minimum wage to $9.50 and found that only about 11 percent of the increase aided those below the poverty line. The middle class benefited far more. It's why some pundits suggest boosting direct tax credits for the working poor instead.
More radical wage increases promise bigger results: A University of Massachusetts-Amherst study suggested raising the national minimum wage to $10.10 would bring 4.6 million people out of poverty. But bigger increases risk possible side effects, like job losses or increased prices.
Even minimum wage workers worry that larger paychecks would be eaten up by inflation. "I think if the minimum wage goes up, then the prices of my groceries and my gas would go up too," says Larae Stotts, who works the front desk at the Hilton Garden Inn near Spokane International Airport.
While the inflation caused by minimum wage increases is typically small, businesses also risk a flattened pay scale. They spend more to pay entry-level employees, and have less available to reward others with higher wages.
That's a concern of Kevin Parker, the Republican state representative who also owns all five of Spokane's Dutch Bros. Coffee stands.
"We had an employee that works with us," Parker says. "She was a single mom, she was coming out of three or four generations of poverty, raising a kid all by herself. She wants to go to Stanford." But Parker adds that if he had to pay everyone a higher minimum wage, he couldn't afford to pay her as much as he wanted to.
In other words, it's an issue where the costs remain murky, and so do the benefits.
Fitzpatrick says that for her coworkers, the promise of a minimum wage is clear. "It would enable them to have a more comfortable living," she says. "To not only put money aside for the next rent, but also to be able to have groceries." ♦