Wojo Works is a downtown shop specializing in household goods, but it's the kind of shop defined more by its aesthetic — mid-century modern inspired — than its wares. It's the type of place design nerds talk about. It was described as "spunky" and "quirky" and "clean." It got glowing writeups from Modernica's blog and SpoCOOL and people who love the Ferris House. We put their goods in our holiday gift guide more than once.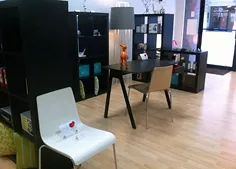 But positive attention isn't enough to keep a store in business. The store announced its closing clearance sale today.
Christopher Wojtowicz, who opened the store a little more than two years ago, says it will officially close sometime before the lease is up at the end of March. Remaining inventory will be sold at discounts ranging from 30 to 75 percent off the original price.
"When it's pretty much gone, I'll lock the doors," Wojtowicz says.
Along with Wojo Works, the block across the street from the Davenport is home to Bruttles candy shop, Agave Latin Bistro and a vacant storefront. A new restaurant, Nudo, is under construction next to Fire Artisan Pizza.