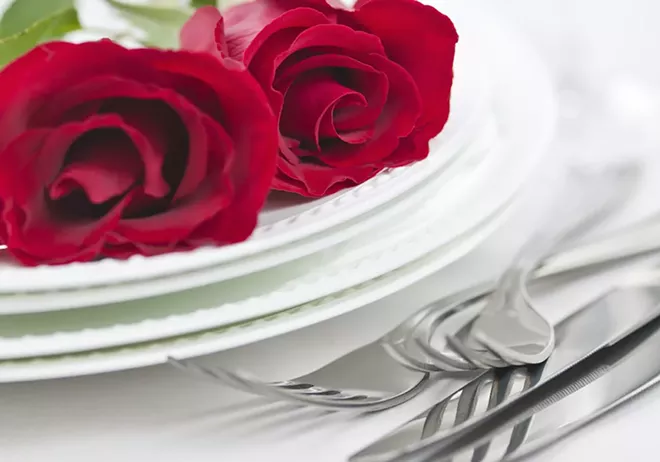 Valentine's Day is only a few days away, and love is in the air. There are many ways to celebrate this holiday dedicated to love. You may have a hot date with your TV and a box of chocolate, or you could be planning to enjoy a bottle of wine with friends. Possibly, your day will be filled with heart-shaped balloons, flowers, or if you're really lucky — diamonds. But if you're looking to take that special someone out on a romantic date (or trying to drop a hint for someone to make some reservations) we've compiled a list of several options around the Inland Northwest to celebrate Valentine's Day.
Thursday, Feb. 13
NECTAR TASTING ROOM | 120 N. Stevens, 869-1572
"
Singles Wine & Mingle
" featuring wine tastings and light snacks. Thurs, Feb. 13 from 5:30-7:30 pm. $10 at the door.
SPOKANE CLUB | 1002 W. Riverside Ave.
"Valentine's Eve Dinner" features a candlelit, 5-course dinner with tables set for 2, 4, or 6 guests. Wines paired with each course have been selected by Vino's John Allen. Thurs, Feb. 13 from 6-8 pm. $75/person, tax and gratuity included. Reservations required, call 838-1229.
STUDIO 107 | 120 N. Fourth St., CdA, 208-644-1201
Studio 107 and Scratch Restaurant host a 5-course dinner paired with hand-selected wines from Washington's Rotie Cellars. Thurs, Feb. 13, at 6:30 pm. $75, reservations required.
Friday, Feb. 14
315 MARTINIS & TAPAS | 315 Wallace Ave., CdA, 208-667-9660
Serving a special 4-course Valentine's dinner, with the restaurant's regular menu also available. $48/person.
BUTCHER BAR AT SANTE | 404 W. Main, 315-4613
Valentine's Day (Feb. 14) dinner is already fully booked, but the Butcher Bar is open, first come, first served, and will be offering Sante's full dinner menu. The restaurant is offering its 3-course brunch and 5-course dinner menu from Feb. 13-15.
CHINOOK STEAK, PASTA & SPIRITS | 37914 S. Highway 95 (in the Coeur d'Alene Casino), 800-523-2464
Dinner menu includes 10 oz. sirloin, stuffed lobster, salad, soup, side and dessert, and a bottle of private label wine. $80/per couple, reservations recommended.
THE FAINTING GOAT | 516 Bank St., Wallace, Idaho, 208-556-1650
"
His & Her's Valentine's Day Dinner
," featuring a 3-course meal with the option of wine pairings with each course. Seatings at 5 pm and 7 pm, reservations only.
FEDORA PUB & GRILLE | 1726 W. Kathleen Ave., CdA, 208-765-8888
Valentine's Brewmaster Dinner
, a 6-course dinner paired with beers from Trickster's Brewing Co. and Selkirk Abbey Brewing Co. Fri, Feb. 14 at 7 pm. $80/couple, reservations required.
GRANDE RONDE CELLARS | 906 W. Second Ave., 455-8161
Valentine's Day at the Cellar, with a 5-course dinner by Chef Romeo Herrera and Dave Present. Fri, Feb. 14 at 7 pm, with music by Maxie Ray Mills and appetizers starting at 6 pm. Reservations only, $50/person.
ITALIA TRATTORIA | 144 S. Cannon St., 459-6000
Valentine's Day dinner includes the restaurant's regular menu plus specials including brazed short ribs, sole and drink specials. Valentine's menu offered Feb. 13-15. Reservations recommended.
LATAH BISTRO | 4241 S. Cheney-Spokane Rd., 838-8338
A special four-course meal is offered in addition to the restaurant's regular menu, through the weekend and on Monday as a courtesy for service industry workers. Reservations recommended. Valentine's menu served Feb. 14-17.
LINCOLN CENTER | 1316 N. Lincoln St., 327-8000
The
Connoisseur's Club hosts a 5-course dinner
paired with wines from Walla Walla's Three Rivers Winery. Fri, Feb. 14 from 6-10 pm. $55/person, reservations recommended.
MADELEINE'S CAFE & PATISSERIE | 707 W. Main Ave., 624-2253
Valentine's Day dinner menu
featuring an appetizer, starter, entree and desert for $32/person. Served Feb. 14-15. The bakery is also offering a variety of Valentine's Day themed sweets.
PATIT CREEK CELLARS | 822 W. Sprague Ave., 868-4045 (Simply Dance, 892-1480)
"
Romance Night
" hosted by the winery and Simply Dance studio, offering a 3-course dinner paired with wine, and Rumba dance lessons after dinner. Doors open at 6:45 pm, dinner at 7:30 and dancing at 9 pm. $120/couple.
STELLA'S CAFE | 326-6475
Offering a
special 5-course Valentine's dinner
prepared by Chef Tony. $100/couple, reservations required by noon on Thursday.
SWEETGRASS CAFE | 27068 S. Highway 95 (in the Coeur d'Alene Casino), 800-523-2464
Dinner menu includes soup/salad, pan-seared sea scallops, stuffed lobster tail or steak, truffle sample. $25/person.
TEMPLIN'S RED LION | 414 E. First Ave., Post Falls,
"
Big Heat Dinner & Dance Fundraiser
" featuring a 3-course dinner and dancing with live music by Sammy Eubanks. Doors open at 6 pm, dinner at 7 pm. $100/couple or $50/person.
Other Valentine's events:
CORBIN SENIOR CENTER | 827 W. Cleveland Ave., 327-1584
Luncheon hosted by Harvard Park senior living with a menu of spaghetti or bow tie pasta, salad, garlic bread, and dessert, as well as live music by The Fossils Five. Fri, Feb. 14 at 11:30 am. $15/advance, $18/door.
CHOCOLATE APOTHECARY | 621 W. Mallon Ave., 324-2424
Learn how chocolate is grown, harvested and processed, about fair trade standards and more. Fri, Feb. 14, at 6 pm. $15/person.
GARLAND THEATER | 924 W. Garland Ave.,
"
Rocky Horror is for Lovers
," a special midnight screening of the cult classic with a shadow cast performance by Absolute Pleasure, and prop bags available for purchase. Fri, Feb. 14 at midnight. $4.50/person, tickets available to purchase all week during box office hours.
NECTAR TASTING ROOM | 120 N. Stevens St., 893-9829
"Woof, Purr & Wine" benefit dinner hosted by Partners for Pets, a Spokane Valley animal rescue organization. Includes a 3-course meal and two glasses of wine. Sat, Feb. 15, from 6-9 pm. $30/person.
NORTHWEST MUSEUM OF ARTS & CULTURE | 2316 W. First Ave.,
"
Super Saturday at the MAC
" features family Valentine-themed activities, the Campbell House Living History event and more. Sat, Feb. 15 from 10 am-5 pm, activities from 11 am-3 pm. Admission $3-$5.
ROCKET MARKET | 726 E. 43rd Ave., 343-2253
Wine tasting: sample eight red wines paired with chocolate from the Rocket's gourmet chocolate inventory. Class offered Fri, Feb. 14 [SOLD OUT] and Sat, Feb. 15 at 7 pm (only a few spots left). $20, reservations requested.
SERVICE STATION | 9315 N. Nevada St., 951-2870
Valentine's Dessert Ball, a fundraiser concert hosted by Northwest Christian School's Jazz Band, and featuring music by the local big band group Tuxedo Junction. Fri, Feb. 14 at 7 pm. $30/person or $50/couple.
SOUTHSIDE SENIOR & COMMUNITY CENTER | 3151 E. 27th Ave., 535-0803
Valentine's Dance featuring dancing, live music by local band Variety Pak, appetizers, punch and treats. Fri, Feb. 14 from 7-10 pm. $6-$8.
SPOKANE PUBLIC MARKET | 32 W. Second Ave., 524-1154
The market and its vendors are selling Valentine's Day gift baskets with ingredients to prepare a dinner at home, including two T-bone steaks, lobster tails, potatoes, coleslaw, wine, candy and flowers. Baskets are available for pre-pay and pick-up through Feb. 13, before 5 pm. $89.95/each.
VINO! A WINE SHOP | 222 S. Washington St., 838-1229
Wine Tasting: Fri, Feb. 14 (3-6:30 pm) features El Corazon of Walla Walla; Sat, Feb. 15 (2-4:30 pm) features Mackey Vineyards, also in Walla Walla. $10/tasting.
SINGING VALENTINE'S | Pages of Harmony, 926-4201 or 999-6223
The local nonprofit barbershop group is taking reservations for its singing Valentine's, to be delivered to residences, offices, hospitals and other locations. Fri, Feb. 14 from 8 am-9:30 pm, reservations required. $40, includes card, balloons and candy.
We've tried to only list events that are still accepting reservations, but if you find out one of these events has filled up, please let us know by emailing [email protected]. Also send us any other Valentine's events not listed here and we'll update as needed.