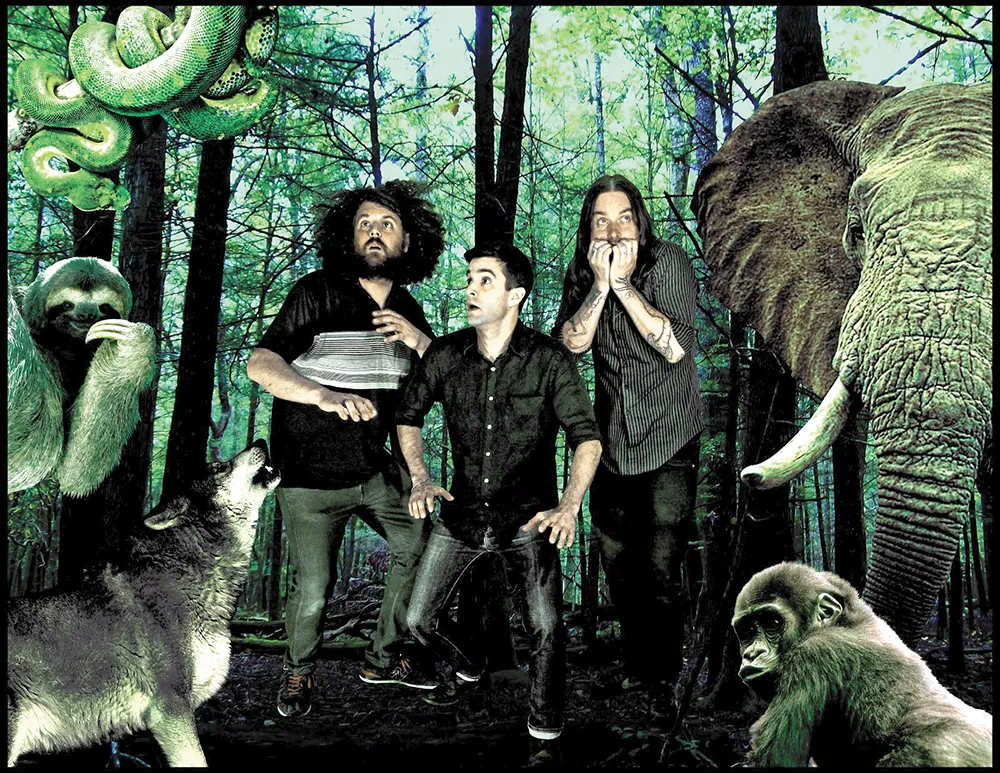 Say you're a stoner rock band or a sludge metal outfit. Big deal. Who isn't these days?
The slowest and most syrupy of heavy rock genres is something that's been around for ages — we've got Black Sabbath and Blue Cheer and Hawkwind to thank for laying the groundwork in the late 1960s and early '70s. But it's the work of bands like the Melvins (originally from western Washington), Kyuss and Sleep who have popularized the thick, bass-heavy sound, allowing a multitude of new bands to splinter off and run with it in the past decade or so. Some of those bands are terrible, but a lot of them are great.
This weekend, Big Business — one of the best of the genre, a band that's opened for Tool and has merged with sludge godfathers the Melvins — plays one of Spokane's smallest stages and shows us why thick, heavy rock is still relevant.
Big Business' roots are in the 1990s Seattle scene — where drummer Coady Willis manned the drum kit in Murder City Devils and bassist Jared Warren was in the trailblazing hardcore outfit Karp. The pair came together in the mid-2000s to form Big Business: a band with a lumbering, rattling low end, punctuated by Warren's bellowing battle cries and kept afloat by Willis' hyperactive drumming. Big Business took an atypical look at the genre, and from the get-go that made them a great band.
They had a built-in fan base: People already loved Karp and the Murder City Devils, and others were fiercely loyal to Hydra Head Records (which has released three Big Business records). The duo found international acclaim with its 2007 record, Here Come the Waterworks. Soon thereafter, Warren and Willis merged with King Buzzo and Dale Crover to round out the Melvins — a dream for anyone who's ever picked up a guitar or a pair of drumsticks and listened to Houdini. The stoner rock community looked at each other and wondered, "What can't these guys do?"
The next shocker came when Big Business dropped out of the music industry machine altogether and started doing everything themselves: distribution, publicity, merchandise — you name it. With that decision, the band (now a three-piece) has proven that it not only consists of visionary artists, but exemplary businessmen.
"In the music industry, every step of the way, as a band, you're being reminded that what you do has no value," Willis recently told the Village Voice. "You're constantly being reminded that you should drop on your knees and thank god that you're allowed to do this, because there's such a glut. If it's not said, it's implied. F--- that. What we do is worth something. It is worthwhile." ♦
Big Business with the Sword and O'Brother • Sat, March 15, at 8:30 pm • $15/$20 day of • All-ages • The Hop! • 706 N. Monroe • monumentalshows.com • 328-5467