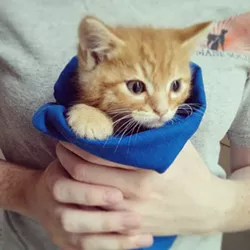 With the arrival of spring comes the arrival of many animal babies — including kittens, of course. And for the staff of animal shelters everywhere, springtime also means it's
kitten season
.
Kittens are definitely all sorts of ridiculous cute, but even so, no one should be letting their un-spayed female kitty intentionally (or ignorantly) breed. Pet overpopulation is not a good thing. Still, it continues to be a national and worldwide issue, and there are always lots of kittens born starting around this time of year, continuing through the spring and into summer. That in turn means lots of homeless mama cats and babies are entering animal shelters and rescues around the U.S., many needing foster homes until the kittens are old enough to be spayed/neutered and adopted into homes, usually around 8 weeks.
As the
Inlander's
resident cat lady, I've been fielding questions from friends and coworkers on how to help out these cute newborns, as well as what they should do if they ever came across stray or abandoned kittens, which is how lots of these kittens' lives unfortunately start.
I reached out to
Spokane Humane Society
shelter manager Randi Oien this afternoon to get her take on what people can do to help out locally, and the best way to handle a discovery of suspected stray or abandoned kittens.
In the chance you stumble across kittens that seems to be abandoned, lost or without a home, the first thing to do is wait and watch.
"Ideally, you should give it some time to see if mom is away trying to find food or whatever the case may be, or maybe she got scared because people were too close to the babies," Oien says.
It's important to wait to see if mom returns because kittens' chances of survival with a mother to nurse and care for them are always better than being hand-raised and bottle fed by humans.
If you can be sure mom and babies are indeed without a home, the next step is to try and gather them all up together, and if you can, take the family to
SCRAPS
, which as of the start of the year now oversees animal control for all of Spokane County, including the city of Spokane. If the kittens are too young to be adopted out, SCRAPS looks for foster homes amongst its volunteer base. But, Oien says, "nine times out of 10, they call us to see if we have foster parents willing to take them."
The area's shelters work together as much as possible to transfer animals when there isn't enough space or resources at SCRAPS, which now takes in a much higher volume of animals under its new role.
Oien mentions that if you find young kittens and decide to raise them yourself, the Spokane Humane Society can provide the public with information and resources to help raise the kittens until they're old enough to go into homes. Raising newborn kittens "can be a time-consuming, scary process," she says.
But what if you find a litter that's been born to a feral (undomesticated) mama cat? Oien recommends trying to catch the mother cat in a live trap, if you can, then finding a safe, quiet place for her to care for her kittens — somewhere she doesn't feel threatened by humans' presence.
Locally,
Pet Savers in Spokane Valley
has a feral cat spay/neuter program, so that these wild, and non-sociable cats can return to their environment and not continue reproducing. In many instances, though, kittens born to feral mothers can be socialized and later adopted into homes if the process begins while they're still very young, around four weeks, Oien says.
Though it's still a bit early in this year's "kitten season," Spokane Humane Society has been taking in quite a few pregnant females, and some motherless litters — known as "bottle babies" because of their dependency on around-the-clock bottle feeding and care.
"We're still just kind of at the beginning [of kitten season] and still at the point where when we send out a plea for fosters we get a response," Oien says.
If reading this has inspired you to look into fostering kittens, find out how to help the Spokane Humane Society
here
, or check out the other local shelters' programs, including
SCRAPS
and
SpokAnimal
, or
Pet Savers
. Fostering kittens is a lot more work than one might expect, so make sure to read through each shelter's program descriptions carefully.
Maybe fostering isn't the best option right now, but you still want to help. Shelters like SHS provide its foster parents with supplies like litter, kitten formula, blankets, toys, food and even heating pads to keep kittens without a mother nice and warm. Find out what supplies the shelter's always in need of
here
, or place an order for some
items on its Amazon wishlist
and have them mailed directly to the shelter.
Before we sign off, we'll leave readers with an exclusive update on the four kittens delivered via emergency C-section by Spokane Humane Society's veterinary team a few days ago.
Oien says the kittens are doing well, and are currently being cared for by shelter veterinarian, Dr. Laura Talaga. The mother cat wasn't producing milk for the babies, so they're they're being tube fed kitten formula. Mama cat is doing well, too, and has returned to her home. Her owners brought her to the shelter's clinic after she'd been in labor for about two days without giving birth.
Oien says the kittens had somehow moved outside of the uterus, which had been damaged or torn, and were inside the mother's abdominal cavity when the veterinary team went in to perform the emergency delivery. It was a miracle the babies survived the ordeal. Their mother then underwent surgery to repair her organs, and was spayed.