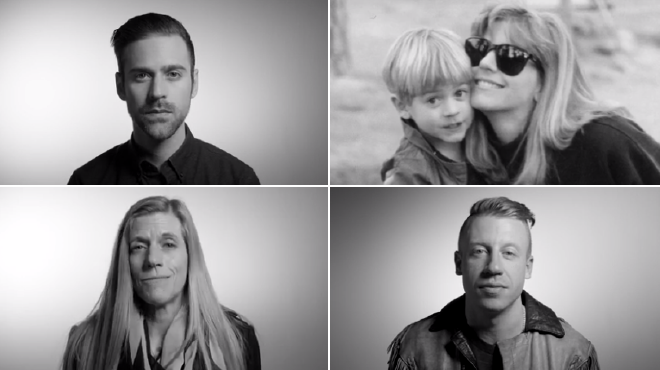 Today, Ryan Lewis launched an Indiegogo campaign to jumpstart the 30/30 Project, a funding network to build and run health care centers around the world.
But let's step back: Back before Ryan Lewis was half of the Grammy-winning, fur-coat-wearing, world-famous Macklemore and Ryan Lewis, he was just a kid growing up on the South Hill in Spokane. And his tight-knit, middle-class Christian family had a struggle that set them apart from other South Hill families: His mother, Julie Lewis, was HIV-positive.
The cause was a blood transfusion in 1984, a time when the stigma of HIV and AIDS made it something the family didn't share for years after the diagnosis. In our cover story about Ryan Lewis last year, he spoke candidly about growing up with that perspective.
"I think it really just opened up the door, as a kid, to life experiences that most of my friends didn't know anything about," Lewis says. "On one hand, you could look at it as a really hard, shitty life thing; on the other hand, she's been healthy for years. I didn't get it, my sisters didn't get it, my dad didn't get it. It could've been a totally different thing. I could not be here. And she could not be here. But she is."
And it's out of that experience that Lewis and his family are taking on the 30/30 Project in partnership with Macklemore and Construction for Change, a Seattle-based nonprofit. In the campaign message, Lewis says:
Thanks to advanced medicine and healthcare available here in the U.S., my mom has lived despite her odds.

To honor the thirty years my mom has been a survivor, our family is raising funds to build health centers worldwide that will stand strong for at least thirty years.
The campaign launched today and has already raised more than $14,000 of the $100,000 goal. Its first project is a health center in Malawi, where a high percentage of the population is HIV-positive, and additional centers are tentatively planned for Kenya and Uganda. In each location, the 30/30 Project is working with an established nonprofit already involved with delivering health care services.
Rewards for donating start at $5 for getting a selfie posted to the 30/30 website — the modern equivalent of a donor wall? — and include levels for T-shirts ($35), handmade bracelets ($100), VIP concert tickets and more. After the three signed set lists for $250 were immediately claimed, they added a few more for $300.
Check out the campaign and video here.