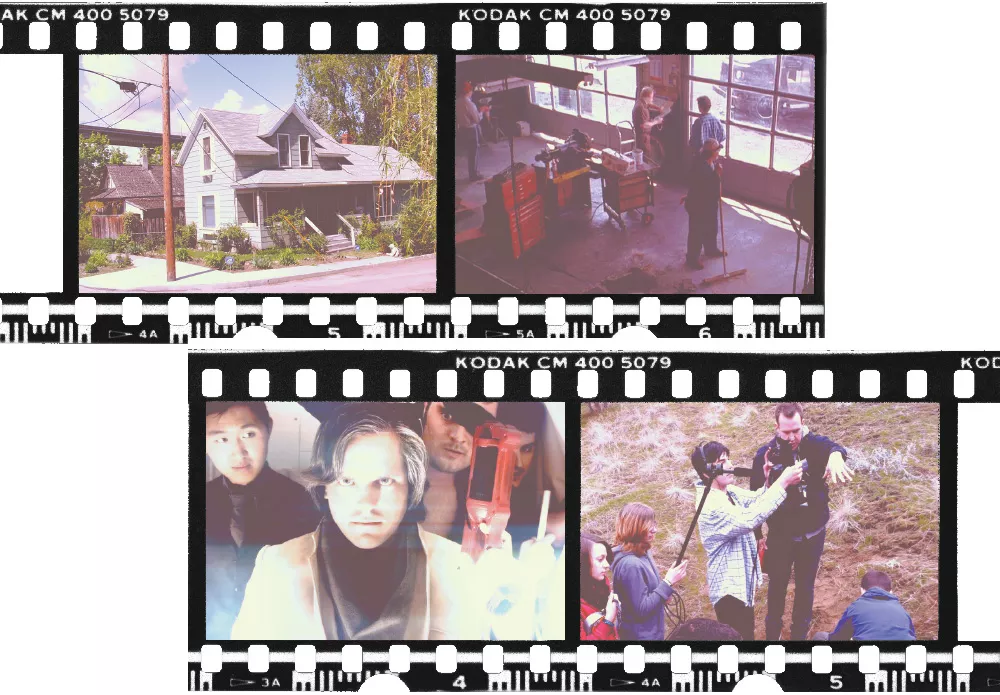 SEE THE SITES
You know that scene in Benny & Joon where an adorable young Johnny Depp does a Buster Keaton-style mime routine in the park? A crowd gathers as he kicks and flips his hat. That was shot right in the heart of Riverfront Park. And that means that even without a tour guide, you can experience the real-life charm of that moment and plenty of others in the '90s classic by creating your own Benny & Joon tour. After you visit the park, head to Peaceful Valley (301 N. Cedar, to be exact) to see the Benny & Joon house. Don't bother the residents; do marvel at the charm. (Seriously, Peaceful Valley is a wonderland.) From there, make your way up to Main under the Maple Street Bridge, where Joon's late-night bus breakdown was shot. Up on Garland, stop for a shake at Ferguson's, where Sam made the rolls dance. It's since been remodeled so it doesn't quite look the same, but the milkshakes are as good as ever and you never know when the star of Prom Queen Mutilator might be your server.
Of course, Benny & Joon isn't the only movie ever shot in Spokane. According to the online movie bible IMDb, it's one of 172 films either set or shot here. So if vintage Johnny Depp isn't your thing, you still have options.
Just across the street from the under-the-bridge spot in Benny and Joon is the house featured in the '80s wrestling/love story Vision Quest (1509 W. Main). Also in the film: Ferguson's, Albi Stadium, the intersection of Washington and West First and the Bigfoot Pub on North Division. More recently, Gonzaga and Washington State University appeared in the campus-tour-rom-com At Middleton and Riverside State Park hosted the team behind the LARPing comedy Knights of Badassdom, including Game of Thrones star Peter Dinklage.
SUMMER CAMP 2014
Maybe you already know the deal: Every summer, the Garland Theater sets a lineup of movies — one for each week of summer — and tickets are only $1. But this year's Summer Camp may be the best yet. Recently, the theater not only updated to a digital projector, but also got new seats, new carpet, a new snack menu (hummus and specialty hot dogs, anyone?) and, most important, the ability to allow beer and wine inside the theater. Between the changes and a movie lineup that includes greats like Back to the Future (July 5, 8, 10), Fight Club (July 12, 15, 17) and Pulp Fiction (Aug. 16, 19, 21), this is going to be good. See the full lineup, dates and times at garlandtheater.com/events
UNDER THE STARS
If you've got little ones to factor into your summer movie plans, consider the more spill-forgiving outdoors as your theater instead. This year's Wednesday outdoor movies at Riverfront Park (facebook.com/OutdoorMoviesatRiverfront) include Frozen and Up and will offer food trucks and entertainment, including aerial performers, before the movie. Seating opens at 7 pm; movies show at dusk ($5 for the whole evening; free for just the movie). Up on Perry, things get whimsical on Saturdays when the Shop slides all its furniture outside and hosts movies projected up on the wall of Casper Fry as dusk falls. Among this year's selections: The Princess Bride and The Lego Movie. More information available at the Shop (924 S. Perry) or on its Facebook page.
MAKE A MOVIE
Or, rather, send your kid to make a movie. The YMCA offers summer day camps focused on filmmaking at its North, Central and Valley locations from June 16 through Aug. 29. The camps ($120 for Y members; open to ages 12-18) will introduce students to editing software, green screen and HD film equipment. No experience is necessary. Watch previous camps' films on the YouTube channel "YMCATeensSpokane" and find more details at ymcaspokane.org/programs/teens72/film60.
LEARN SOMETHING
Sure, movies are the great escape from the summer. Slip into the AC and then into another world. But they can also be the chance to get schooled. Keep up with the Magic Lantern (magiclanternspokane.com), the Panida in Sandpoint (panida.org) and the Kenworthy Performing Arts Centre in Moscow (kenworthy.org) for chances to see documentaries as they come out this summer. Start with Fed Up, a look at our modern food industry narrated by Katie Couric, now playing at the Magic Lantern.
POKE FUN AT SHARKNADO
You've probably already been doing this with your friends, but the Regal Cinemas locations at NorthTown and in Coeur d'Alene at Riverstone are bringing something even better on July 10 and 15. In RiffTrax Live: Sharknado, Michael J. Nelson, Kevin Murphy and Bill Corbett — you know them from Mystery Science Theater 3000 — riff on the amazingly awful Syfy movie live in Minneapolis; the show is then beamed into theaters across the country. More at rifftrax.com.
MEET THE LOCALS
It turns out Spokane does have a film scene. Treat this summer as your chance to get to know the people at the center of it by checking out some of their work.
First, pop your headphones in for a hike or trip to the gym and familiarize yourself with the Spokane Film Project through their weekly podcast, where they talk local and national filmmaking and review movies. It's available for free on iTunes or at spokanefilmproject.com.
Then hunker down in a cool place to catch up on Transolar Galactica, a sci-fi web series shot in Spokane by graduates of Eastern Washington University's film program. The entire first season is available at transolargalactica.com, and the team has since used Kickstarter to fund a second season.
Finally, when Aug. 23 arrives, make your way to Klink's Resort on Williams Lake, about 15 miles south of Cheney. There, the resort will be screening the winners of its Summer Short competition, which challenges filmmakers to write, shoot and edit a 4-to-7 minute film that includes a few secret criteria they don't know until they start — all in just 51 hours. Interested in competing? The competition kicks off at Klink's June 20 at 7 pm. More details at facebook.com/TheKlinksResortSummerShort.♦