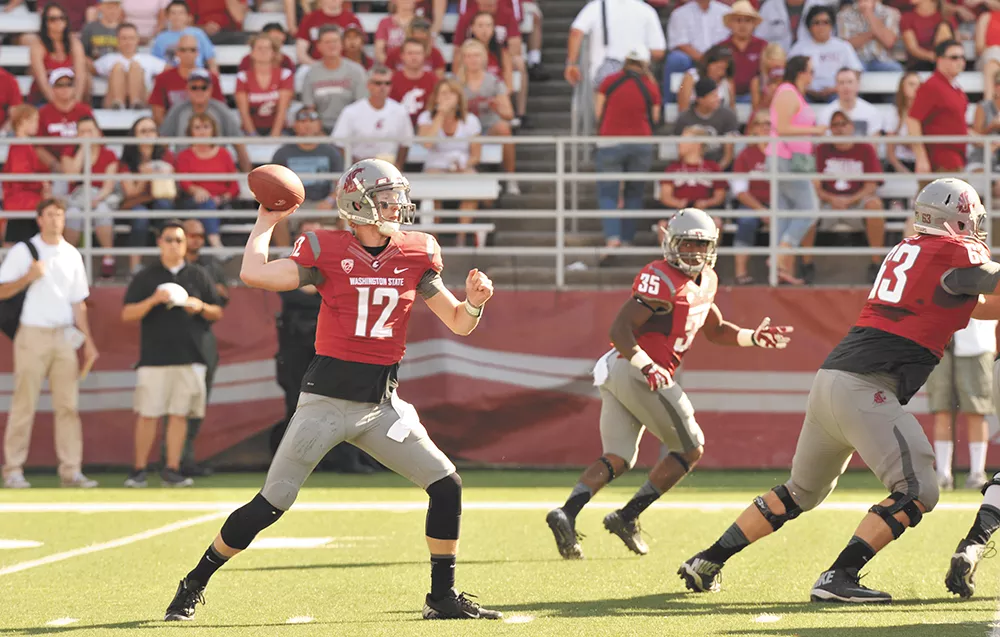 One year ago, Connor Halliday passed for more yards than any other player in Washington State history. More yards than all but one other player in Pac-12 history. More yards than all but 20 other players in major college history.
Halliday's reward? Pac-12 coaches left him off the all-conference team. Not even honorable mention. And this summer, ESPN.com left Halliday off its list of the top 25 players in the Pac-12.
What's a guy got to do to earn a little respect? As it turns out, all Halliday has to do is keep his ears open in WSU's swanky new locker room.
"Honestly, I think he has the ability to win the Heisman," defensive lineman Xavier Cooper says.
"He's one of the best quarterbacks in the entire nation," head coach Mike Leach says.
"There's not another quarterback in the nation I'd rather have than Connor Halliday," linebacker Darryl Monroe says.
That's heady praise, considering that ESPN.com placed four quarterbacks on its Pac-12 top 25 list and ignored Halliday. Monroe thinks that's just nuts.
"He has it all," Monroe says. "He's a prototypical NFL quarterback. He's smart. He's mature. He's got the swagger. He has the attitude. He has the calm to lead the young guys in the offense.
"I believe in Connor Halliday."
Halliday, a fifth-year senior out of Spokane's Ferris High School, was seemingly born to be a quarterback. His father, Duane, played the position at Coeur d'Alene High and Boise State and tutored his son on playing quarterback at a young age.
"As a child," Halliday recalls with a smile, "I would pick things up and throw them around the house. Whatever I could find. My mom finally said, 'Duane, we need to get a football in that kid's hands.' So I started doing that, and they got me a little Dallas Cowboys uniform and a little plastic helmet, because that was my dad's favorite team. I'd wear that around the house and throw the football at Dad until Dad got too annoyed to do it anymore."
No one has ever questioned the strength of Halliday's mighty right arm, but some have questioned the strength of his head. Specifically, his decisions on when and where to throw the ball.
Halliday led the nation with 22 interceptions last year. However, he also led in pass attempts, and he was picked off just five times in the last five games. When you throw the ball nearly 55 times a game, as Halliday did last year in his first season as a full-time college starter, a few balls are bound to wind up in enemy hands.
Leach, the first to admit he is highly demanding of his quarterbacks, has frequently praised Halliday for his hard work, improved decision-making and leadership. Players echo Leach's opinion about their quarterback.
"Since I've been here," Cooper added, "we haven't had a guy at quarterback to step up and be a leader like Connor."
Playing for Leach's pass-first offense has been a boon for Halliday in the numbers department. He passed for 4,597 yards last season (third in the nation). He set a major college record with 89 pass attempts (that's not a typo — 89!) at second-ranked Oregon, and his 557 passing yards that night was tops in the Football Bowl Subdivision last year.
Numbers like those tend to push players into the hunt for the Heisman, college football's most prestigious individual award.
"It would be amazing to be in that conversation," Halliday says, "and it would be an amazing reward for everybody, because that means we're having a year that will be forever remembered in Pullman." ♦
---
WASHINGTON STATE COUGARS
2013 record: 6-7 (4-5 Pac-12)
2014 Pac-12 preseason poll: 5th, North Division
Thu, Aug. 28 vs. Rutgers, 7 pm
Fri, Sept. 5 at Nevada, 7:30 pm
Sat, Sept. 13 vs. Portland State, 5 pm
Sat, Sept. 20 vs. Oregon, TBA
Sat, Sept. 27 at Utah, TBA
Sat, Oct. 4 vs. California, TBA
Fri, Oct. 10 at Stanford, 6 pm
Sat, Oct. 25 vs. Arizona, TBA
Sat, Nov. 1 vs. USC, TBA
Sat, Nov. 8 at Oregon State, TBA
Sat, Nov. 22 at Arizona State, TBA
Sat, Nov. 29 vs. Washington, TBA
Tickets at wsucougars.com and 1-800-GO-COUGS