The paintings sitting on the table of Odyssey Youth Center feature swirling shades of color, text and patterns, and they're all on canvas. The canvas, however, just happens to be a Converse sneaker.
What were once blank, white shoes have become manifestations of unique interests and expressions. One pair of high-tops is plastered with painted replicas of famous Van Gogh pieces; another shoe has become a collage of quotes and images from a novel by John Green.
To the group of teenagers who created this unique collection, creativity is expression. And because of Art Matters Spokane, they now have the opportunity to produce and display their shoes in an exhibit at Luxe Ballroom during September's First Friday event. Art Matters works collaboratively with nonprofit organizations in Spokane that already are serving youth and families. Their aim is to build empowerment and action through art.
Susana Soth is one of several individuals who volunteer their time to make these workshops happen. She refers to the program as a movement of passion in people who are dedicated to this form of community outreach. For Soth, the art is just a bridge connecting volunteers and participants. She sees the lasting influence of giving the kids an opportunity to create something unique.
"We use art as a medium to build relationships, a medium to start conversations," says Soth.
Their youngest volunteer is 13-year-old Dylan Soth, Susana's son. Both mother and son decided to get involved in Art Matters after Dylan donated art supplies to underprivileged youth as a community service project earlier this year.
It was Dylan who thought that the forum of shoe art would be a unique way to turn something ordinary, such as shoes, into more unique pieces. Susana took this idea and ran with it, reaching out to the community for support.
Odyssey Youth Center, Operation Healthy Family, and Youth for Christ are three nonprofits that picked up the idea and recruited interested local youth from their programs. Some of these teenagers have experienced personal and family-driven struggles; nearly all are under-resourced.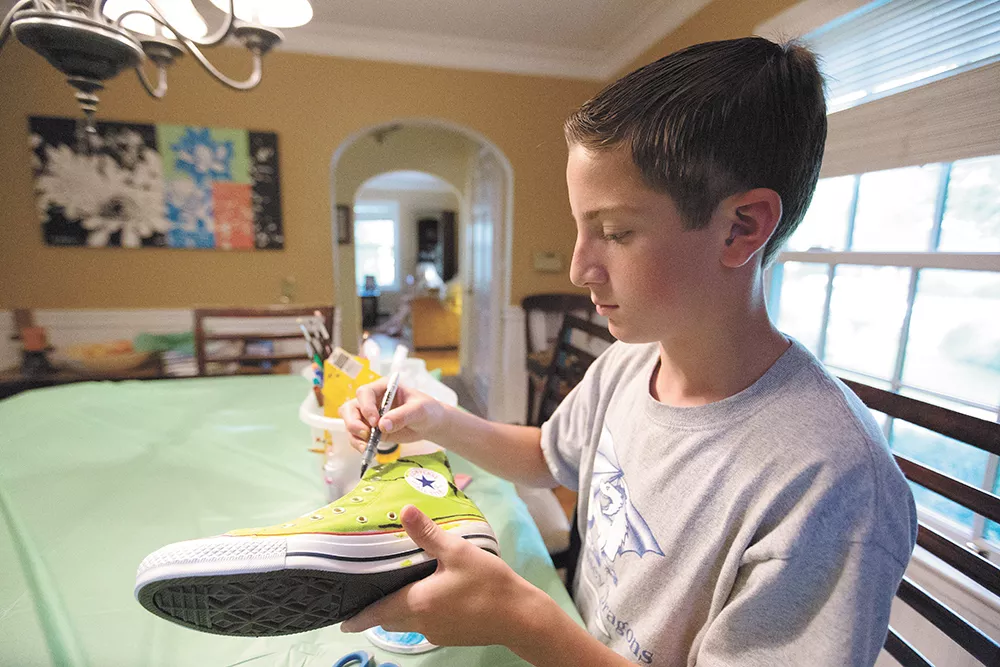 "Art takes your mind off it all," Dylan says. "You don't concentrate on your other problems or all your emotions. I thought that giving them the supplies and the time to paint would help them if they were feeling sad."
Stacks of Converse shoe boxes and art supplies purchased with a donation from Numerica Credit Union were delivered to the organizations several weeks ago.
Two local artists, Beverly Hill-Kleinstein and Garric Simonsen, volunteered and led the projects. Simonsen, a Spokane Falls Community College art professor, was interested in working with Odyssey, which is a support program for LGBTQ youth.
Beyond the occasional suggestion or technical advice, Simonson spent the time encouraging and talking with the teenagers as they painted.
Many of the participants, who opted to only give their first names, had come to the workshop at Odyssey with a clear idea of what they wanted to create on their shoes.
Alex, 17, designed a Van Gogh-inspired pair, recreating intricate scenes of Starry Night on the right foot and one of the Sunflowers paintings on the left.
"To be able to take part and put things on display and see if I like that — it's helpful to know if this is what I want to do," Alex says. He has aspirations to attend art school, but can't often get ahold of art supplies to practice with.
Similarly, one 14-year-old artist who goes by the moniker SRHH(Dean) says that art is his favorite form of expression. He holds up a shoe that has been covered in lyrics and logos of various musicians, including Avenged Sevenfold and Paramore.
"Their songs are what I connect to," he says. "These lyrics have helped me through a lot."
This week, 15 of these youths will be the stars of their own First Friday exhibit when their canvas sneaker creations go on display at the Luxe Ballroom. The owners donated their space to share the work of the teenagers in their first art show. Some will try to sell their shoes, while others are choosing to keep them. Collectively, it's the night that the volunteers, artists and organizations have all been working toward.
"This is putting activities into the system," Simonsen says. "It takes vulnerable young groups and gives them something positive and meaningful to do." ♦
— Convo Art: Shoe Art by Local Youth • Fri, Sept. 5, 5-9 pm • Free • Luxe Ballroom • 1017 W. First • artmattersspokane.com