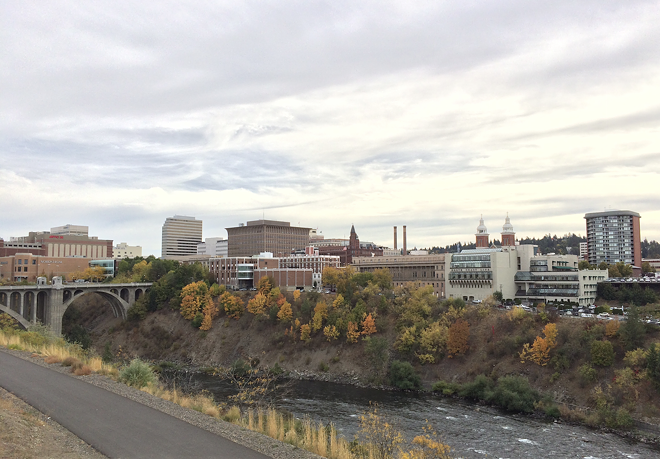 OUTLANDER serves as a weekly round up of Inland Northwest outdoor recreation and natural resources news. This feature will highlight a wide variety of issues and events, ranging from camping stories to national environmental disputes. We'll also try to include some scenic photos. Feel free to pass along suggestions or curiosities. The Inlander looks forward to sharing and celebrating the Great Outdoors.
—
In what sounds like an Operation Dumbo Drop-style spectacle, WDFW officials planned to capture eight infected bighorn sheep near the Snake River using helicopter-launched nets. They will then haul the sheep in aerial slings to a loading trailer for shipment to South Dakota State University for research to prevent the spread of pneumonia to other nearby herds. Sounds like capture went fine. (WDFW/LMTribune)
Anti-wolf residents turned out in force to a public meeting on wolf management in Colville on Tuesday, telling WDFW officials to ship those pesky wolves over to the westside to live with those pesky liberals. (AP)
New permits from the EPA outline new water quality goals for Coeur d'Alene, Hayden Lake and Post Falls for the next 10 years — introducing significant new standards for water flowing through the Spokane River basin. (CdA Press)
TONIGHT: Experienced hikers with REI offer a class on the best local trails for fall, hiking preparation and essential gear. Here's a schedule of other upcoming REI classes and events. (Inlander/REI)
Those who love hiking and Halloween can volunteer with or attend the "Return of the Zombies" night hike at Riverside State Park on Oct. 25. (WA Parks)
Sandpoint climber and Out There Monthly contributor Ammi Midstrokke writes about being trapped under a boulder in September. Here's the background on the rescue. (Out There/S-R)
With salmon regulations changing rapidly the past week, be sure to check out the WDFW's emergency fish rules before you head out. (WDFW)
Rifle season for deer opens tomorrow, so IDFG has issued several safety reminders for successful hunting. (IDFG)
FEMA announced new relief programs for the Carlton Complex wildfire including an erosion assessment team and $235 million for the Okanogan County PUD. (FEMA)
Outside magazine highlights three regional fire lookouts in a short feature on staying in the remote accommodations. We wrote about the Mt. Spokane lookout back in July. (Outside/Inlander)
If you didn't get enough water quality/salmon news last week, here's more information on the renegotiation of the Columbia River Treaty. Tribal and religious leaders continue to push for modern representation in the talks. (HCN/Indian Country)
And follow Outlander on Twitter already.