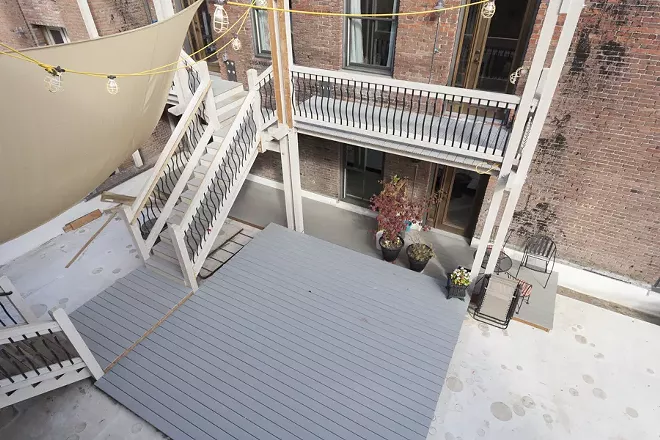 The downtown Spokane interactive art space Laboratory is looking for applicants for its new artist residency program. The program calls for artists with a particular interest in interactive art, or "art that responds to the presence of interaction of the viewer," says Laboratory founder and director Alan Chatham.
Chatham founded Laboratory in 2013 as an alternative space for artists to create and show interactive pieces.
"Interactive art as a fine-art medium is really just kind of beginning to take off," Chatham says. "So right now there's not a whole lot of support for it. That's why we're kind of hoping to be one of those first organizations to really support and help interactive artists produce work."
Successful applicants to the residency are to begin working there next month. Laboratory will house the two artists in a recently renovated downtown apartment (located above The Bartlett, at 228 W. Sprague; residents also get free access to all Bartlett concerts during their stay) for 1-3 months, in addition to access to a 200-square-foot studio, mentorship from Chatham, and a monthly stipend. In return, resident artists are expected to produce at least one piece of art for display in the storefront gallery, located at 301 W. Main. While Chatham is personally funding the project for now, he's also starting to look for donations.
So far, applications for the residency have been light, with the majority coming from Europe.
"The [interactive art] scene in Europe is a lot more vibrant, I think," he says.
Artists can apply for one of three focus areas, or "tracks," that provide themes for the residency. The production track is "for people who have a really cool idea and want to make something," Chatham says. The research track includes brainstorming new tools and techniques for interactive art, while the learning track is designed for artists who want to take part in the residency but need to hone their skills. All three were developed with the development of interactive art in mind.
Interested applicants can apply at the residency's website before the first residency slot deadline of Saturday, Nov. 1.