Less than a month into the job, the newly seated Office of Police Ombudsman Commission on Tuesday approved a three-year extension for Spokane Police Ombudsman Tim Burns instead of pursuing a national search to replace him.
Commission Chairman Kevin Berkompas allowed brief public testimony on the decision before bringing the matter to a 4-1 vote. Most commissioners supported extending Burns' contract to help see the commission through the early stages of structuring and implementing the new oversight board.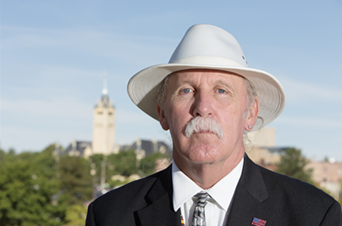 "I think it's what's best for our community," Berkompas says. "We have an excellent ombudsman. He's been interviewing for the job for five and a half years. … It's a tough job and he's done it well."
Commissioner Rachel Dolezal cast the lone vote against the contract, arguing the commission should seek out the best possible candidate. She says she had spoken with representatives of the local NAACP, the Center for Justice, and the Peace and Justice Action League of Spokane.
"All of the individuals that I've talked to do favor a national search," she says. "I would urge the commission to not give into the fear of the unknown."
Commissioners Debra Conklin and Adrian Dominquez expressed concerns that a new ombudsman would be difficult to hire by the end of Burns' current contract on Feb. 20. They worried the city could be left without an ombudsman for an indefinite amount of time.
"If this brand new council ends up with a brand new ombudsman, … I worry that I will not be as effective," Conklin adds. "That's an important factor for me."
The commission will continue to develop its governing protocols and practices in the coming months. Commissioners will also oversee pending independent investigations into at least two officer-involved shootings from last year.
Spokane County Sheriff Ozzie Knezovich also pledged to pursue a new role for the ombudsman in providing oversight for the Sheriff's Office.
A handful of citizens provided comment on the proposed contract extension. A couple people praised Burns for being open and accessible. Tim Connor, with the Spokane Police Accountability and Reform Coalition, tried to raise some concerns regarding a previous investigation under Burns, but ran out of time.
Connor later explained privately that Burns had conducted an independent investigation in 2011 that left out important evidence regarding an SPD officer striking a woman with a rifle. Connor says such incomplete investigations leave much to be desired.
Berkompas contends Burns has the experience and motivation to move the office and commission forward.
"[Burns] has made it clear to me that he's open to the changes and direction of the commission," he says. "We acknowledge there are areas to improve."
After the vote, Burns thanked the commission for its support.
"I look forward to working with you in the future," he says. "We will work hard to bring the highest level of service to the community and address your concerns."