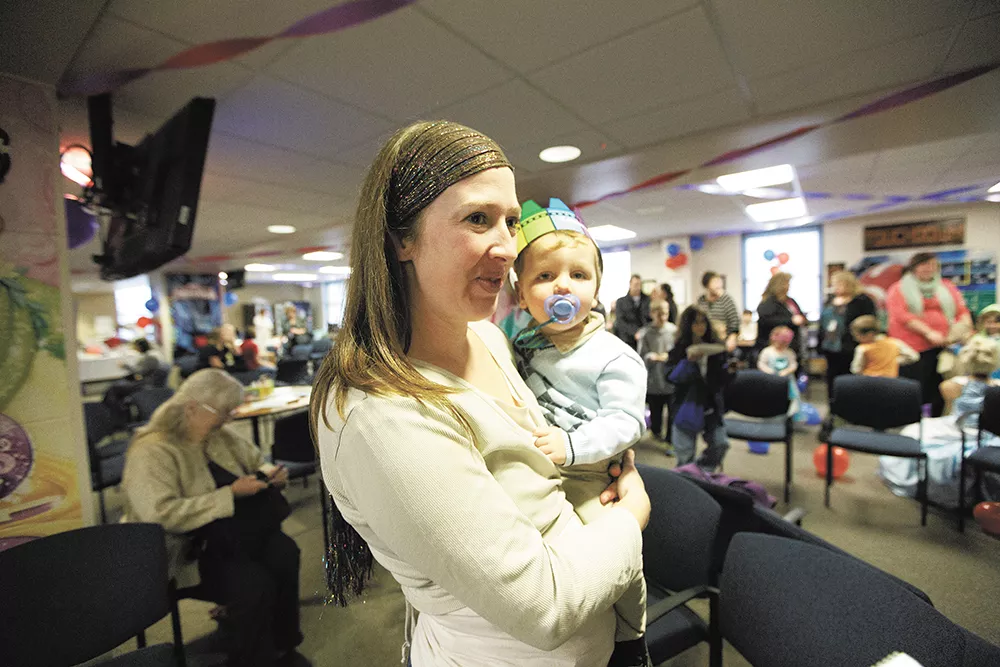 In Judge John Cooney's courtroom, attorney Jodi Felice asks the Jorgensen family for their testimony. She begins with the requisite questions:
Would you state your full name?
What is your present address?
And finally, the tough one: When were you married?
At that, Elmer Jorgensen hesitates and turns to his wife, Sarah. The courtroom laughs.
"September 15, 2003," she says.
The jury box is filled with their friends and family. TV cameras and reporters roll tape by the door. The Jorgensens' children — Arilyn, Rhiannon, Bjørn, and Søren — are crammed behind the counsel table, twirling in swivel chairs and clamoring for the microphone. "Hello. Hello," one of the boys whispers into the mic before bursting into a fit of giggles. Judge Cooney smiles from the bench.
They're here to see baby Lørn — sucking on a blue pacifier on Sarah's lap, with his little hands wrapped around her neck — officially become a Jorgensen on Washington's 10th annual National Adoption Day. At the Spokane County Superior Court last Friday, 25 children officially joined 17 families like the Jorgensens. They celebrated in the courthouse annex afterward with cupcakes, balloons, face painting, the movie Frozen and a gaggle of Disney princesses in sparkly dresses, posing for pictures.
"Oh, it's the best job there is!" attorney Mark Iverson gushes on his way to an 11:30 am adoption hearing.
Like many of the families, the Jorgensens fostered Lørn, who turns 2 on Friday, long before they adopted him. A year ago, Washington's Children's Administration asked the Jorgensens if they had room for another foster child. Sarah requested an infant because she "wanted a baby to love on."
Both Sarah and Elmer grew up in big families. Sarah, 36, is from Denmark, where she was the youngest of eight children. Elmer, 52, is from Cheney, where he was one of five. They met 11 years ago online, Sarah bashfully admits, at "LDS Friends Worldwide." They exchanged letters and before long, they just knew. Elmer jokingly calls her his "mail order bride." Sarah playfully says she was his "mid-life crisis" after reminding him that he traveled to Denmark to meet her. Now they live on a three-acre farm outside of Medical Lake, where Sarah homeschools the children and Elmer does freelance construction work.
There was no question: They wanted lots of children and a full house, and they had their daughters, Arilyn, 10, and Rhiannon, 7, soon after they were married. But in the summer of 2012, after years of trying, Sarah suffered her second miscarriage. Around that time, Sarah had heard that the two foster boys who went to her church were looking for their "forever home." The news, she says, "went straight to [her] heart."
They finalized their adoption of Bjørn, 6, and Søren, 5, in March.
"I knew they were mine. It's weird to explain. I just knew these were my kids," Sarah says. "There's never anything good about a miscarriage, but if it hadn't happened, I wouldn't have had my two boys."
Of course, they've had their share of challenges. Kids who go through the foster care system don't have it easy. There are fights every now and then. Missed milestones. Their sons used to call them their "third parents." Elmer sometimes senses they fear they'll be taken away or "sent back." They're still learning about their sons. They're always negotiating their time and attention with their children. Life, sometimes, feels a little bit "haphazard," but their patience, they hope, will pay off in full.
"I love each one of my kids," Elmer says, "and I want them to be who they can be."
Back in the courtroom, attorney Felice asks Judge Cooney to "make this official" for the Jorgensens. He signs the adoption decree to applause from the jury box.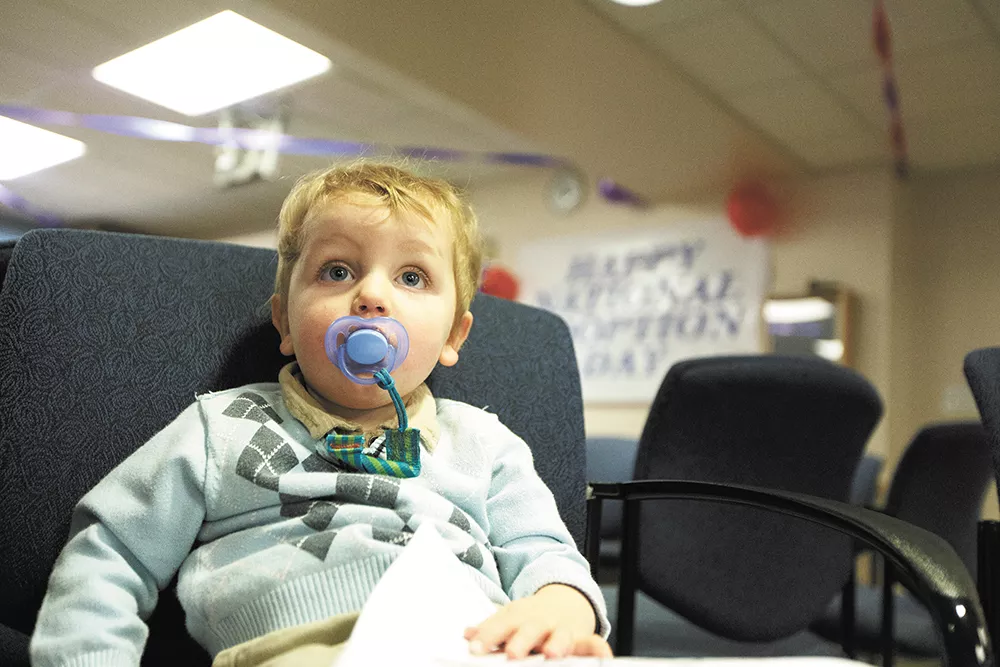 "There's actually a feeling of relief," Elmer says, after the paperwork has been finalized. As foster parents, you're warned that nothing is permanent until the judge signs on the dotted line. So on those hectic days when the house is a mess and nothing is done, you worry about what might happen if a case worker walks in. When your foster child stumbles and falls and bumps his head, a part of you wonders if makeup will cover his scrapes. Until then, there's always a chance your foster child will be taken away from you. "It tears at you when they move."
"It feels good to know he is ours," Elmer says.
Little Lørn rests his head on his mother's shoulder while she rocks him back and forth. Before the family is ushered to the bench for pictures with the judge, they share a private moment. She whispers into her son's ear in Danish: "Nu er du min." Now you are mine. ♦