It's a band comprised of two drummers. But that makes songwriting easier for Matthew Bogue, 33, and Tobias Hendrickson, 28 — they speak the same musical language. Together only a few months as the electro-pop band Crystalline, their output is so plentiful they're set to release the self-produced debut EP Move this weekend.
They've each played in numerous (mostly) rock bands since high school. But Crystalline is an extension of the pair's defunct electronic rock band BIAS, which also included singer Caroline Schibel, formerly of Mon Chéri. When Schibel left the band this summer, Bogue, a former Inlander graphic designer, and Hendrickson renamed the group and got busy writing songs for a slot at Bartfest.
"We had so much shit — instruments, bells and whistles on stage — with the other band. It was so complicated in my brain," Hendrickson says. "This project works so well because we stripped back to what we needed and the whole thing, just all of a sudden, spit out."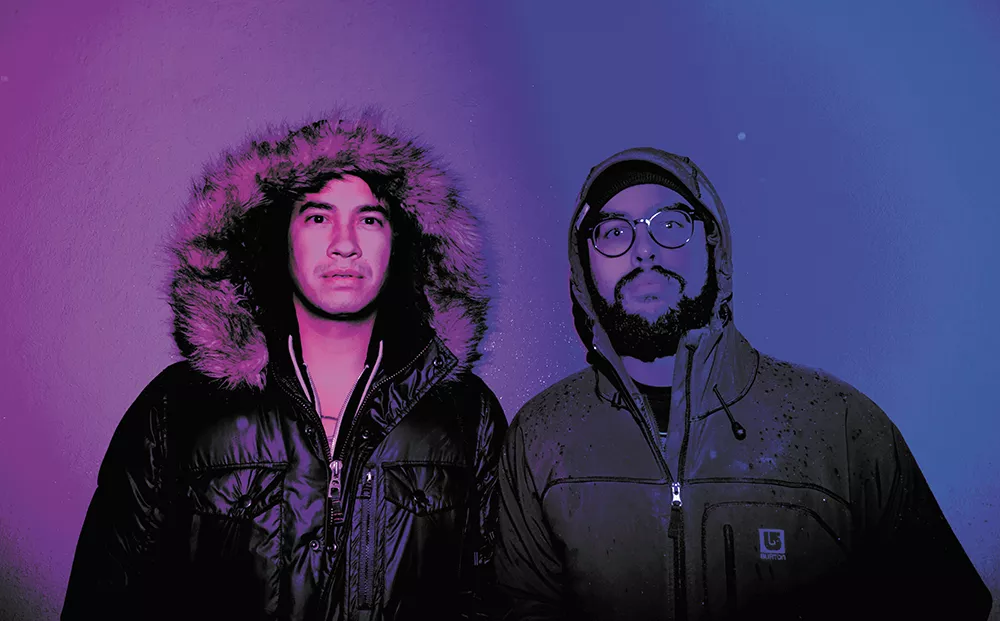 Now each man's table of musical supplies — iPad, electronic beat makers and synthesizers — fits in two suitcases. Bogue creates most of the beats and outer space-sounding noises on stage while Hendrickson takes on the vocals and keys. They also have floor toms "in case we want to get tribal," Bogue says.
"We have a couple little loops, but we don't play tracks," Hendrickson explains. "We try to create everything live. If you want to make music worth something you have to do it the hard way."
On a frigid evening last month, the duo is practicing at Bogue's South Hill home. Catchy electronic music fills an unfinished basement featuring a dried-up Christmas tree with twinkle lights, a nosey dog named Penny and an Isamu Jordan poster on the wall.
The layers of music build quickly. They're attempting to create one immense wave of sound; trying to create emotions. During shows, songs bleed right into one another, maintaining one overarching tone for a whole performance. Hendrickson, who works in video production, is crafting an accompanying psychedelic film for the band's upcoming show.
"You don't have to tell people what to feel when listening to your music," Hendrickson says. "You show them."
But Crystalline's music isn't something from the ambient doldrums. It includes poppy synth beats and fascinating dark undercurrents. Hendrickson's soothing voice, with the help of a vocal processing tool, leaps from groaning bass lines to screeching high notes. Their lyrics range from the fantastical ("Dragons," which was a BIAS song) to the emotional ("You say you like me/but you don't even know me" from "Smoke and Mirrors"), along with striking pop anthems like the boot-stomping "Next Fun."
From the indie scene to the Top 40, 1980s-influenced electronic pop is huge. And over the past year, multiple electronic pop acts have sprouted up in the Inland Northwest. Crystalline says they're not bandwagon jumpers — they're making this music because it's come so naturally to them.
"We're actually dedicated to this band as opposed to feeling uninspired and frumpy," Hendrickson explains. "And that's exciting."
Currently, they get together once or twice a week to practice and write or simply hang out. They have a couple of new songs they'll play at Friday's show, not included on the six-track EP being released on cassette with a digital download.
"People will probably have to go to Value Village and get a freakin' Walkman to play the tape, but we're OK with that," Bogue says. ♦
Crystalline EP release show with Water Monster and Sea Giant • Fri, Dec. 5, at 8 pm • $5/$7 day of, tape with digital download $10 • All-ages • The Bartlett • 228 W. Sprague • thebartlettspokane.com • 747-2174