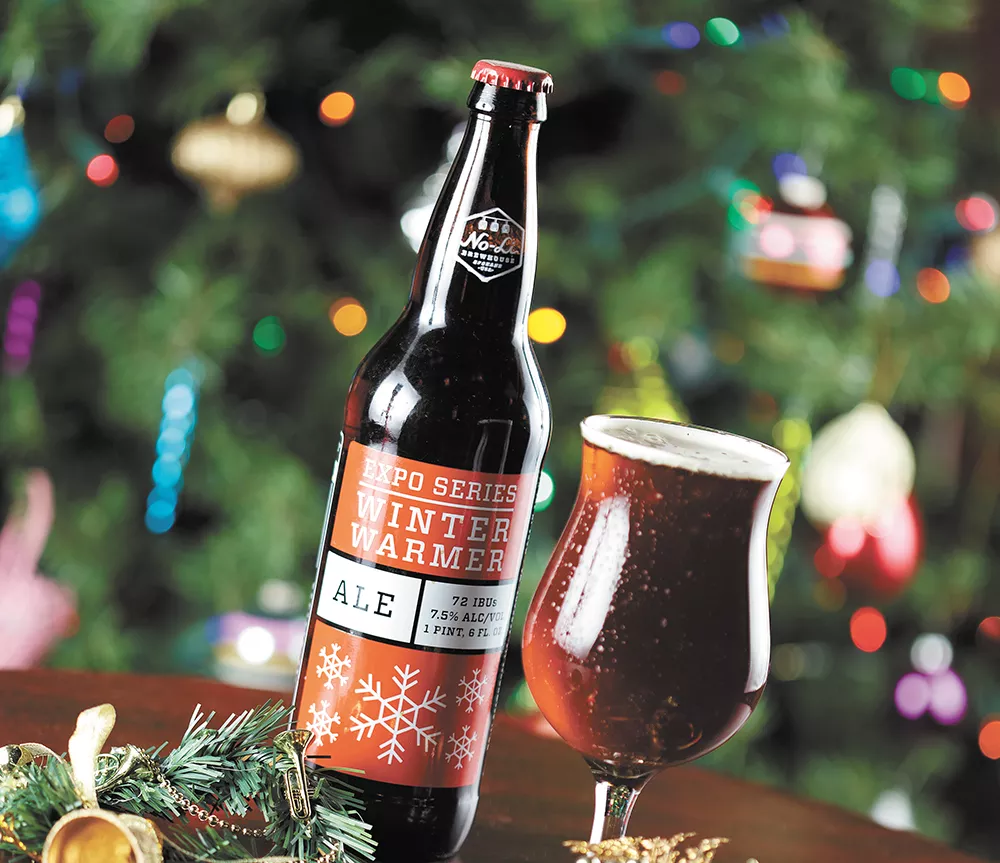 For a long time, a craft beer drinker didn't need to read the description of anything on the tap list called a "winter beer." They'd expect a malty, sweet ale, dark in color, with a high enough alcohol content to put the sound of jingle bells ringing in their ears after a couple of pints.
It would be something like a Jubelale from Deschutes or Snow Cap from Pyramid, two stalwart brands that inspired countless similar beers. Then a lot of these winter ales began to homogenize over the years, to the point that the less well-done ones couldn't always be told apart. A winter beer came to mean something oddly specific.
Thankfully, brewers decided they needed to break out and create beers that gave drinkers an indulgent taste of the season, in ways that have redefined the term "winter beer." While taking a different route, brewers haven't abandoned the flavor of the holidays. At Trickster's Brewing Company in Coeur d'Alene, the winter beer on tap is the Naughty Nick, a "chocolate chip cookie oatmeal stout." The alcohol by volume remains high (north of 7 percent) in this concoction, first created last year by Trickster's founder Matt Morrow and continued in 2014 by new head brewer Evan Ruud, but it's hardly a typical winter beer.
"It's a forward-thinking thing we did with the dark malts, and then added in the spices to accentuate those flavors," says Ruud. Those spices include Dutch cocoa, cinnamon, bourbon, vanilla beans and more: "It's pretty much every element that you need to come up with an oatmeal cookie."
Ruud says that at least at Trickster's, these creative and festive beers are born of the fact that brewers have more time to let beer sit in the fermenters. Things are a little slower this time of year, Rudd says, allowing for the sort of patience needed to experiment, where summer months might see them brewing simply to meet demand.
"Everything is not flying out the door, so it gives us time to give it some TLC," he says.
Ruud says they also have some 2013 Naughty Nick aging in a cabernet sauvignon barrel; they plan to roll it out at the pub in mid-January.
The diversification of winter beer styles hasn't hurt the popularity of these seasonal beers, as evidenced by the throngs who turned out for the Washington Brewers Guild's Winter Beer Fest earlier this month in Seattle. Apparently those thirsty folks had a thing for Spokane's No-Li Brewhouse, which walked away with the top People's Choice award at three of the festival's sessions.
Those awards weren't bestowed on No-Li's Winter Warmer, a dry-hopped, dark-red, 7.5-percent mountain of an ale that's become a holiday standard in the region. Rather, the prizes went to a Big Bang Barley Wine, an Aksel (a beefy Belgian ale specially barrel-aged with cherries for the festival) and a vanilla-and-chocolate-infused take on their coffee-flavored Rise & Grind.
"Winter Warmer has had record sales, but when we go to festivals, we take the soul of No-Li and get to showcase what people can't get in bottles," says No-Li co-owner John Bryant.
He says that the thinking surrounding a winter beer has changed significantly in the past several years, allowing for the sort of experimental beers that won his brewery top honors in Seattle.
"The definition of a winter beer from 10 years ago to what it is today has changed a lot," says Bryant. "Now, there's a lot of combinations and a lot of barrel-aging, and you can infuse those beers with chocolate or cocoa beans, or whatever flavors you want to bring out." ♦