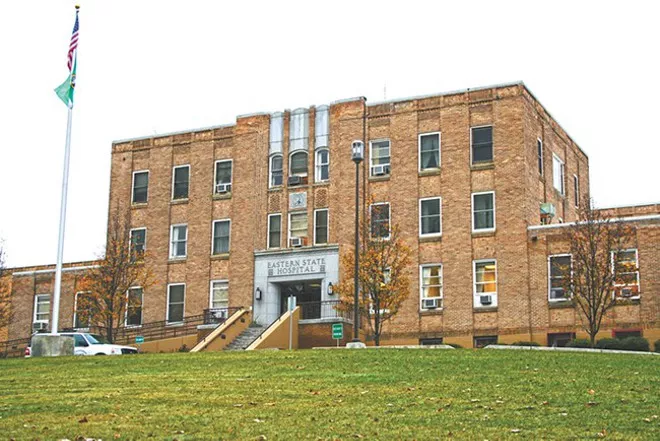 Challenging the state's mental health priorities, a Spokane County judge last week issued the first contempt of court ruling against an Eastern Washington psychiatric hospital for failing to conduct timely evaluations of several jailed defendants awaiting trial, fining the hospital $200 a day for the delays.
Judge Salvatore Cozza ruled Friday that Eastern State Hospital had willfully violated multiple orders by not conducting competency evaluations, or even scheduling them, within court-established deadlines. Cozza notes that several Seattle-area courts have issued similar rulings as backlogs have increased.
"We are clearly in a situation where individuals are languishing [in jail] way too long," he says. "Their cases are getting backed up and we really are getting into an intolerable situation."
State law calls for jailed defendants to undergo mental health evaluations within seven days, but wait times often average more than a month. Cozza faults state lawmakers and administrators for setting such deadlines without the staffing and budgetary support to meet them, leaving defendants caught in limbo.
"There have been conscious decisions ... that have created this problem," Cozza says. "This is not something that snuck up on decision makers without warning. This has been coming for a long time."
Mental health advocates have repeatedly asked for stronger enforcement of deadlines on competency evaluations. Some defendants have served more time awaiting evaluation than they would face upon conviction of their alleged crimes, upward of six months in some cases.
Department of Social and Health Services officials, who operate the state's two psychiatric hospitals, note that Eastern State Hospital conducts evaluations across 20 counties with just six evaluators. The number of evaluations has also grown each year, from about 460 in 2010 to 625 so far this year.
Assistant Attorney General Andrea Utigard-Borg, representing DSHS, contends that Eastern State did not intentionally violate the court's orders, but could only conduct so many evaluations with the resources available. She says DSHS officials share many of the court's concerns about the increasing wait times.
"The department is aware of this issue, frustrated by it and doing everything that they can to make sure people are receiving evaluations," she tells the judge.
With local evaluators overwhelmed, Cozza says DSHS and state officials have been "putting a Band-Aid on the problem" for too long. Failing to provide sufficient staffing and funding constitutes an "intentional decision-making process" which has undermined the hospital's ability to uphold its responsibilities to its patients and the court.
Cozza issued a contempt finding for five of the six cases before him, noting that the hospital had conducted an evaluation of one defendant since his previous order. The resulting fines against DSHS will likely total more than $15,000, depending on when the rest of the evaluations can be scheduled.
Public defender Kari Reardon, who asked for the contempt findings on behalf of the six defendants, says Eastern State has done little to arrange evaluations for her clients while they have suffered prolonged and unnecessary mental distress behind bars. She hopes the court's ruling will expedite the process.
"These [evaluations] are taking so incredibly long to get done," she says. "These are people that matter and have rights." ♦