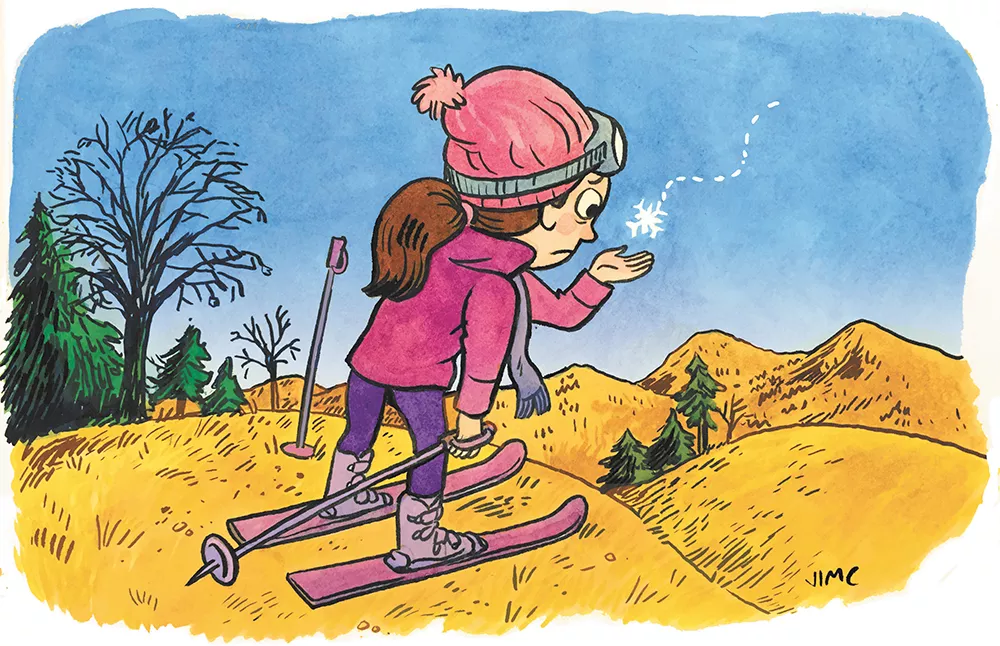 Dear Mother Nature,
You're really throwing us a curve ball here with this warm, wet weather.
If you and Ullr could get together and help us out, we ski bums would love it. We've all heard the saying, "When life gives you lemons, make lemonade."
Well, now that it's mid-December and area resorts are getting the short end of the stick from you (and Ullr), we ski bums are forced to take matters into our own hands, passing the time until temperatures get colder and the moisture turns to beautiful, powdery goodness. Until then, don't be surprised to see some abnormal behavior from us die-hard skiers.
Desperate times call for desperate measures. I'm done with my Christmas shopping, which never happens until well into January, as I'm usually too busy taking advantage of the typical December skiing — some of my favorite powder days have been this time of year. Friends are bragging about finally getting all of the items off their "to-do" lists, and I've witnessed my housemate hand-sanding two-by-fours to make a life-size game of Jenga. I've heard of the Jenga drinking game, but have never experienced it. I have a feeling that if you don't bring us winter weather soon, there will be a nightly game in my living room.
I see a handful of friends daily during ski season, and gave one a call to see how he's been spending his time. His response? Testing the integrity of his rain gear.
"Don't forget your Ski Gee*!" he warns, adding, "I did not feel any moisture during those seven runs [on Dec. 9]." Was it raining, foggy, moist? "Yes, but still, I was skiing! And if there is any hope of me getting 100 days this season, I've got to get days in now." So please bring snow, and lots of it, so we ski bums can still be in the hunt for a 100-day ski season.
Others frantically search online for weather patterns favorable for epic conditions — cold temperatures with a lot of moisture. What's a reasonable driving distance? That number depends on how long this warm, moist weather hangs around. The positive side of a potential road trip? Gas is the cheapest price per gallon we've seen in many years, and there's currently a better bang for your buck up in Canada, making road trip options nearly endless.
But we want to ski here, in the Inland Northwest. Please turn on that snow cycle that will bring a white Christmas and lots of powder days.
We know that winter doesn't technically start for a few more days, but we're ready now. Our snow shovels are by the door, waiting to remove as much snow as you will dump on our driveways.
Thank you for listening and being kind to skiers, snowboarders and snow aficionados all over the Pacific Northwest.
Love,
Jen
* Ski Gee: a soft plastic gadget used to wipe away moisture in any form (rain, freezing fog and snow) on goggles, and the most undervalued tool for every skier and snowboarder in the Inland Northwest. You should own several. Like lip balm, when you need one, you want to open your pocket and find it immediately.