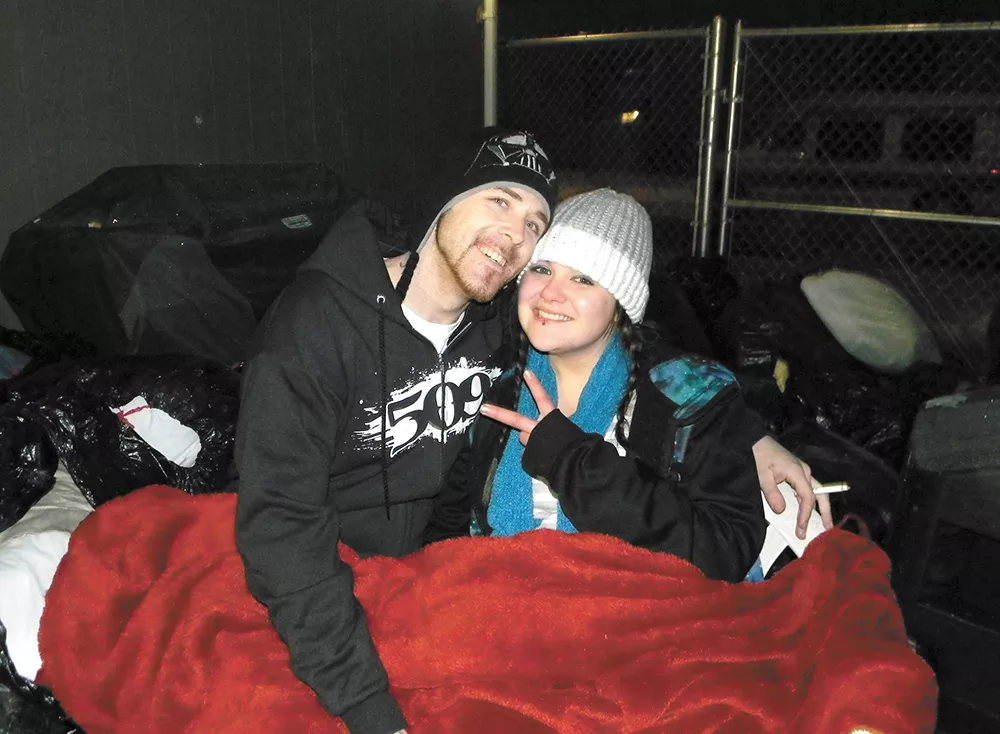 The shelter smells of hot wings and pizza — a special dinner for New Year's Eve — and there are green-and-white bottles of non-alcoholic champagne waiting to be cracked open. The Fresh Start warming shelter in Coeur d'Alene is full tonight: People huddle on mats, lean against walls and wedge into corners. Others are stretched out on three black couches watching the Western Tombstone on TV. The back door is constantly swinging open as a procession of smokers cycle in and out, hoping for a glimpse of the fireworks by the lake.
Even here, cold and sober, there is a New Year's buzz, the end of something, the resolution to be better.
Sitting on a bedroll together, Lacey Thompson and Ryan Peppers are hoping, not unlike people all over the world, that when the clock strikes midnight they can finally make a break with their pasts. The two are regulars here. Peppers is 35, wears a flannel shirt and has a black beard. Soft-spoken, he lets Thompson, five years his junior, do most of the talking. She has short bobbed hair and wears an orange cardigan. On her left hand is a black glove. On her right hand is the word "mine" scrawled in black marker.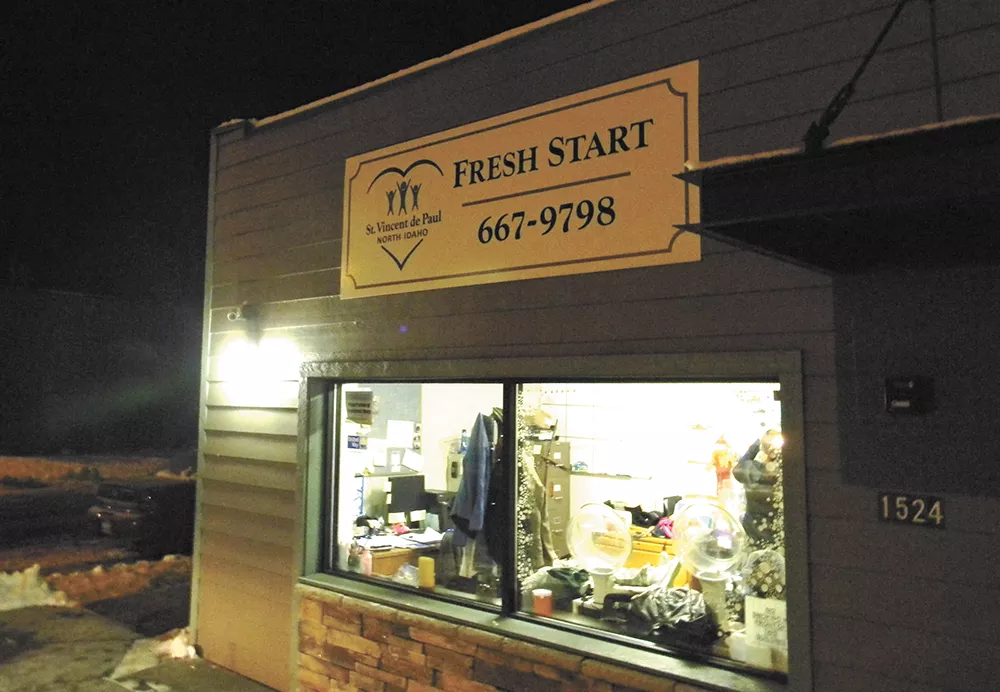 "She's mine," says Peppers softly as the two gaze at each other. "I wrote 'mine' on her because she's mine."
Thompson and Peppers met while working at a local brewery in 2006. She was the new waitress. He was the new cook. They fell in love and had a son. But they all would soon be separated. Their son was taken by the state, and the couple would be split up by periodic prison sentences.
Addicted to prescription drugs, Thompson did a couple of stints in prison, including four years for counterfeiting money to pay for her habit. She lost ties to the community she grew up in, avoiding everyone she knew there, including Peppers, who did a stretch behind bars himself.
In 2013, having struck up a correspondence with Peppers, Thompson rode the Greyhound from Boise to Coeur d'Alene. "I was coming to my hometown as a stranger," she says. She was nervous, worried that Peppers had given up on her and wouldn't be there when her bus pulled in.
Uncertainty melted into joy as Thompson saw Peppers standing in the parking lot in Coeur d'Alene, waiting for her.
"I love her," he says. "I'd find her wherever she was."
After being reunited, they didn't leave each other's sight, not even to go to the bathroom. Although happy and reunited, they've spent the past two years reintroducing themselves to one another and figuring out who they want to be.
"We were really not ourselves," says Peppers.
"It changes you," says Thompson of her time in prison. "And you have to deal with who you were and who you are now."
The past year was a year of agreeing who they want to be. They did some work over the summer painting houses and doing carpentry. But the two are still recovering from years of abusing Oxycontin. This year, they hope, will be different. This year, says Thompson, will be "a year of putting everything back together." ♦