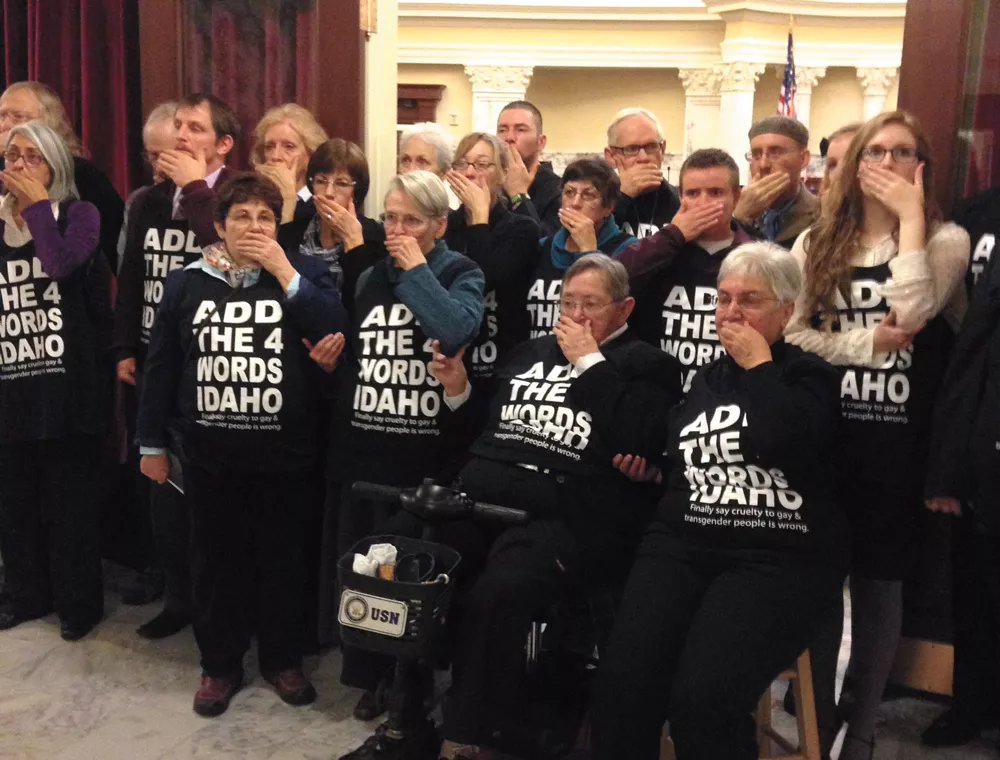 IDAHO CONSIDERS THE WORDS
Last year, more than 100 protesters were arrested for refusing to leave the Idaho state capitol until a hearing was held to consider adding the words "sexual orientation" and "gender identity" to the list of classes protected by the Idaho Human Rights Act.
This week, those protesters got their wish. Idaho legislators began to consider a bill that would "ADD THE WORDS."
More than 600 people signed up to speak on topics ranging from bathrooms to bakeries to the Bible. Some warned that the bill would cause Idaho businesses to suffer like Arlene's Flowers, a Richland, Washington, flower shop that was sued by the state of Washington for refusing to provide flowers for a gay wedding.
Lobbyist Bill Roden was a co-sponsor of the original Human Rights Act back when he was a 22-year-old Ada County senator. Now in his 80s, he testified in favor of the bill. "The time has come," Roden says.
Because of a judicial ruling in October, gay marriage is already legal in Idaho. And 10 cities, including Sandpoint, Coeur d'Alene and Boise, have already added the words to their local ordinances. (DANIEL WALTERS)
KINNEAR RUNNING
Lori Kinnear, legislative assistant to Councilwoman Amber Waldref, tells the Inlander that she's filed paperwork to run for SPOKANE CITY COUNCIL in District 2.
The position is currently held by Mike Allen, who hasn't announced if he'll run for re-election later this year. Downtown business owner and perennial candidate John Waite has already throw his hat in the ring.
Kinnear has served as a legislative assistant for the past six years, working on legislation that encompasses dangerous dogs, economic development, human trafficking and other issues.
"I've learned a lot and I think it's time to apply what I've learned," says Kinnear, who also wants to work with her boss as more of an equal.
Kinnear says that she is particularly proud of recent work done by city council on development incentives meant to avoid urban sprawl as well as a neighborhood notification system that apprises residents of cell tower construction and other development.
Kinnear says that she'll likely have to cut back on her hours as a legislative assistant as the campaign picks up, but she says she has no intention of resigning at this point and has the blessing of Waldref.
Kinnear, who previously lived in Seattle, has worked as a newspaper reporter, an ad copywriter, a small business owner and for TINCAN, a defunct nonprofit that helped people access technology. (JAKE THOMAS)
A CLOSER LOOK
After meeting with patients adjudicated NOT GUILTY BY REASON OF INSANITY (NGRI) and hearing their stories, state Rep. Timm Ormsby, D-Spokane, has introduced legislation to repeal a 2010 law effectively forbidding these patients from leaving state hospitals. A hearing on the bill is scheduled for this week.
The original law was passed in 2010 after an Eastern State Hospital patient named Phillip Paul escaped from a supervised field trip to the county fair. Drafted by Spokane Valley state Rep. Matt Shea, the law bans patient outings and reintegration trips into the community. Patients now require a court-order to even walk on hospital grounds.
Ormsby, who initially supported the 2010 legislation, says his views changed after he and other area lawmakers visited Eastern last summer to meet with NGRI patients.
"I felt there were compelling stories we witnessed from the patients," he says. "We are compelled by statute and by case law: [Treatment is] not punitive. It's supposed to be therapeutic."
The bill was originally introduced by former state Rep. Tami Green, D-Lakewood, two years ago. It had its first hearing last year, but it failed to move out of the House Judiciary committee. Ormsby believes the legislation will gain more traction this year as lawmakers grapple with Washington's severe shortage of mental health beds at state facilities. (DEANNA PAN)