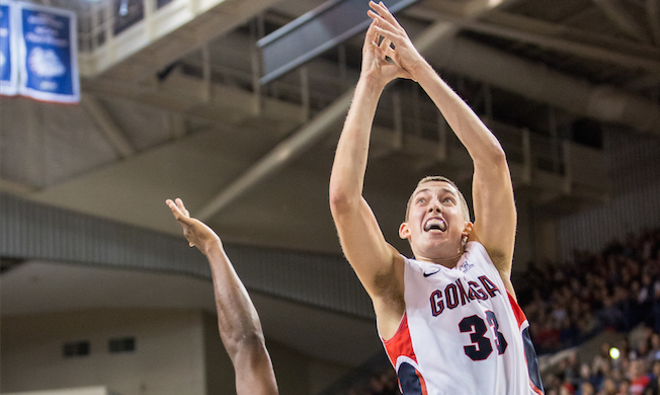 There are few pleasures greater than watching a shooter get white hot. Every time he touches the ball, you scoot up in your seat. You stand when he releases a shot and a millisecond later you can just tell it's good. Such was the rare joy of Kyle Wiltjer's out-of-body performance last night at Pacific during which he tossed in 45 points.
The Zags won 86-74.
It was the most points by a Zag since Frank Burgess scored 52 in 1961 and topped the almost-decade-standing 43 points that Adam Morrison dropped back in 2006. It started as one of those games where a guy starts obnoxiously strong and you think "if he keeps this up, he's going to score 50." That almost never happens because of foul trouble or defensive changes or, more likely, a dude just loses his touch. Wiltjer scored 15 points in the first 10 minutes of the game and there was a
he's-going-to-score-50
vibe to his game that made things feel special in Stockton, California, a place where things tend to be
more murderous than magic
on most nights.
To put 45 points in perspective, in a Pac-12 game happening concurrently as the Zags/Pacific contest featured a
winning team (Utah) that scored just 47 points as a team
.
The losing team of that contest (Oregon State), scored just 37.
Here's how he did it.
THE THREE BALL, OF COURSE

Yes, Kyle Wiltjer is 6-10 and plays defense, for the most part, down around the basket, so it's easy to forget that he is a deadly three point shooter. He took 10 threes last night and made seven of them. That is outrageous, especially considering he took the bulk of them immediately off the pass. Granted, one of those threes came in the final seconds after the Zags had run down the shot clock. How good of a long range bomber is the Kentucky transfer? Here he is making 70 out of 75 shots in practice.

HE IS A SEXY BEAST WITH THE BALL
Wiltjer, again, is 6-10, so when he wants to get close to the basket, he can. And he did, with much aplomb and grace and frequency, last night. There was an up-and-under in the second half that had even Pacific fans covering their mouths, lest they say "damn, you see that?"
His mid-range game was on, too. That's a skill that makes this still-improving player (read more about that in this excellent
Grantland feature from this week
) as deadly an offensive threat as there is in the country. Making him even more deadly is the fact that there are four (maybe more) guys on his squad who can drop 30 on you if Wiltjer isn't getting shots.
All of this is helped by the fact that a guy like Kevin Pangos leads the floor for the Zags. He found Wiltjer at least five times wide open. And, he gave the Zags extra possessions by putting his body in front of charging Pacific players on three different occasions. Pangos finished with eight assists.
INSANE EFFICIENCY

Remember the days when Allen Iverson would score 45 points (
or more
) in a game? To do it he'd throw up 40 or so shots. Wiltjer got his 45 with just 22 shots. Yes, that made up for 44 percent of his team's field goal attempts, but when you score 52 percent of your team's total points, that's fine. The Zags shot a Space-Shuttle-reentering-the-atmosphere-hot 60 percent, but Wiltjer was even hotter than that, stroking it at a 68 percent clip.
No huge scoring game comes without the free throw line. Wiltjer got himself to the line for nine attempts and made eight of them. That helps.
THE TAKEAWAY
Having one of your guys make the Sportscenter ticker for a huge night does not make you a great team. In fact, as BYU's Tyler Haws found out last year when he dropped 48 on Portland,
you might not even win.
The Zags were dynamite on the offensive end, but looked like many Zags teams of old when they allowed Pacific — the last-place team in the WCC — to hit 11 three pointers on them. The Zags also allowed Pacific 14 offensive rebounds. This is the sort of stuff that will hurt you in March.
But look for the Zags to fine tune that defense when they head to Saint Mary's (7 pm ESPN2) on Saturday. Kyle Wiltjer won't score 45 points, but there's a chance another Zag might.