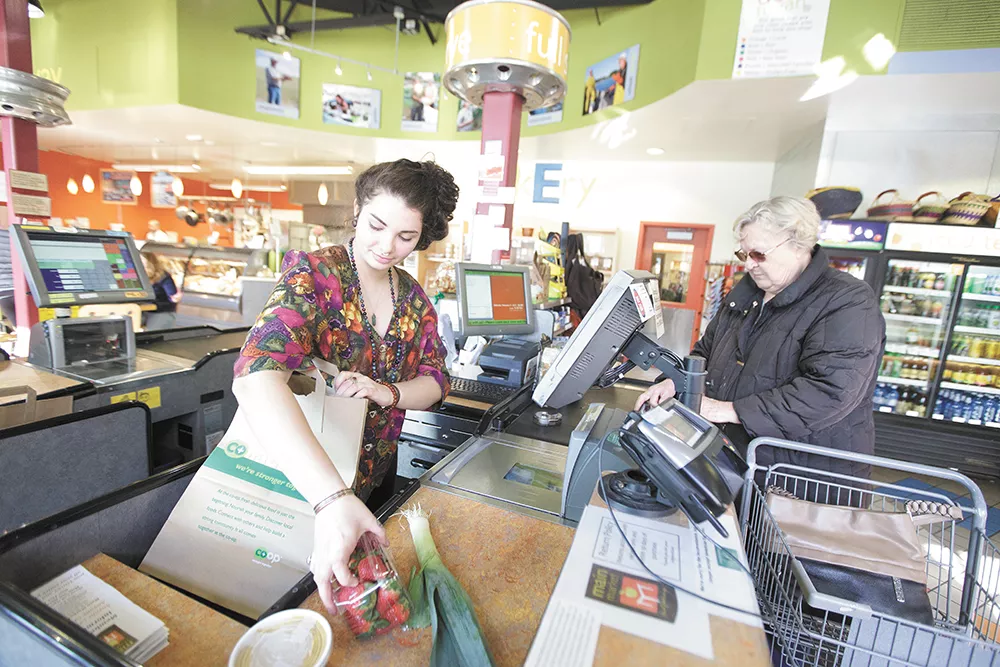 The thick wood table features the words of Joy Harjo's "Perhaps the World Ends Here": The world begins at a kitchen table. No matter what, we must eat to live.
The poem's words were engraved on the table crafted by local artisans for the Main Market Co-op when it opened downtown five years ago. It served as the market's community table for those eating at the deli, but was later mounted on the wall and is now being refurbished to become seating again.
The table is one of several changes Main Market has made in the last few months and introduced during their grand relaunch earlier this month. Megan White, the store's general manager, says they implemented the changes after joining National Co+op Grocers, which provides support and consultation for 143 food co-ops around the country. The association performed an audit and made suggestions regarding layout and pricing.
"It was about professionalizing the look of the store and making it more user-friendly," says White.
A large island once occupied space in the deli, but was torn out. Now there's room for the table to soon return to the seating area with small tables surrounding it. White says bringing back the community was important during the changes. It represents a core concept of the market's mission to foster community.
The produce section was made more open, and the bulk section that used to be in the far back corner of the store got moved to a more prominent place.
"The idea of bulk is central to what a co-op and natural food store is, and we really brought it front and center," she says.
They created a wellness department out of what used to be a few supplements on aisles here and there. Now an ample section of things like homeopathic remedies and natural shampoos sits behind a service desk with computers, resource books and an employee to help with any questions.
In the refrigerated section, a large line of sustainable meat was brought in to boost the carnivorous choices that previously only included frozen meat. Over at the salad bar, which was added last year, there's now a hot food bar that offers three meals a day, priced at $8.99 per pound like the salad bar.
The rotating, seasonal menu planned for the coming week gets posted on the market's Facebook page on Sundays. For breakfast (8-11 am), you'll find items like vegetarian or sausage egg sandwiches, breakfast burritos or spinach and artichoke strata. Fill up on things like vegan tofu fried rice, turkey pot pies, lasagna or coriander cauliflower for lunch (11:30 am-3 pm) or dinner (4-7 pm).
Another part of making changes at Main Market was telling their story better.
Many people don't realize the market is a co-op or what a co-op actually is, says White.
"A co-op is a business owned by the members and people who use its services," she says. "We're owned by 2,600 Spokane residents who are also our customers and shoppers. They have a direct role in what the co-op is."
In the United States, roughly 30,000 consumer cooperatives exist, whether it's a food business, furniture, bicycles or health care. Throughout human history there have been cooperative societies, but the foundation for the current co-op model formed in England in 1844. Most American co-ops came about in the '70s, says White, but not Spokane's.
"It's rare to have a city the size of Spokane with such a young co-op," she says.
The Moscow Food Co-op is one that started up in the '70s. Melinda Schab, Moscow Food Co-op's general manager, says the co-op continues to be healthy and robust decades after its 1973 debut.
"Our sales continue to grow, as does our ownership base," Schab says. "In 2014 we posted just over $10 million in sales — a record — and grew our ownership base to over 7,300 owners, also a record."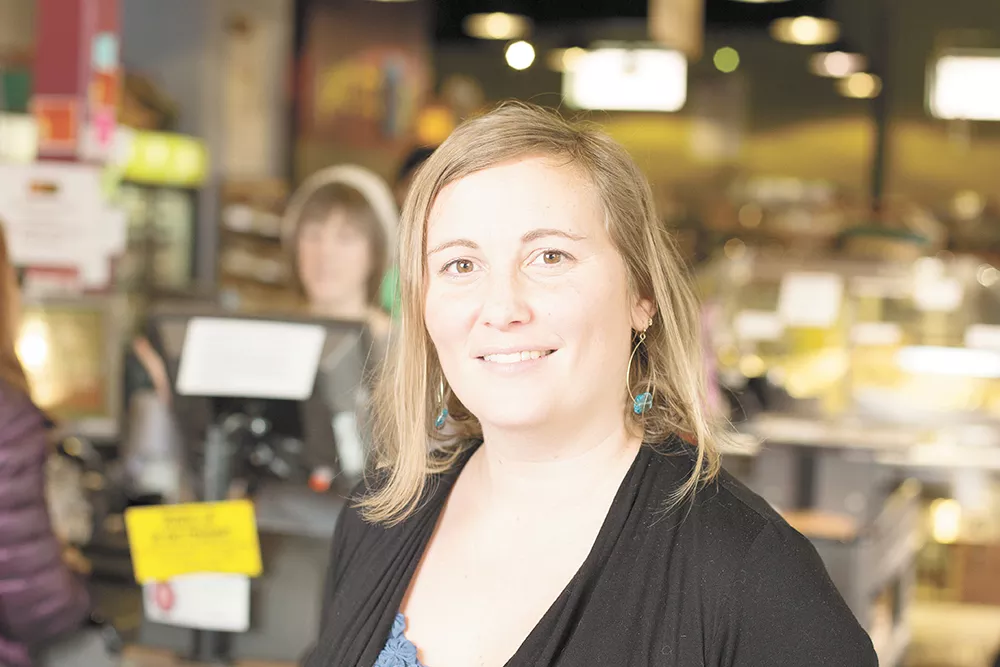 Main Market Co-op opened in 2010 with 700 members in a building that used to be a Goodyear shop. The car mural on the outside west wall eventually was painted over with the bright-colored sandwiches, goats, cheese and peppers there today.
The market's history and seven tenets that guide co-ops worldwide are now displayed on stylish posters at the center of the store. White says they wanted to change the perception that food co-ops are elitist or expensive. They worked on lowering prices throughout the store and changed their membership structure from a monthly fee to $10 per year for everyone, in order to make it more accessible. Of course, non-members can shop, but members get special discounts and coupons along with their vote for the board of directors.
The co-op is mission-based, says White. It's focused on what's good for the community, unlike a store owned by a profit-driven, giant corporation.
"Co-ops are really about saying, 'We're here for you and not for profit,'" she says. "Our shareholders aren't on Wall Street. They're our community members." ♦
Main Market • 44 W. Main • Open Mon-Sat, 8 am-8 pm; Sun, 10 am-6 pm • mainmarket.coop • 458-COOP