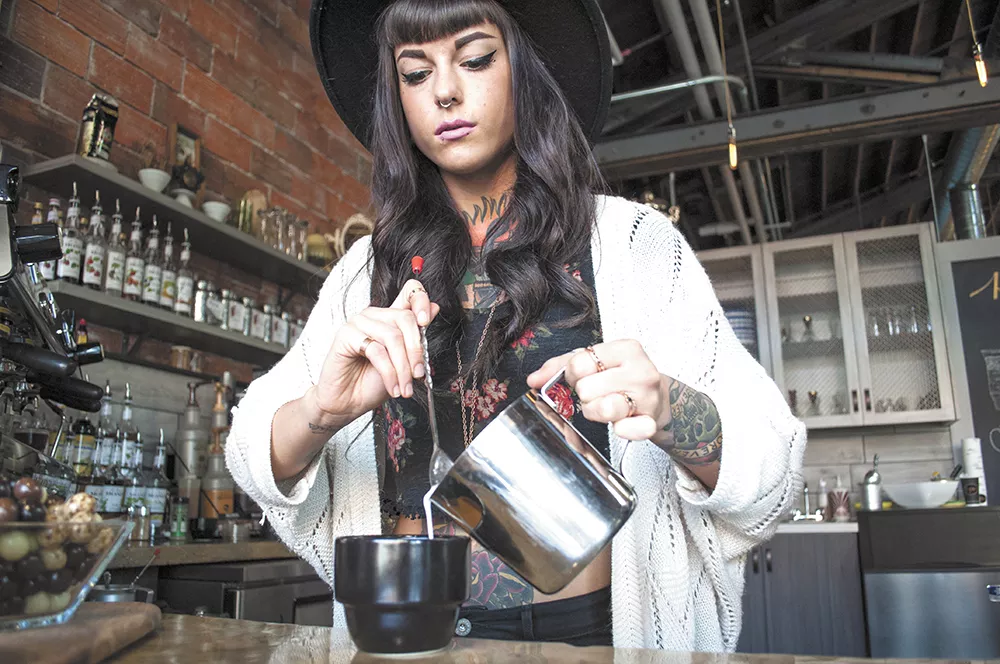 Growing up in Iran, Shahrokh Nikfar spent his afterschool time at the neighborhood coffee shop with his friends.
"I grew up in a culture of tea and coffee," says Nikfar.
Between being raised in a country infused with culture and spending lots of time traveling, he was instilled with a love of gastronomy early on. Late last month, he opened Caffé Affogato — a coffee, tea and ice cream shop — among a grouping of new food and drink businesses in the recently developed Saranac Commons building on Main Avenue, and he also has a Mediterranean eatery called Mediterrano set to open there soon.
Nikfar has been working at a nonprofit in the adjacent Community Building for more than 11 years, and his passion for Spokane is evident in the details of the coffee shop's rustic-chic décor, like the coffee-bean model of the Spokane River covered by glass running the length of the countertop.
His goal, he says, is to expose Spokane to something culturally different.
"If you go to Italy or France, the coffee is so much better," says Nikfar. "It's so different."
The beans he uses come from Caffé D'arte, which sources from Naples and wood-roasts the beans with alder wood. The more than 20 coffee drinks on Caffé Affogato's menu range from regulars like cappuccinos and lattes to generras and Medicis, which both come with orange zest, a flavor Nikfar says pairs well with the wood-roasted coffee.
The shop's namesake, the caffé affogato ($5.95), is a delectable treat built with chocolate truffle sauce squiggled around the inside of the glass, a scoop of Brain Freeze ice cream (16 flavors to choose from), a shot of espresso poured over it, whipped cream covering it, chocolate shaved over it, a cookie stuck in it and a chocolate-covered bean to top it off. For a tasty shot of espresso, you drink the dolce fine ($2.95) from its skinny, sugar-rimmed glass in four seconds, letting your mouth experience a quick series of temperature and flavor changes: espresso, cream, vanilla and ice.
For something soothing, the tea list offers 13 varieties from Lake Missoula Tea Company, including Willy Wonka Black, Jasmine Green and Orange Blossom Oolong. ♦
Caffé Affogato • 19 W. Main • Open Mon-Thu, 7 am-8 pm; Fri, 7 am-11 pm; Sat, 8 am-11 pm; Sun, 8 am-4 pm • caffe-affogato.com • 868-0011