MUSIC | Australian psych revivalists Tame Impala are leading the follow-up to their acclaimed 2012 album Lonerism with the release of a new single — "LET IT HAPPEN" — from their upcoming album that will drop sometime later this year. Those familiar with Tame Impala will recognize many of their trademark characteristics in the eight-minute song, namely Kevin Parker's airy, disembodied vocals, the guitars that barely sound like guitars and synths that seem to descend from space. This track takes the band in a slightly different direction with a heavy, driving, almost Daft Punk-esque beat and a catchy hook that's sure to get caught in your head.
FILM | On Sunday, March 29, HBO premieres GOING CLEAR: SCIENTOLOGY AND THE PRISON OF BELIEF a documentary from Academy Award-winning director Alex Gibney that delves into just what goes on inside Scientology, a religion founded by science-fiction writer L. Ron Hubbard that has used aggressive litigation for decades to shield itself from scrutiny. The film provides a rare look into the controversial church by profiling eight of its members, including the A-list celebrities who have helped bring notoriety to Scientology, and the strong-arm tactics it allegedly uses to control its members. It hasn't even premiered to mass audiences yet, but it's already causing a stir and the church has mounted an aggressive campaign against it.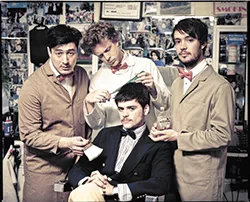 FESTIVAL | This summer, Walla Walla will take on all the trappings of a big music festival. The UK folk-rock act Mumford & Sons descends, with other big-name acts, on the normally sleepy college town as part of its GENTLEMAN OF THE ROAD STOPOVER TOUR Aug. 14- 15 at the Whitman College athletic fields. Other acts scheduled to play: Foo Fighters, the Flaming Lips, Jenny Lewis, the Vaccines, Dawes, tUnE-yArDs, James Vincent McMorrow, JEFF The Brotherhood and Blake Mills. Tickets are on sale now and cost $199, which includes camping.