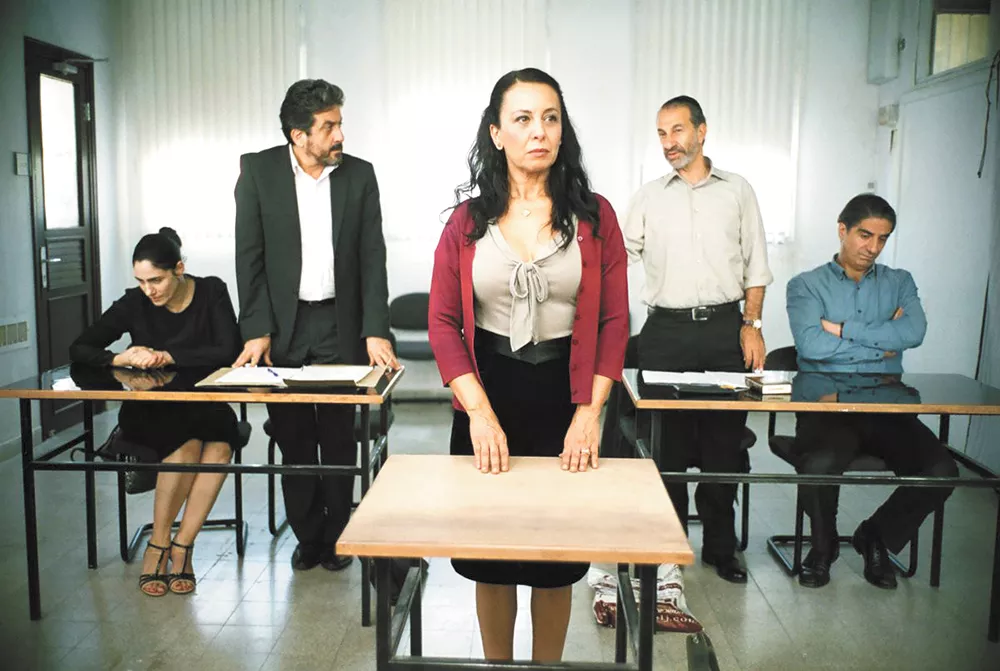 The unequal status of women in the face of Israeli law is put on trial in this award-winning film from the brother/sister team of Shlomi and Ronit Elkabetz, the latter of whom also stars as the titular character Viviane Amsalem. The film is a carefully calibrated courtroom drama about Viviane's five-year struggle to obtain a divorce from her husband Elisha (Simon Abkarian), a battle marked by the kind of tragic and absurd blend of events that can only be labeled as Kafkaesque.
In Israel, there is no civil marriage or divorce; only Orthodox rabbis can legalize these marital states. In order for a woman to divorce, she must be granted a gett from her husband, who needs no grounds for refusal. The primary interest of the presiding rabbinical courts is the preservation of the Jewish family, so unless there is evidence of abuse or inadequate support, the courts place no value on irreconcilable differences. A woman who lives apart from her husband without a gett is automatically shunted into a lower stratum of society for the rest of her life.
Three years prior to the start of the film, Viviane separated from Elisha, who refuses to grant her a gett. She has now brought her request to the rabbinical court, where her case will drag on for another five years while she's whacked by a continual series of Catch-22s. Almost all of the film takes place within the walls of the courtroom, the plaintiff and the defendant along with each of their attorneys at tiny wooden tables, while the rabbinical jury of three towers over them from a high bench.
The Amsalems are Moroccan Jews who moved to Israel; Elisha is a fastidiously religious man, while Viviane, who was 15 when they married, has grown more secular over the years — one of the results, she claims, of living with her pedantic husband. Relatives and neighbors are called in as witnesses as the trial moves forward in dollops, scheduled at intervals of several months or weeks. Yet even these testimonies give way to unforeseen twists and consequences.
Remarkably, the film is composed entirely of point-of-view shots. Although she's in the room, Viviane is not even part of the image during the film's early minutes. At first, she dresses modestly for the court appearances; midway through, as her hope dwindles, her attire grows more indelicate. However, Ronit Elkabetz's marvelously calm yet reactive face speaks volumes. Gett is the third in a trilogy by the Elkabetzes, but it's not the least bit necessary to have seen the earlier films before watching Gett. Their exposé of the rifts between Israel's religious foundations and secular beliefs, as well their blows against the patriarchy, come through loud and clear. ♦