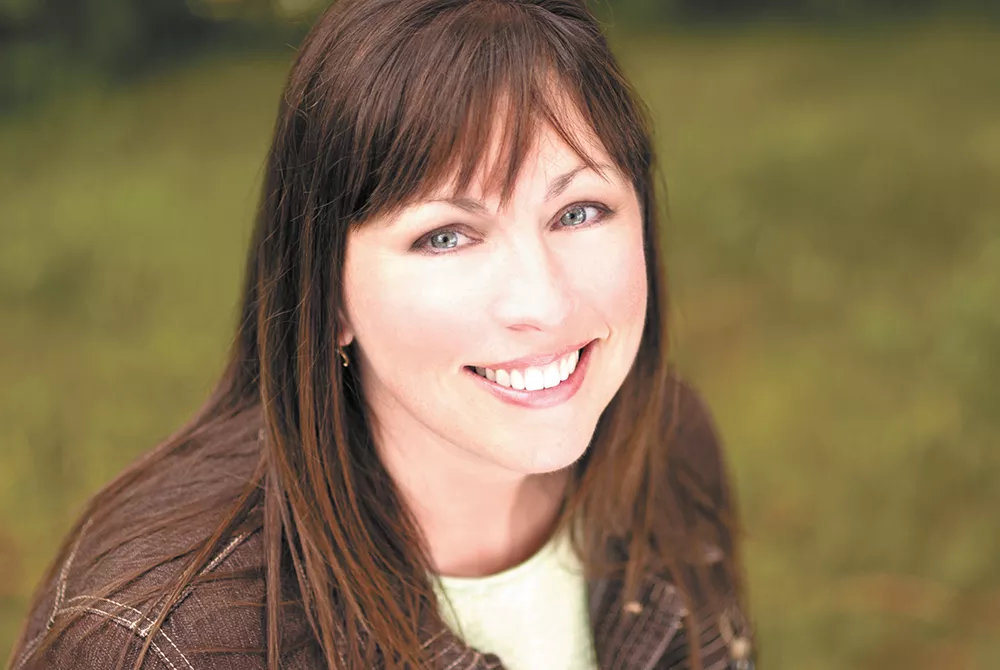 Rebecca Zanetti doesn't consider Fifty Shades of Grey a true romance novel.
"That book is a small subgenre called erotica BDSM, and most romance books are nothing like that," says the author at the Spokane Valley Barnes & Noble last week, sitting not too far from the store's romance section, full of prominently displayed illustrations of bare backs, eight-pack abs and heaving bosoms. But that the steamy, decidedly adult novel has gotten people excited about reading books is something to be thrilled about, she says. To date, Fifty Shades has sold more than 100 million copies worldwide and helped further the popularity of romances — the country's hottest-selling literary genre.
Today, Zanetti and fellow area romance author Asa Maria Bradley have met to discuss their upcoming Get Lit! panel topic — which they'll deliver along with author Joanna Wylde — titled "Romance Novels, Alpha Males and Feminism." Especially in the wake of Twilight, Fifty Shades and others, recent romance novels have been hotly debated. Many deem the genre silly or even harmful (i.e., "Mommy porn"), but the three local writers contend that reading a romance novel is something a feminist would and should do.
"Our characters are very strong; they're not damsels in distress anymore, like they may have been written in the 1970s," says Bradley, whose first novel, a Viking-themed romance, will be published in November. "Heroines do everything these days, as women's rights continue to move forward."
Bradley considers romance fans to be among the most intelligent and well-educated readers. She says when readers comment on Goodreads.com or other forums, they're able to articulate exactly why a book — be it an Amish-themed romance featuring light kissing, or an erotic whips-and-chains-type romp — isn't to their liking.
It's important to remember these books are just fiction.
"This is definite fantasy," says Bradley, a Spokane Falls Community College professor. "It's about taking a normal woman and putting her in a crazy world."
"We're not trying to change the world with these books," adds Zanetti, who just found out that her new book, Total Surrender, hit No. 20 on the New York Times Best Seller list. "We're just trying to offer a sense of escape."
Wylde — like Zanetti a New York Times best-selling author, wife and mother based in Coeur d'Alene — says she fails to see why women reading romances would be considered taboo.
"Women being allowed to express their sexuality is a good thing, and that's feminist," says Wylde over the phone. "Through reading our books, women are starting to ask more questions about their bodies."
The authors all describe the Inland Northwest as a very supportive and accepting place to write romance novels.
"We are not competing against each other, we're competing against the Netflix queue and reality TV shows like The Bachelor," Zanetti says. "So when one of us does well, we're happy for them." ♦
Romance Novels, Alpha Males and Feminism • Sat, April 25, noon-1:30 pm • Free • Spokane Convention Center, 334 W. Spokane Falls Blvd., room 205
---
They Got Next
The Inland Northwest is home to fine MFA programs, and the Sunday afternoon showcase of talented writers from the University of Idaho, University of Montana and Eastern Washington University offers ample proof. Eleven writers working in a variety of genres and styles will read from their works and be on hand for discussions with audience members at the Barrister Winery. Children are welcome, and parents should know the writers are given no restrictions on the language or content of their readings. (DAN NAILEN)
Regional MFA Reading • Sun., April 26, 2-4 pm • Free • Barrister Winery • 1213 W. Railroad Ave.