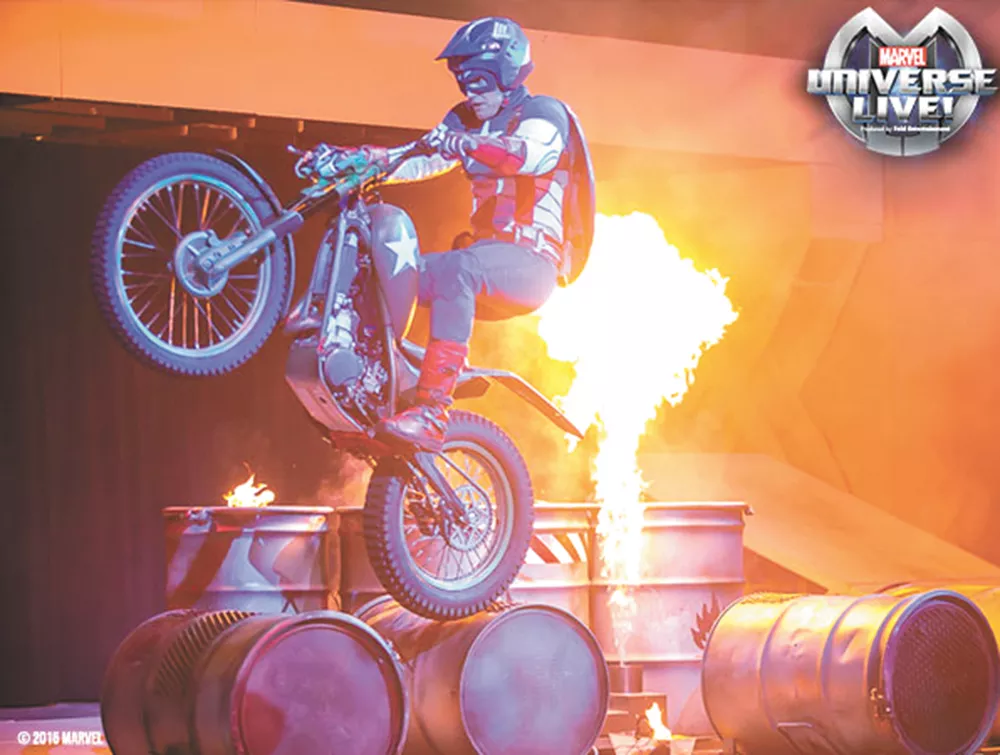 To transform from his mortal human form into the massive rage bomb that is the Hulk, Joshua Murillo adds 3 feet to his own 5 feet, 10 inches, and his athletic, CrossFit-toned frame bulks up by 90 pounds. But there's no superhero magic here, at least not from a behind-the-scenes perspective.
The 28-year-old stunt performer from Yakima is mum about just how that transformation takes place, other than revealing the obvious — Bruce Banner gets ticked off and turns into his thundering alter ego. Beneath the Hulk's radioactive green skin and glowering gaze, Murillo hides in human form, perched on stilts and strapped into a 90-pound mechanized suit.
"It took a while to learn and get used to, and it's still tiring because it's heavy, but at this point I think less on placing one foot here, and now I think about character things and how he should appear to the audience," Murillo explains.
This year marks the stuntman's second tour with Marvel Universe LIVE!, an extravagant stage production that unites more than two dozen of Marvel's comic-book character heroes and villains into a 90-minute, stunt-filled show.
From Captain America zipping up walls and ramps on a motorcycle to Spider-Man flinging himself around on his web, the show is packed with fight scenes, pyrotechnics and gravity-defying stunts. Its original storyline unites many Marvel characters — including the Avengers, X-Men and Spider-Man — who've never been seen on screen together and likely never will be, considering the split in contracts between character series and studios.
The show picks up where the 2012 Avengers film ended and pits the good guys — Captain America, Hawkeye, Thor, Black Widow, Wolverine, Storm, the Hulk and others — against Marvel's most corrupt, scheming villains, led by Loki, in a quest to capture an ultimate source of power, the Cosmic Cube.
While Murillo's main role in the show is playing the Hulk, he says for this year's tour he's also stepping in to fill some other minor-character stunt roles, as enemy minions or S.H.I.E.L.D. agents. But no matter the character he's playing on any given night, Murillo always focuses on creating believable action scenes for the audience.
"I really like to perform with intensity, and that doesn't mean you have to be flailing around all the time and the angriest guy on stage," he says.
Produced by Feld Entertainment, the company behind Disney on Ice and the Ringling Bros. circus, Marvel Universe LIVE! kicks off the next leg of its 2015-16 tour in Spokane this week. The show's team of around 50 actors and stuntmen, including Murillo, have already been in the Lilac City for weeks, practicing their moves at the Spokane Arena.
To sum up what local audiences should expect from Marvel Universe LIVE!, Murillo says: "I would say to think of it as all the action parts of the movies brought to life and happening right there in front of you." ♦