Questions are now swirling around Rachel Dolezal, the local NAACP chapter president and a freelance contributor to the Inlander.
Last night, KXLY reported on the police investigation into hate mail allegedly sent to Dolezal in February. The mail in question did not have a postal stamp or barcode on it, suggesting that either the postal workers messed up, planted it or the package didn't go through the postal system at all. The TV station asked Dolezal if she had planted the mail — an accusation that she denied.
This morning, the Coeur d'Alene Press published an article in which Dolezal's parents, both white, say their daughter has long lied about her race — she's white, her parents say, providing a picture and birth certificate as proof. The Spokesman-Review is now reporting that a former board member from the Kootenai County Task Force on Human Relations has long had his own suspicions about her truthfulness.
Dolezal has not returned messages left today by the Inlander. Dolezal, an adjunct professor at Eastern Washington University, is also chairwoman of the city's Office of Police Ombudsman Commission. Mayor David Condon and Spokane City Council President Ben Stuckart say they are now reviewing city policies in response to the allegations.
"There hasn't been discussions about any type of action at this point," says city spokesman Brian Coddington. "We're reading the stories like everyone else."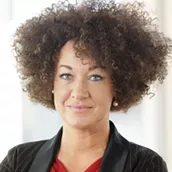 Dolezal was recommended to the ombudsman commission by Condon last year. Coddington says that Spokane City Council has the power to appoint and remove members of the commission.
Cedric Bradley, chair of the Spokane NAACP's Criminal Justice Committee, says that there is still support for Dolezal in the organization. Describing her as a close friend, Bradley says that he's seen her visibly shaken after receiving hate mail. Bradley says he's always understood Dolezal to be black. But, he says, it doesn't matter if she is in fact white because she's been a strong supporter for minority populations.
"In my opinion, it wouldn't make a difference to me," says Bradley. "It's not about black and white, it's about what we can do for the community."

UPDATE: The story has now taken over the Internet.