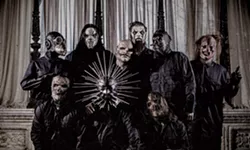 Just in time for Halloween, the Iowa metal band
Slipknot
— famous for wearing costumes all year round — comes to take over the Spokane Arena, October 20. The raging show leads up to the act's
Knotfest
festival (sporting the tagline: "A happening that will awaken your darkest senses") in California just days later.
The band rose to fame in the late '90s, around the same time as other nu-metal acts like Korn and Limp Bizkit, which Slipknot tries to distance itself from. The group, through many a lineup change and much time off, has gone on to pull in 11 platinum and 39 gold record certifications worldwide, and most recently
many
accolades for its 2014 effort,
.5: The Gray Chapter
.
Enjoying this heart-stopping, often terrifyingly dark music is more about the feeling the nine-piece evokes rather than the melodies, as it's often difficult to distinguish between songs. But for avid local followers of the crew (and they were ranked No. 17 on this year's Arena Bucket List, proving there are quite a few fans here), this band is sure to put on one of the most intense shows in recent Arena history. Suicidal Tendencies and Beartooth will open for the metal act, helping everyone let loose.
Tickets are $35 and $45 and go on sale Friday.
Check out the act's most recent single "Killpop" below: