Cat Friday, now an occasional feature here at the Inlander, is back, and this time we have not one, not two, but three cats on Instagram — Insta-cats, as we call them — to share today. Because we all need more cats in our feed to balance out those obnoxious selfies.
Lil' Bunny Sue Roux
Roux was born without front legs, making her the cutest little T-rex/kangaroo cat in the history of cats. The New Orleans tabby doesn't let her disability hold her back one bit, as evidenced by her bunny-hopping antics on Instagram. Roux's lack of front legs is due to a congenital birth abnormality. She's still got little nubbins where her legs would be, and a short tail. But powerfully strong back legs and Roux's adapted walking pose — using the flat part of her back feet to balance like a bunny, and by positioning her center of gravity backward — allows her to get around just as well as any four-legged kitty.
Alien Cat Matilda
Just when we think we've seen it all, the Internet pulls another one on us, as it did with the introduction of a cat whose eyes are truly otherworldly. Miss Matilda's peepers resemble one of those classically creepy big-eyed, green-skinned aliens but (as far as we know) she's not actually from another galaxy. The reason for her cartoonishly bulbous eyes is due to a rare condition called "spontaneous lens luxation," which was also diagnosed in Matilda's littermates. Since surgery to fix the condition likely wouldn't benefit her, Matilda's owners have opted to let her eyes stay as they are, but remain vigilant in her care to make sure she's healthy and free of pain.
Luhu, the sad cat
The saddest cat on Instagram is giving Grumpy Cat a run for her money. Luhu lives in Beijing, and his heartbreaking expression is the result of an eye infection contracted when he was a kitten. Luhu lives with his two siblings, who have the same coloring but overall appear to be much less sad than their brother. Remember, just because Luhu looks sad doesn't mean he is! His owner Maggie Liu says he's quite the happy cat.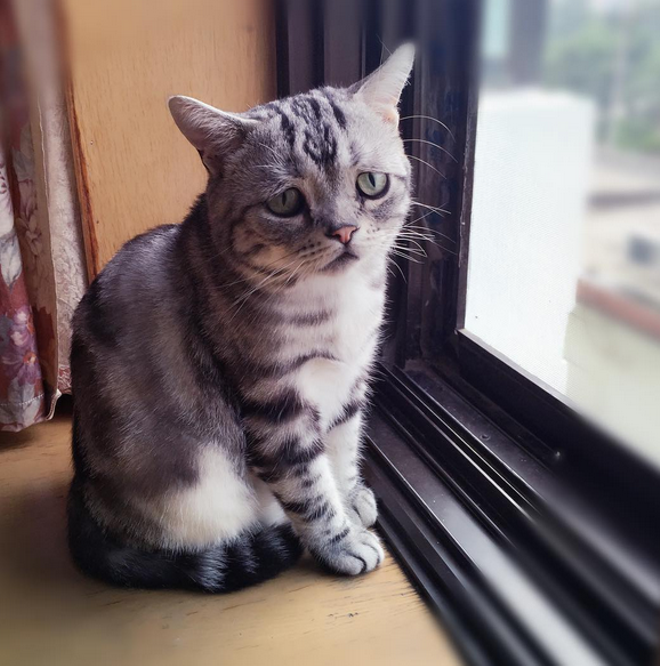 The World's Oldest Living Cat
While not thanks to an Instagram discovery, the Internet is nonetheless abuzz today with the news that Guinness World Records has bestowed the title of "oldest living cat" to a 26-year-old feline named Corduroy, a resident of Sisters, Oregon. Corduroy is the successor of this honor to Tiffany Two, a tortoiseshell who recently passed away at age 27. He'd previously held the title back in 2014, but had been replaced by Tiffany Two when her age was confirmed to be even older. Though he's now reclaimed the title of oldest living cat, Corduroy still has many years ahead of him if he's to beat out the record for oldest cat ever. That honor is held by a 38-year-old cat from Austin, Texas, named Creme Puff who died in 2005, CNN reports.