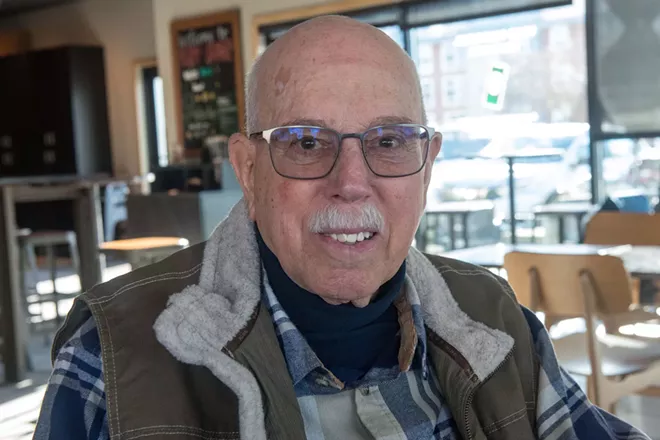 Former Army Maj. Jerry Gutman knows what it's like. To be under attack. To have been "shelled at three in the morning" while "dodging Charlie" in Vietnam. To refuse to show your panic, "even though you feel it."
He knows the nightmares, the anger, the hypervigilance. He knows what it's like for service-related trauma to destroy his first marriage and family.
But he also knows what it's like to find someone else who knows what it's like.
"I finally found, on my third attempt, a retired gunnery sergeant who was a good psychologist," Gutman says. "He knew what I was talking about."
It's a powerful concept. Today, Gutman is a Spokane Veterans Forum "mentor advocate," harnessing his own struggles to connect with veterans who've committed crimes.
"If somebody's hurting inside, they figure that's it, they're the only one who has that issue," Gutman says. "But that's not so."
Veterans who commit low-level crimes are sometimes given an alternative pathway through something like the Veterans Enhanced Treatment Court to avoid jail and reduce fees. The program requires them to attend Spokane Veterans Forum meetings, where they eat dinner with fellow veterans, and to meet with a mentor like Gutman once a month.
"We're there to be a coach, to be a battle buddy, to reinforce the positive effort," Gutman says.
Since launching in 2010, over 400 veterans have graduated from the special court program, each of them reading a letter at their ceremony.
"Fifty-two of those veterans testified they would have killed themselves had it not been for this program," Gutman says. "Powerful shit."
Most people convicted of a crime tend to reoffend — for some crimes almost 70 percent reoffend within a year. But only 6 percent of those who've gone through Spokane Veterans Forum reoffend within a year after graduating.
True, those who are less likely to re-offend are probably more likely to be able to complete the program. But Gutman says their graduation rate is "way over 90 percent."
And yet, the number of veterans being referred to them has dropped significantly in the years since COVID.
At one time, says Tom Squires, a probation officer with the veterans court, they had over 70 active cases. Right now that's fallen to 15.
Maybe it has to do with shifts in policing tactics or arrests, Squires speculates. Less traffic enforcement, for example, might mean fewer veterans pulled over for DUIs. Or maybe the judicial system is too soft in some ways — going through a one- or two-year probation may be less appealing than just paying a simple fine. Or too tough in other ways. Some of the cases Squires did get referred to him were serious felonies that prosecutors weren't willing to budge on in exchange for going through the veterans court.
And it's possible that, without the wars in Iraq and Afghanistan raging, fewer soldiers are coming home traumatized and suffering.
Then again, as a veteran himself, Squire knows what it's like to delay getting treatment. "It took me 30 years to go and figure out I needed some help," he says. ♦