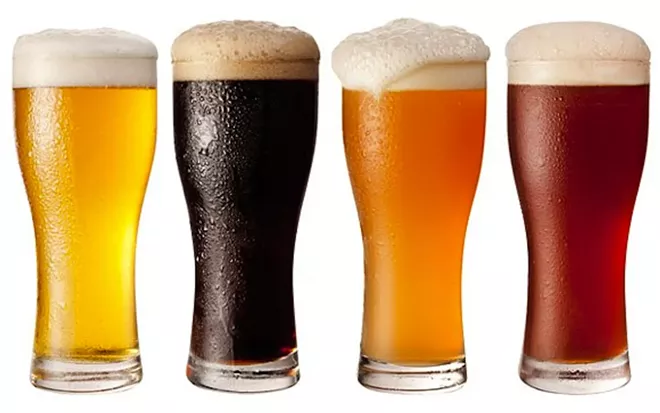 238 BREWING

10321 E. Day Mt. Spokane Rd., Mead
Founded: January 2015
Set among the picturesque, rolling hills of Green Bluff, the new brewery was opened earlier this year by experienced homebrewer Mike Beckman on his family's Christmas tree farm. The small tasting room is cozy and rustic. During a visit this spring, it was packed with pretzel-snacking customers, who had tapped out several of the offerings. The staff, however, more than made up for the limited suds selection with hospitality, setting up chairs so visitors could take in the spectacular scenery. Note that the tasting room has limited hours: Fri, 5-8 pm; Sat, noon-8 pm; Sun, 1-5 pm. (JACOB H. FRIES)
NOTABLE BEERS:
Legacy Wit (5.2% ABV)
Snozzberry Wit (5.2% ABV)
Station 47 Red (5.6% ABV)
Party Line Porter (5.2% ABV)
5K IPA (6.3% ABV)
---

BADASS BACKYARD BREWING
3115 N. Butler Rd., Millwood
Founded: 2015
Charlene Honcik is taking the term "homebrewer" to a whole new level. Her brewery, Badass Backyard Brewing, celebrated its grand opening in a detached shop at her home in Millwood earlier this month. Don't be fooled by the location, though; the taproom is as bona fide as they come, and she already has six brews on tap. So far, the brewery is only open on Saturdays, but Honcik (the badass herself) has her sights set on a higher capacity brewing system and an off-site pub in the future. (LAURA REGESTER)
NOTABLE BEERS:
Blonde (5% ABV)
Hickory Aged Brown (6% ABV)
Brown (6% ABV)
Black (7% ABV)
IPA (7.5% ABV)
Raspberry Wheat (6.5% ABV)
---

BENNEDITO'S BREWPUB
1909 E. Sprague
Founded: July 2015
In the summer of 2015, Chris Bennett, the longtime owner of Bennidito's Pizza on the South Hill, finally realized his dream when he opened this east-of-downtown Spokane brewpub with his ex-wife and business partner Sigrid Bennett. Brewer Zach Shaw, a veteran of the early days of the Northern California craft beer boom, hopes to bring some of that spirit to the creations made at Bennidito's Brewpub. Shaw doesn't plan to make the "hop bombs" that have come to dominate the Northwest beer scene, but is open to experimenting with an array of styles. (MIKE BOOKEY)
NOTABLE BEERS:
Tin Roof IPA (6.0% ABV)
Checkerboard Pale Ale (5.2% ABV)
Deviant IPA (5.8% ABV)
---

BIG BARN BREWING COMPANY
16004 N. Applewood Lane, Mead
Founded: 2012
Drive 30 minutes north of Spokane to find Big Barn Brewing Company located in — you got it — a big red barn. Sitting among fields of homegrown ingredients sits the up-and-coming brewery. Big Barn is currently undergoing expansion to increase their taphouse, but their summer taproom is open until October and serving up delicious brews. Their Raspberry Wit Hefeweizen, Strawberry Blonde Ale and newly released Cherry Kolsch are made with fresh berries grown right on site, and are sure to cool you off on a hot day. Stroll to the other side of the property to find some of the hops found in your beer, growing in rows. Make sure to check out Big Barn on a Sunday to enjoy a cold one accompanied by live music. (ERIN
ROBINSON)
NOTABLE BEERS:
Black Dog Stout (7.8% ABV)
Fallow IPA (7.2% ABV)
Barn City Flower Power IPA (6.6% ABV)
Bodacious Blonde (5.9% ABV)
Mead Honey Lager (5.3% ABV)
Bluff Top Belgian (5.2% ABV)
---

BLACK LABEL BREWING CO.
19 W. Main
Founded: 2015
Barrels brewed so far in 2015: 200
Located in the new Saranac Commons on West Main, a hip up-and-coming spot, Black Label Brewing is a tiny yet welcoming, brightly lit space. The spot opened up at the beginning of the year after two best friends, Steve Wells and Dan Dvorak, realized their dream — thanks to a successful Kickstarter campaign and help from friends — after years of homebrewing their session-style ales and lagers. The duo grow some of the hops they use on a farm near Garden Springs, and harvest their own honey for Black Label's honey blonde ale. While sampling Black Label beers, patrons can order and enjoy food at the bar top from one of the Commons' many eateries: Mediterrano, Caffé Affogato or Common Crumb Bakery. This community spirit carries on to Black Label's rotating guest taps, which highlight other area breweries' creations, as well as locally made cider and even kombucha. (CHEY SCOTT)
NOTABLE BEERS:
Espresso Stout (6.2% ABV)
Honey Blonde (5.1% ABV)
BLBC IPA (6.1% ABV)
Ree's Red (6.5% ABV)
Scotch Ale (6.7% ABV)
---

BUDGE BROTHERS BREWERY
2018 E. Riverside
Founded: 2011
Tucked away in a nondescript building just off of Sprague Avenue, Budge Brothers Brewery has the feel of someone having a growler night in their basement. Bruce Budge works frantically to fill up the growlers of customers steadily streaming in, apologizing for the wait. The customers, many of whom are regulars, don't mind. The brewery was started by Bruce and his brother Brad after the two got tired of working cooking jobs and decided to turn their love for beer into a business specializing in Northwest-style beers and ales, many infused with hops grown in the region. Although you can buy a pint and relax at a table in the small tasting room, the brewery has centered its business model on filling up growlers that go for $6 to $8 and $5 on Wednesdays. (JAKE THOMAS)
NOTABLE BEERS:
Orangutan IPA: (5% ABV)
Spokamber Amber Ale: (5% ABV)
Hop Train IPA: (8% ABV)
Extra Stout: (7% ABV)
---

DAFT BADGER BREWING
1710 N. Second St., Coeur d'Alene
Founded: January 2015
Inside what was once co-owner Darrell Dlouhy's painting shop, you'll find a full pub menu and a beer list that spans the style spectrum. On one end, there's the hop-forward Badgers Bounty IPA; on the other, the more malty Josiah's Revenge, an imperial stout. The pub also regularly releases experimental small-batch beers, most recently a scotch ale with the Anchorman-inspired name Scotchy Scotch Scotch Ale. Dlouhy says Daft Badger was intended to follow a brewpub model — "You can smell and hear us brewing while you're here," he says — but has recently begun distributing their beer in the greater Coeur d'Alene area. While Daft Badger has been asked to bring their beer into Washington, the young company — which Douhy owns along with Jake Capaul and Keith Bertram — is most interested in keeping their taproom busy and full of beer. (MIKE BOOKEY)
NOTABLE BEERS:
Hoppypotamus Pale Ale (6.0% ABV)
Badgers Bounty IPA (7.6% ABV)
Red Letter Amber (6.0% ABV)
Josiah's Revenge (8.8% ABV)
---

ENGLISH SETTER BREWING CO.
15310 E. Marietta Ave., Spokane Valley
Founded: 2014
Barrels brewed in 2014: 200
Jeff and Anita Bendio used to make wine for fun, but switched to beer and then wanted to share it with their community. Now they've been brewing for four years, and their hunting-dog-themed brewery in Spokane Valley has a following as loyal as their own hunting dogs. Photos of the couple's pups, Faith and Sadie, cover the walls, and each beer is named according to the canine theme, like Red Setter Retriever, Crockett Setter Porter and the seasonal Puppy For Christmas — a wildly popular orange chocolate porter. With live music on Saturday nights in the "Dog Kennel" patio out back, classic pub fare and complimentary popcorn (served in metal dog dishes), you don't have to be a dog lover to love this place. (LR)
NOTABLE BEERS:
On-Point Pale (4.7% ABV)
Fetching Blonde (6.5% ABV)
Tri-Color Blonde (6.2% ABV)
Chukar Nose Amber (6.7% ABV)
Red Setter Retriever (5.2% ABV)
---

HOPPED UP BREWING
10421 E. Sprague Ave., Spokane Valley
Founded: June 2013
Barrels brewed in 2014: Less than 500
What once was an IHOP is now a taphouse. This mom-and-pop brewery came onto the Spokane beer scene in June of 2013 and has been serving up local craft brews ever since. A gable roof with exposed wood ceilings and white walls gives Hopped Up Brewing a bier-haus feel, and it's evident that simplicity is the key to this charming brewpub. "Everything is as local as it can get," says brewmaster Steve Ewan. All of the fruit for their beers are grown locally, including cantaloupes grown in the valley and their homegrown raspberries. When you visit, make sure to give their Lemon Cream Ale a try. This refreshing, silver medal-winning beer is sure to make your beer belly happy. (ER)
NOTABLE BEERS:
Quality Cream Ale (4.1% ABV)
Overload Imperial Amber (8.3% ABV)
Fender Bender Brown (4.1% ABV)
High Performance Porter (6% ABV)
Gidget's Black Stout (4.9 ABV)
---

IRON GOAT BREWING CO.
2204 E. Mallon
Founded: 2011
Barrels brewed in 2014: 900
Iron Goat's hideaway spot in east Spokane attracts cyclists and families, the occasional Chicago Irishman in town for business and people just looking for some good local brews and a community feel. According to the Chinese calendar, 2015 is the Year of the Goat, and the brewery is celebrating weekly by releasing a new small batch each Wednesday around 4 pm, which typically is gone within an hour and a half. For week 31 they collaborated with Breakside Brewery to produce Nice Pear, a Belgian golden strong ale made with lemon peel and aged in Dry Fly gin barrels over a pear purée. The brewery is set to move downtown in October and will be adding food to complement the main attraction. (HILARY KORABIK)
NOTABLE BEERS:
Head Butt IPA (6.7% ABV)
The Impaler IPA (8.5% ABV)
Garbage Pale Ale (5.2% ABV)
Goatmeal Stout (5.6% ABV)
Bleating Red Ale (5.4% ABV)
---

MAD BOMBER BREWING CO.
9265 N. Government Way, Hayden, Idaho
Founded: 2013
Barrels brewed in 2014: 190.5 barrels
After updating their equipment from a single-barrel to a seven-barrel system, Mad Bomber Brewing Co. is no longer the smallest brewery in Idaho — but still holds the distinction of being the smallest in Kootenai County. While tiny, the passion for their beer is mighty, says general partner and head brewer Tom Applegate, who also served as a bomb squad technician in Afghanistan. When he and three others opened the brewery less than two years ago, they had seven beer recipes. Now they have 40 and keep a roving list on tap in their tasting room, a cozy, military-themed space that can accommodate up to 70 patrons. Applegate says Mad Bomber beer is served in 26 area restaurants and that plans for expansion are on the horizon. (LAURA JOHNSON)
NOTABLE BEERS:
The Black Hand (12%-13% ABV)
St. Nicholas Pale Ale (5.5% ABV)
Powder Keg IBA (7% ABV)
Annihilation Imperial Porter (7% ABV)
---

MICKDUFF'S BREWING COMPANY
Pub: 312 N. First Ave., Sandpoint
Beer Hall: 220 Cedar St., Sandpoint
Founded: 2006
Barrels brewed in 2014: 687
Brothers Mickey and Duffy Mahoney were early to the region's craft-beer boom, opening their downtown Sandpoint operation in 2006, and have continued their expansion, last summer debuting a beer hall and production facility. Presently, they're upping their brewing capacity and are working to get their beer on more of the region's tap lists. While the beer hall is a must-go during a trip to Sandpoint, their original First Avenue pub and its delectable food menu is still very much in business. (MB)
NOTABLE BEERS:
Idaho Arm Curl Lager (4.3% ABV)
Tipsy Toehead Blonde Ale (4.9% ABV)
Lake Paddler Pale Ale (5.6% ABV)
Irish Redhead Red Ale (5.4% ABV)
NOHO IPA (8.0% ABV)
Knot Tree Porter (5.9% ABV)
---

MOSCOW BREWING COMPANY
130 N. Almon St., Moscow, Idaho
Founded: 2013
Barrels brewed in 2014: 300
Englemann spruce tips star as the headlining act for Moscow Brewing Co.'s Spruce Porter, a seasonal, piney affair that keeps getting more popular each year. Originally made with Alaskan spruce, this beer has been custom-tailored to feature Moscow species. In fact, everything about this brewery is local to the core. Moscow Brewing Co. is the hometown, "everyone's a regular" brewery where the doors are propped open on summer evenings and friendly dogs meander underfoot. Owner and brewer Lucas Rate is a straight-up hoot, smiling in that sort of bearded, brotherly way that tells you the beer he just poured was made specially for you. Their Fresh Hop IPA is the epitome of what a nano-brewery can do. Each year, hops are harvested from a local Moscow farm without discernment and thrown together with abandon. Who knows what the IPA will be this year? They can guarantee it won't be the same as the last. (SARAH MUNDS)
NOTABLE BEERS:
NW Pale Ale (5.5% ABV)
Oatmeal Stout (5.5% ABV)
Cedar Smoked IPA (6.4% ABV)
Fresh Hop IPA (6.4% ABV)
Cascadian Dark Ale (6.8% ABV)
---

NEW BOUNDARY BREWING
501 First St., Cheney
Founded: May 2015
Shane Noblin researched cities across the country in which to start a brewery before moving to Cheney from Alaska and founding New Boundary Brewing. The first beermaker to operate in Cheney in more than 100 years has received a warm welcome from the college town's thirsty residents since opening in late May. "There's a lot of craft brewery enthusiasts [in Cheney], but there just wasn't an outlet," says Noblin, who's also the brewmaster at the downtown pub that he plans to almost triple in size in the coming months, seeing as how the place is completely packed on most weekend nights. (MB)
NOTABLE BEERS:
Providence Pale (5.8% ABV)
Renegade Red (5.5% ABV)
Horizon IPA (6.6% ABV)
Porter (5.5% ABV)
---

NO-LI BREWING
1001 E. Trent Ave., #170, Spokane
Founded: 1993
Barrels brewed in 2014: 7,500
Is there anything better than drinking an ice-cold beer by the water? You can do just that at No-Li Brewhouse, the brewery that created "Spokane Style" beers and has seen their bottles shipped across the country. Enjoy one of their "Usual Suspects," offered all year round, or a rotating seasonal craft brew, while taking full advantage of their outdoor patio that overlooks the Spokane River. Try their newly released Switch Hitter Golden Ale, which debuted earlier this summer in place of the ever-loved Creme Ale. The brewers at No-Li love to experiment with flavors, so order the "randall," which changes every few days, and prepare for taste-bud excitement. The randall is a chamber that connects to the keg, freshly infusing beer with whatever they decide to put in it that day. (ER)
NOTABLE BEERS:
Born and Raised IPA (7% ABV)
Empire No. 8 Session IPA (5.5% ABV)
Spin Cycle Red (5.75% ABV)
Rise and Grind Ale (6.1% ABV)
Jet Star Imperial IPA (8.1% ABV)
Wrecking Ball Imperial Stout (9.5% ABV)
---

ORLISON BREWING CO.
Taproom: 1017 W. First, downtown Spokane
Brewing facility: 12921 W. 17th Ave., Airway Heights
Founded: 2009 (as Golden Hills)
Barrels brewed in 2014: 3,500
True to their motto, Orlison brews no evil. What was primarily a production brewery, shipping kegs and cans to bars and stores around the Northwest, recently opened a downtown Spokane taproom as part of their current expansion. The beers, primarily lagers, are now making their way to Rocky Mountain states and just arrived on the East Coast; they're also now being served in Canada. The taproom allows Orlison to experiment, especially with non-lager creations, and get customer feedback before putting a new beer onto their canning line. (MB)
NOTABLE BEERS:
Havanuther (4.1% ABV)
Clem's Gold (5.3% ABV)
IPL India Style Lager (7% ABV)
Lizzy's Red (5.5% ABV)
Pilsner 37 (6.6% ABV)
---

PARADISE CREEK BREWING
245 SE Paradise St., Pullman
Founded: 2010
Barrels brewed in 2014: 850
Paradise Creek Brewery is "kind of a big deal" in the Palouse region, doling delicious and hilariously named brews out to the thirsty hordes of college students. A Paradise favorite, Huckleberry Pucker Shandy, and Oh Beehave!, a honey pale ale, are almost out of season, so roll in before the September chill hits. But September also heralds Paradise's new seasonal addition, Alpha Madness. This fall, 160 pounds of fresh hops will ferment into a once-a-year, super-special brew, loaded up into the truck and dumped into the batch within the same day. Named after the enzyme in beer that produces the bitter taste, Alpha Madness is sure to jive with the great selection of timeless beers of this staple Palouse brewery. (SM)
NOTABLE BEERS:
Paradise Hoe (5.2% ABV)
Postal Porter (6.6% ABV)
Over the Hop IPA (7.0% ABV)
MooJoe Coffee Milk Stout (5.4% ABV)
Pokerface Blonde (6.5% ABV)
---

PERRY STREET BREWING
1025 S. Perry, #2
Founded: 2014
Barrels brewed in 2014: 300
Perry Street Brewing has steadily grown into a must-stop for Inland Northwest beer lovers. The airy space the brewery calls home has tall ceilings, lots of wood and large windows — some of which open up to a patio that gives drinkers a great view of the vibrant South Perry neighborhood. Founder and brewer Ben Lukes notes that "we have the rocking patio with the sun cover now," an important addition for the brutally hot dog days of summer. As for what's flowing from Perry Street's taps, Lukes says he doesn't expect to be taking his beer into massive distribution mode any time soon, but he's looking to get it in a few more spots, specifically on the north side of Spokane, and in addition to his regular rotation of beers, "we're doing one-offs all the time." (DAN NAILEN)
NOTABLE BEERS:
Czech Pilsner (5.3% ABV)
Saison (4.4% ABV)
IPA (7.0% ABV)
Milk Stout (5.1% ABV)
Pale Ale (5.1% ABV)
Scotch Ale (7.2% ABV)
---

REPUBLIC BREWING CO.
20 Clark Ave., Republic, Wash.
Founded: 2011
Barrels brewed in 2014: 350
Beyond the giant overhead doors, 20- and 30-somethings bend elbows next to stodgy old men and their dogs. Behind and above the bar, 370 mugs of different shapes and styles hang, each on its own hook. They're for the regulars. If you want one, you have to put your name on the list.
The operation is small, but that's a conscious decision, says Emily Burt, who owns the place with her husband. "We want to bring people to Republic," Burt says. "Our motto is a pint and a place worth the drive." Try the toasty, tart, award-winning porter, or the slightly citrusy pale, which are always on tap. If you're lucky, you'll catch the Flying Cloud Tripel on rotation. (MITCH RYALS)
NOTABLE BEERS:
Republic Pale (5.8% ABV)
Brush Fit Brown (4.5% ABV)
Big Mischief Porter (6.5% ABV)
Krohnies Bliss Kolsch (5% ABV)
Livewire IPA (6.2% ABV)
---

RIVER CITY BREWING
121 S. Cedar St.
Founded: 2012
Barrels brewed in 2014: 1,000
River City Brewing has earned the loyalty of local craft beer drinkers with their consistent quality and friendly taproom, and it's been keeping them busy — the brewery has been winning awards at beer festivals left and right. Their staple River City Red won gold in the American Amber Ale category at the 2014 Washington Beer Awards, and their Congratulator Doppelbock won silver in the American Strong Ale category at the WBA this year. They're about to roll out distribution of their most popular beers in southern Idaho, and they've also been experimenting with new styles, like nitro beer and wine barrel-aged Huckleberry Ale. They're hoping to begin bottling brews by the end of the year, and plan to ramp up production to 1,200 to 1,500 barrels in the next year. (LR)
NOTABLE BEERS:
River City Red (5.6% ABV)
Girlfriend Golden Ale (5% ABV)
Huckleberry Ale (5% ABV)
VB Stout (5.5% ABV)
River City Root Beer (0% ABV)
---

ROCKY COULEE BREWING CO.
205 N. First St., Odessa
Founded: 2002
Barrels brewed in 2014: 475
Like many residents of of Odessa, Zach Schafer is a descendant of the Germans who've farmed wheat outside the small town for a century. So when his father decided to start a brewing operation after retiring, he wanted his ales to reflect his roots. Schafer, who took over managing Rocky Coulee Brewing when not helping out with the farm, steers clear of the hop-heavy brews common in the Northwest, instead of churning out distinct wheat-based, German-style ales. The brewery makes a blonde using honey from bees produced from fireweed. Considered the "champagne of honey" by beekeepers, it gives the ale a smooth sweetness and higher alcohol content. Rocky Coulee also makes other relatively unique libations, including a cream ale and a Dunkelweizen, a German-style ale made from dark wheat and bavarian hops that's surprisingly light for its color. (JT)
NOTABLE BEERS:
Fireweed Honey Blonde (7.2% ABV)
Golden Lite Summer Ale (5.5% ABV)
Creamed Copper Ale (6.4% ABV)
Brown Ale (6.6% ABV)
Dunkle (5.8% ABV)
White Out Winter Ale (seasonal) (6.5% ABV)
---

SELKIRK ABBEY BREWING COMPANY
6180 E. Seltice Way, Post Falls
Founded: 2012
Barrels brewed in 2014: 500
If your soul is in need of a little cleansing, head to Selkirk Abbey and enjoy a pint of Guilt. As you savor the flavor of DOMA coffee in this Belgian-style porter, think about what you've done. Then, with images of angels peering down at you, let yourself off the hook: forgiveness is a virtue and you're in an award-winning brewery. They just traded in two 15-barrel fermenters and will continue producing their award-winning Belgians in fermenters that have double the capacity. The brewery will be releasing their only non-Belgian, Selkirk Grace, next month, and a batch of Saint Joseph — an imperial saison that isn't brewed every year — will be ready around the holidays. (HK)
NOTABLE BEERS:
Chapel (4.9% ABV)
Deacon (5.5% ABV)
Infidel (8.2% ABV)
Guilt (8.3% ABV)
---

SLATE CREEK BREWING CO.
1710 N. Fourth St., Suite 115, Coeur d'Alene
Founded: 2013
Barrels brewed in 2014: 300
In 2013, brothers Ryan and Jason Wing turned an old car wash into a brewery, creatng a secret watering hole for local craft beer "explorers," much like the little-known North Idaho tributary that Slate Creek Brewing Co. is named after. Two and a half years later, it seems the cat's out of the bag. Their popular brews, which all have names that keep with the brewery's earthy-rustic vibe, will begin statewide distribution in the next few months. Crowd favorites include the Norse Nectar Juniper Ale and the Mountain Hop Imperial IPA. The atmosphere is relaxed and the staff is friendly — it's no wonder that readers voted it North Idaho's Best Brewery in the 2015 Inlander Readers Poll. (LR)
NOTABLE BEERS:
Norse Nectar Juniper Ale (5.7% ABV)
6 Weight IPA (6.3% ABV)
Salmon Run Irish Red (5% ABV)
Double Black IPA (7.5% ABV)
---

SQUARE WHEEL BREWING COMPANY
4705 N. Fruit Hill Rd.
Founded: 2015
After more than 30 years as strictly a winery, Arbor Crest Wine Cellars has finally dipped its toes into the brewery scene, and they're off to a promising start. Square Wheel Brewing Company, named after the historic red tractor at the Cliff House Estate, is owned and operated by Arbor Crest's Mielke family at their wine production facility. The beer became available at the winery earlier this month. John Mielke, a self-taught brewmaster, is spearheading the effort, and he says the beer has received positive feedback so far. For now, the beer will only be available at the weekly evening concerts (Thursdays and Sundays), but Mielke says they plan to work their way up to a full-fledged tasting room that'll serve beer whenever the winery is open. (LR)
NOTABLE BEERS:
Square Wheel IPA (7.3% ABV)
Royal's Red (5% ABV)
Mildred's Blonde (4.5% ABV)
---

STEAM PLANT BREWING CO.
159 S. Lincoln
Founded: 1999
Barrels brewed in 2014: 620
Not long after the property was turned from an industrial behemoth to a proudly preserved icon of the Spokane skyline, Steam Plant Brewing Co. started making beer there. Patrons of the brewery — located at the bottom of a flight of stairs, smack-dab in the center of the plant, where the afternoon sunlight illuminates the bar top from the cathedral-like atrium above — can even take a peek through an observation window to see Steam Plant's 10-barrel system at work. With a lineup of standard faves always on tap, like the popular Double Stack Stout, enjoy a pint at the bar, in a growler to go or get a keg for your next big get-together. (CS)
NOTABLE BEERS:
Blonde Ale (4.5% ABV)
Firebox IPA (5.8% ABV)
Cutter's Pale Ale (5.2% ABV)
Double Stack Stout (6.4% ABV)
Highland Scottish Ale (5.8% ABV)
Big Brick Brown Ale (5.6% ABV)
---

TRICKSTER'S BREWING CO.
3850 N. Schreiber Way, Coeur d'Alene
Founded: 2012
Barrels brewed in 2014: 900
Trickster's is off the beaten path in an industrial area of Coeur d'Alene, but expertly crafted brews and word of mouth have kept the tasting room busy since its opening three years ago. The brewery, named after the havoc-wreaking "trickster" coyote demigod of Native American folklore, is sleek and cool — perfect for a pint or two in the summer. Owner Matt Morrow got his start in the booming Colorado brewing scene, and it's clear he's brought some of that excellence to the Inland Northwest. His Bear Trap Brown English brown ale won a bronze medal from the North American Brewers Association this year, and three of his most popular brews will soon be distributed across Eastern Washington and Northern Idaho. (LR)
NOTABLE BEERS:
Cougar Bay Blonde (5.2% ABV)
Hipster Juice Session IPA (5.7% ABV)
Inspector Stonewall Amber Ale (5.6% ABV)
Coyote Morning IPA (5.2% ABV)
Bear Trap Brown Ale (4.9% ABV)
---

TWELVE STRING BREWING CO.
11616 E. Montgomery Dr., Suite 26, Spokane Valley
Founded: 2011
Barrels brewed in 2014: 800
Given the name of his craft-brewing operation, the instrument-filled décor of his vibrant Spokane Valley tasting room and the labels on his wide array of beers — Jam Session IPA, Drop D Stout and the like — Terry Fackler clearly has a maestro's approach to his product. That tasting room typically keeps about 18 beers on tap, ranging from year-round favorites to adventurous experiments with fruits like mango, dry hops and barrel aging. Soon, 12 String will be found at far more locations across the Inland Northwest, thanks to a new focus on distribution and a new Spokane Valley location Fackler recently bought that will also facilitate bottling a few 12 String favorites when it's up and running. (DN)
NOTABLE BEERS:
G-String Blond (4.5% ABV)
Archtop Amber (5.5% ABV)
Arpeggio Pale Ale (4.7% ABV)
Jam Session IPA (6.6% ABV)
Don't Fret Porter (5.5% ABV)
---

WADDELL'S NEIGHBORHOOD PUB
6501 N. Cedar
Founded: 2013
Barrels brewed in 2014: 675
For Waddell's Neighborhood Pub & Grille, size matters. Look around the vast Five Mile location, and you see a huge restaurant, a long bar, an extra room that opens to the outdoors. Look at a beer menu, and you find a lengthy array of beer styles, offering something flavorful for virtually every type of beer sipper. Brewmaster Bryan Utigard says he plans on doubling the brewery's output in the coming year, as soon as three new fermenters are brought in to match his ambitions. In the meantime, his beer is slowly spreading through the region, most recently in North Idaho, available in "all the major places around Spokane where you find great beer." And next year, he's hoping you'll find cans of Waddell's beer in stores as well. (DN)
NOTABLE BEERS:
Punxsutawney Pilsner (5.0% ABV)
Vienna Lager (5.0% ABV)
Fireman's Amber Ale (5.0% ABV)
Left Hook IPA (7.0% ABV)
Scotch Ale (6.0% ABV)
South Paw Pale Ale (5.5% ABV)
Alligator Stout (6.85% ABV)
---

WALLACE BREWING COMPANY
610 Bank St., Wallace, Idaho
Founded: 2008
Barrels brewed in 2014: 900
Wallace, Idaho, has always appreciated its beer as well as its women. At the Wallace Brewing Company tasting room, the two come together in a tasteful, albeit cheeky, manner. The renovated downtown space offers an up-close, windowed look at the brewery as well as old-school pin-up pictures along its walls. General manager Chase Sanborn says his beer is a celebration of the Silver Valley; all of the hops come from his own farm in Wallace, and the 28 pounds of huckleberries used in every batch of Huckleberry Shandy are sourced locally. Sanborn says expansion has been a continual process since inception, and Wallace's beers can be found throughout Washington, Idaho and Montana — including Total Wine & More in Spokane. (LJ)
NOTABLE BEERS:
Idaho Select Lager (4.5% ABV)
Huckleberry Shandy (3.25% ABV)
Red Light Irish Red (5% ABV)
1910 Black Lager (4.9% ABV)
JackLeg Stout (4.2% ABV)