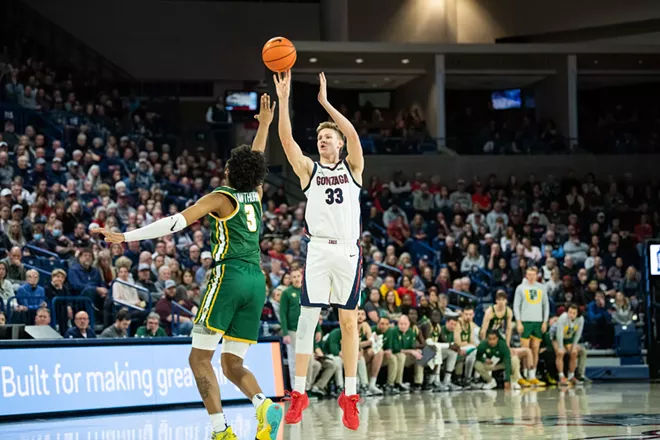 T
he college basketball offseason
used to be a rather straightforward affair. Seniors would move on while juniors, sophomores and freshmen would return.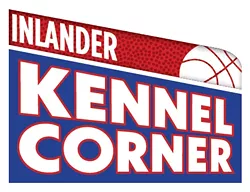 Now though, the offseason is almost as busy as the season itself. Players can test the waters with the NBA Draft before deciding to return to college. Transfers — of which there will be well over 1,000 — have become coveted commodities since the NCAA changed its rules so these players no longer have to sit out for a season. Programs will bend over backwards to land them, or scramble to replace them when they're on the other end of the deal. Knowing that, what does the offseason look like for the Gonzaga men from a roster-building perspective? Who's leaving, who's returning, and who are the new names to know?
THEY'RE GONE
It's still early in Gonzaga's offseason, but we already know a few players won't be returning to campus in the fall. When the Zags' season ended last Saturday, the only player who absolutely could not return to the team next season was Rasir Bolton. As a fifth-year senior, Bolton's collegiate eligibility has run out. He's not the only one who won't be returning, however. Drew Timme told
The Athletic
's Seth Davis in February that he would be moving on after this season, and his postgame comments after the Elite Eight reinforced his position. Timme could return for a fifth year, but that would require changing his mind about something he seems set on. Then there are sophomores Hunter Sallis Dominick Harris. Both are just sophomores, but already done with Spokane. Sallis was a five-star recruit as a high school prospect who looked poised for a considerably bigger role next season. A rotation player this year who brought tenacity on the defensive end, Sallis showed flashes of his explosive athleticism on the offensive end as well. Many fans around the program were tantalized by his potential and clamored for more playing time. He'll get that playing time next season, just not in a Gonzaga uniform. Like Sallis, Harris was a highly touted recruit coming out of high school as well, but Harris never found his way into the rotation. He missed all of last season with a foot injury, which hampered him in practice until just before the start of this season. That certainly didn't help his quest for playing time this season. Harris announced on Thursday that he will be transferring out of the program.
ARE THEY GONE?
Zag fans have to wait to learn the fate of three key players. Anton Watson, Malachi Smith and Julian Strawther have legitimate professional prospects, but each has at least one additional year of collegiate eligibility. Combine that eligibility with the new rules allowing college players to earn money on their name, image and likeness, and these three have some serious financial considerations to weigh about where they spend next season. Strawther might be the most straightforward of the three. He's the youngest, just a junior, but the most NBA-ready. NBADraft.net projects Strawther as a late first round pick. If they're correct, Strawther would be guaranteed two years of NBA money. That's a hard offer to pass up. Things get more complicated for Watson and Smith, who both were honored on Senior Night during the team's final home game of the season. Watson's spent four years at Gonzaga, but he's got one year of eligibility left. His NBA prospects aren't great right now — NBADraft.net has him as the No. 81 prospect in this year's draft class, but there are only 60 picks. As a Spokane kid, Watson could potentially earn more in endorsements at Gonzaga than he would as a rookie overseas. Smith is in a similar position to Watson, he's just older. He's eligible for another season, but because of a redshirt year in his second collegiate season, he's already spent five years in college. Another complicating factor for Smith is that he's entered his name into the NBA Draft twice already, in each of the past two years. The NCAA allows players to enter and withdraw from the NBA Draft, but only twice. If Smith enters his name again this year he'd lose his remaining collegiate eligibility as soon as he declared.
WHO'S NEXT?
With the potential for so much roster upheaval, opportunities abound for rotation players looking to increase their roles. Ben Gregg's a virtual lock to step into the starting five as a forward. Former five-star recruit Efton Reid should get minutes at center as well with Timme and potentially Watson's departure. Gregg's ability to stretch the floor from beyond the arc would pair nicely with Reid's more old-school style of post-anchored center play. Nolan Hickman was the starting point guard all season, so for now we have to assume he'll retain that role next season regardless of what many fans may think about his play. This is especially true after Friday afternoon's news of Sallis entering the transfer portal. Then there are the new guys that Zags fans need to know. Korean forward Jun Seok Yeo joined the program in the middle of this season, but wasn't officially added to the roster — he traveled and practiced with the team but did not play. The will-be sophomore has been a star on his country's youth national teams. In 2019 at the Under-19 World Cup, Yeo averaged 25.6 points and 10.6 rebounds per game, first and second among all players in the event, respectively (outscoring the likes of Victor Wembanyama, Zach Edey, Azuolas Tubelis and Jaden Ivey). He dropped 21 points against some guy named Chet Holmgren in Korea's game against the United States. Like Yeo, Braden Huff spent this past season practicing and traveling with the team but not playing. A four-star prospect coming out of high school in Illinois last year, Huff is a prototypical modern big man who is strong on both ends down low but has the speed and skill to operate on the perimeter. Gonzaga's two-man freshman class of Dusty Stromer and Alex Toohey doesn't jump off the page like recent classes led by one-and-done prospects like Holmgren and Jalen Suggs, but it is strong nonetheless. Stromer, a 6-foot-6 wing, is rated as a four-star prospect by
247Sports
. According to their data, he's the sixth-best prospect in Gonzaga recruiting history. The guy who was sixth before Stromer? The program's new-GOAT, Drew Timme. Stromer's strength, shooting and ability to attack off the dribble give him a good shot to step in right away and replace Strawther on the wing. Another four-star prospect, Toohey is an undersized power forward from Australia where he ranked as the top recruit in the country. With a potential logjam in the frontcourt, Toohey might not be asked to contribute much in his first season.
ANYONE ELSE?
The Zags have been finding consistent success with transfers since before it was cool. With so much turnover this offseason, they'll need to mine the transfer portal once again, and rest assured that they are. Reports have linked Gonzaga to multiple transfer prospects, most notably Tulane point guard Jalen Cook and Oregon center Kel'el Ware. As a sophomore this season, Cook averaged 20 points and 5 assists per game running the point for Tulane. Ware didn't put up big numbers for Oregon as a freshman, but the five-star recruit was ranked as a top-10 prospect in the country coming out of high school.
Updated Mar. 31 at 5pm after news of Hunter Sallis transferring broke.