OK, there's really no wrong way to do happy hour. If you're at a drinking establishment and imbibing something that helps melt away the stress of the workday, then you're on the correct course.

But now, with just about every restaurant, bar, pub and café offering some sort of deal during the day, happy hour has become a bit more complicated. Here are a few lessons on how to drink (and eat) for cheap around the region that you can tuck away for your next afternoon out.
Classy eats, but on a budget
On a budget? Want to check out some of the region's more upscale restaurants you've heard and read so much about, but thought you could never afford? Here are four upscale restaurants turned accessible by happy hour.
LAKE VIEW LOUNGE
On the seventh floor of the Coeur d'Alene Resort tower, happy hour runs daily from 4 to 6 pm, and again from 9 to 11 pm on Friday and Saturday nights. Specialty cocktails are $3 off the regular price of $13. And where else can you try escargot for $6?
115 S. Second St., Coeur d'Alene
LUNA
Enjoy daily happy hour from 4 to 6 pm, featuring $4 steak sliders, $6 mini pizzas and sharable frites ($7) flavored with parsley, garlic and shallots. Add a $5 glass of wine or a $2-off cocktail like the Ginger Smash.
5620 S. Perry St.
SAFARI ROOM
The Davenport Hotel Tower's high-class, animal-print-themed restaurant has happy hour daily from 4 to 6 pm. It offers half off its popular flatbreads, a menu mainstay boasting versions like spicy shrimp, Thai chicken and mushroom fontina. Drinks from the bar — beer, wine and cocktails — are also half-price.
111 S. Post St.
MAX AT MIRABEAU
Daily from 3 to 6 pm, then again from 9 pm to close, the restaurant offers half-off select appetizers as a regular special and offers a rotating special each day of the week. Tofu Tuesday features $5 tofu sliders and $5 sake shots.
1100 N. Sullivan Rd., Spokane Valley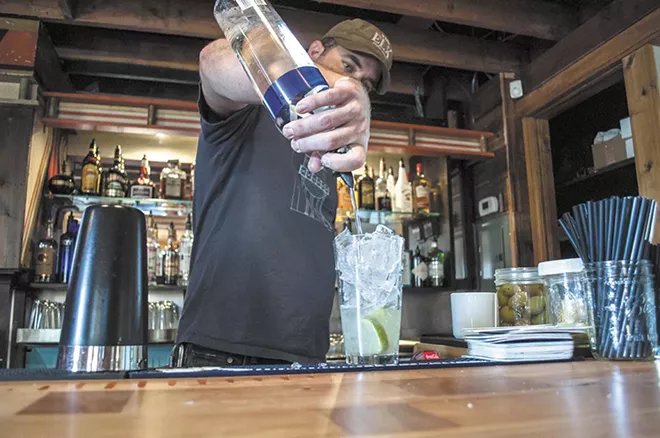 For the beer fans
Craft breweries and area bars that serve local product are no strangers to providing great deals at happy hour, or per brewery tradition, on a special day of the week.
NO-LI BREWHOUSE (1003 E. Trent Ave.) offers a daily happy hour where they take $1 off a pint or $2 off a pitcher of their beers; on Sundays, growlers get filled for $3 off all day long. At IRON GOAT BREWING CO. (2204 E. Mallon Ave.), a mere $10 on Tuesdays lets beer lovers fill a growler with any beer available on tap. TWELVE STRING BREWING CO. (11616 E. Montgomery Dr., Suite 26, Spokane Valley) offers $10 growler fills of its assorted styles every Tuesday at its Spokane Valley tasting room; buy a pint on Monday and they'll give you pizza to go with it.
PERRY STREET BREWING (1025 S. Perry St.) takes a dollar off every pint on Tuesday nights, and has $10 growler fills all day Sunday. STEAM PLANT BREWING CO. (159 S. Lincoln St.) offers happy hour all day on Sundays, in addition to daily deals from 3 to 6 pm.
GENO'S (1414 N. Hamilton St.) hosts a Keep the Pint night every Tuesday, when a different brewery offers deals, and you get to keep the glass. BON BON (926 W. Garland Ave.) has craft brews on tap and offers $1 off all beer during its nightly happy hours, and all day Sunday.
The tall can
There's a tactile gratification that comes from just holding a 16-ounce can of beer in your hand after a long day. It's cold, dripping with perspiration and just heavy enough to let you know that there's more beer in there than your typical aluminum vessel.
The beer inside, however, is not fancy. Occasionally, you'll see the craft tall can, but by and large, the tall can delivers your beer cheaply and conveniently, though not necessarily with an eye on quality.
Our local bars know there's a desire for this specially sized beer, so don't fret. NYNE BAR AND BISTRO (232 W. Sprague Ave.) carries the holy triumvirate of PBR, Olympia and Rainier (as well as Guinness) in 16-ouncers. You can find a PBR tall can stacked inconspicuously between other bottles and cans at THE BACKYARD PUBLIC HOUSE (1811 W. Broadway Ave.), where it's just $2.50 at any hour.
You can also get either PBR or Rainier at GENO'S (1414 N. Hamilton St.) near the Gonzaga campus. You won't look fancy holding one of these in your hands, but that hasn't stopped spots with high-end culinary reputations from keeping cans on stock. You can order Rainier to accompany fabulous food at places like RUINS (825 N. Monroe St.), CASPER FRY (928 S. Perry St.) and DURKIN'S LIQUOR BAR (415 W. Main Ave.) without having to apologize to anyone.
Late night treats
The term "happy hour" doesn't only apply to the afternoon. The emergence of late-night happy hours is a welcome trend in the restaurant industry
The late-night happy hour is a surging phenomenon, as bars hope to keep their stools occupied a bit longer with the promise of drink and food discounts. It's hardly an isolated fad, as evidenced by the wide range of establishments getting happy later into the night. MACKENZIE RIVER PIZZA, GRILL & PUB (818 W. Riverside Ave., 2910 E. 57th Ave., 9225 N. Nevada St.) features an eye-catching post-dinner happy hour (8-9 pm) offering $2 well drinks and $3.50 pints, as well as an expansive appetizer menu full of the sort of food that goes well with a good beer.
There's also STEELHEAD BAR & GRILLE (218 N. Howard St.) where, between 9 and 11:30 pm, you can get a massive schooner of beer for just $6, as well as discounted cocktails and wine. If you're not sure what to eat, ROCK CITY GRILL (808 W. Main Ave., Suite 106) has a big, diverse food menu. Stop into HUGOS ON THE HILL (3023 E. 28th Ave.) after 10:30 pm on Fridays and Saturdays (9:30 on other nights) for $3 pints, $3.50 wine and half-priced appetizers.
Stop by TWIGS BISTRO (808 W. Main Ave., 3rd floor; 4320 S. Regal St.; 401 E. Farwell Rd.; 14728 E. Indiana Ave., Spokane Valley) and get one of their renowned martinis for just $6, in addition to other specials. THE OVAL OFFICE (620 N. Spokane St., Post Falls, Idaho) at the White House Grill features $5.50 martinis and a robust appetizer menu.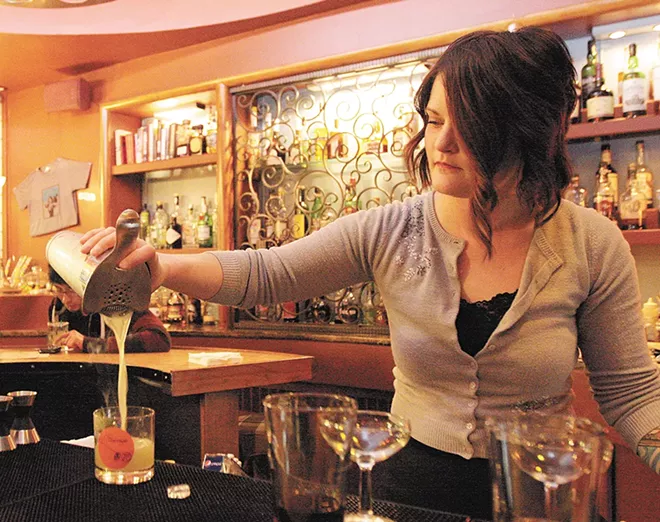 The power deals
We probably shouldn't be telling you about these Spokane happy hour deals. They aren't free, because free beer doesn't actually exist, but these deals are the next best thing.
MOOTSY'S (406 W. Sprague Ave.) is one of the country's biggest sellers of PBR (owner Daniel Sanchez says they ranked No. 33 nationally in 2014); they sell it for $1 every Wednesday and Sunday from 2 pm to 2 am. In addition, there's a $2 draft special every Friday until 9 pm.
Moving on to PACIFIC AVENUE PIZZA (2001 W. Pacific Ave.): Beat the crowds and show up early on Tuesdays for a stellar deal of $2 drafts and $2 slices. That's $10 for two people to share three slices and a couple of beers. At REVOLVER (221 N. Division St.), a bar and lounge on the eastern edge of downtown, you'll want to keep Thursdays in mind — all domestic beer is $1.
FAMOUS ED'S (2911 E. 57th Ave.) has "prime time" — Monday through Friday, the family restaurant offers insane deals from 3 to 4 pm: $1 for a domestic pint, $2 for micro pints, $2 for house wine, and $2.25 for well drinks.
The downtown karaoke bar MONTEREY CAFÉ (9 N. Washington St.) hosts a daily "power hour" from 8 to 9 pm, featuring $1 Coors Light cans, $1 Fireball shots and $3 Long Island iced teas, all of which are sure to make your singing sound even better... at least to your own ears.
Geno's offers deals every Tuesday featuring a different brewery.