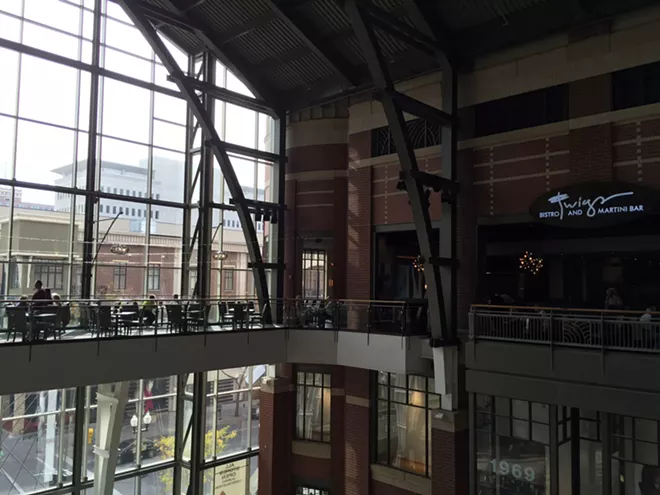 After an extensive renovation
Twigs Bistro in River Park Square
has re-opened, boasting a 1,200 square foot "landing" that overlooks Post Street and the mall atrium. Interestingly, the far end of the landing connects with the part of the food court where Twigs was originally located in
River Park Square
.
According to the bistro and martini bar's Director of Operations Casey Curtis, the new landing provides guests
with a fantastic dining experience and great views of the mall and the city of Spokane.
"The biggest change is the different sight lines and the views," Curtis said. "There are things that we're not used to seeing at Twigs, and now there are plenty of different spots you can sit in, not just on the landing. You can view into the mall, you can view out into downtown Spokane, and then as the holidays roll around, the tree will be right here as well."
The renovation also included significant improvements to the bar and lounge areas, Curis said.
"A lot of people are really excited about the lounge. It's very inviting, there are TVs and it's cozier than our previous lounge was," he said. "We expanded the bar as well. There used to only be six tables in the lounge and about 12 seats at the bar, and now there are 19 tables in the lounge and 20 seats at the bar top."
Already a popular place to get a bite or have a drink, Twigs at River Park Square just stepped up their game big time. The restaurant is now open and fully operational, and the landing is available for seating on a first come, first serve basis.