It's noticeably delicious, but you'd be forgiven for not regarding Tony Brown's halibut dish as life-changing at first glance.
He agrees. It's simple upon inspection — a spice-encrusted piece of halibut in a mushroom sauce and accompanied with potatoes and fresh herbs — but the dish was transformative for Brown, the owner of Ruins who's known as one of Spokane's most adventurous chefs.
In 1999, at 23, Brown had arrived in Chicago equipped with dreams of an architecture degree and not a whole lot of money. He did, however, have experience cooking in the kitchens of Spokane restaurants and that was enough currency to get him a job at Vong's Thai Kitchen, an instant hit of an eatery that would go on to launch the careers of celebrity chefs like Top Chef stars Stephanie Izard and Dale Levitski, among other culinary stars. Brown was the only one in the kitchen without culinary school experience and was immediately expected to make Thai-inspired food with French techniques.
"I get in there and everyone is throwing out French terms I'd never heard," Brown recalls, sitting at a table in the 38-seat Ruins near the Spokane County Courthouse as his kitchen preps for the evening's dinner service last week. "But I told them I could learn quickly, and I did."
Of the three dishes he oversaw, one was the halibut. Again, it's simple to look at, but in its preparation, Brown had a moment where he felt he really understood cooking. He didn't get goose bumps and a light didn't shine down from the heavens, but he'd turned a corner.
"Before, I had been chopping onions and tomatoes and just kind of throwing it in a pan and cooking it. This was the first [dish] that was really refined," says Brown. "Every little component had a purpose. It took all day to prep everything, but then during service it was done. It was the first time I realized that prep is probably the most important part of the cooking process."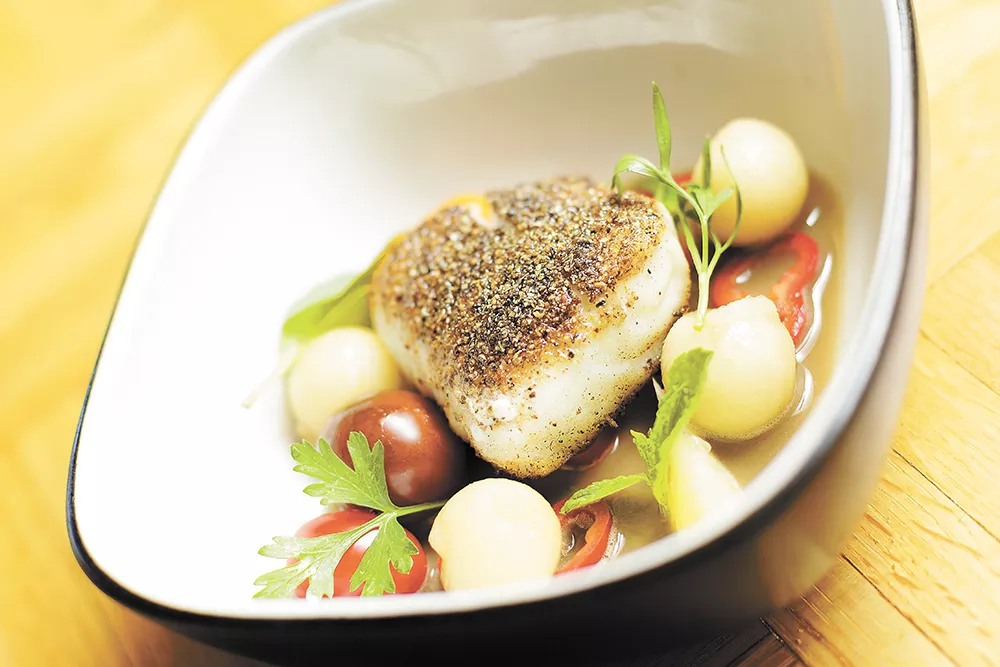 The mushroom sauce alone requires Brown to dehydrate mushrooms and then rehydrate them in sherry vinegar and chicken stock before cooking it down with brown butter and lemon juice. It's six hours before the sauce is ready. He toasts the fennel seeds, cumin, coriander and bay leaves that make up the spices on the halibut. The herbs are carefully selected, as are the potatoes or, sometimes, edamame that round out the dish.
He cooks the halibut, spice side down, in a pan before sending it into the oven. Others might fire it up in a pan, but that would compromise the flavors, he says. Again, it's about patience.
"You're used to cranking up all the fire. My cooks will attest to this — anytime there's any fire in the kitchen, I tell them to throw it away. The fire is getting into the food," Brown says. "There's something to be said for cooking everything at the temperature you're supposed to be cooking at. If you want it to taste good, you need to take time and that might mean low heat."
Brown is patient when it comes to the kitchen process, but the same can't be said about his menu or his business practices. Currently at Ruins, the restaurant is rotating its menu every week for an entire year, from, say, Russian-influenced cuisine one week to Greek the next. They're open to any suggestions for a featured week, if you have them. Brown says he gets bored easily, and that's why his halibut dish, although beloved, isn't on the menu right now and might not be for some time. When he got tired of cooking at Mizuna, he opened Stella's, the gourmet sandwich shop named after his 12-year-old daughter. When that became routine, he opened Ruins. He's hoping he doesn't get bored with this latest venture.
But if Brown were to move on again, which he doesn't think he will anytime soon, he'd engineer even more of his cuisine from the ground up.
"My dream someday is to have my own farm," he says. "But I like the idea of a chef owned farm where you have 12 seats and you cook for those people every night. And you tell them, 'I grew this, I raised that.'"
For a guy who appreciates the process of cooking, a farm seems the next logical step. It's an admirable quality in a chef — quality over all else, even at times over efficiency. And it all goes back to that kitchen in Chicago and a seemingly simple halibut dish.
"It was the first time that I realized how much went into cooking," says Brown. "From then on, I just wanted make food, no matter how long it takes, but it's going to taste good." ♦