If you aren't privy to the world of video games and emerging technology, you might not think about virtual reality very often. In fact, you might have never given it a thought. Anna Czoski and Lew Strachman of NovaWake Studios are giving Spokane, along with the rest of the world, a reason to consider the exciting new technology that is virtual reality.

"One misconception that we run into is that [virtual reality] is for gamers or only people who like video games. It's a new medium just like TV, just like movies, or Broadway shows. You don't have to be a certain demographic to watch a movie," says Czoski.
The founders of NovaWake Studios, a local Spokane startup, aim to transform the way we consume media through the endless possibilities of virtual reality. They have been operating with a small team out of the
Turner Mansion building
on East Illinois Ave. since April, developing new virtual reality experiences for the local community and a broader audience as well.
"We're thinking local and global all at the same time," expresses Czoski. "We're making experiences for everybody across the globe and in Spokane. It's exciting to be able to introduce this new medium into the city."
Strachman adds, "There's no question that this medium is a new way of viewing material, a new way of viewing content and it's even difficult to understand what it is because there are ways of communicating that we're just experimenting with right now."
These experiences are made available to the Spokane community in what the team is calling the Time Traveler Lounge, which,
according to Fandango
, is the first virtual reality theater in the entire country. "They had to create a new category for us just so they could post us," Strachman proudly exclaims. "Virtual reality doesn't really exist yet in the sense that nobody can see it, except here at the lounge."
Upon entering the lounge, viewers have the opportunity to purchase drinks and snacks before settling into their virtual reality experience, and can then choose their desired escape. Engage in a full body immersive experience, dodging missiles, shooting asteroids while floating in a cosmic-colored galaxy in the game
Nova Asteroids
. Or, sit back and explore radiant glimmers of light within a dark and mysterious cave to the sound of an original composition in
Gravity Compass
. Czoski and Strachman once again reiterate that these are experiences that anyone, not just gamers, can enjoy. "At Terrain 8 we showed
Gravity Compass
, and it was a more relaxing meditative experience, mostly passive but there are still interactive elements, and so those people maybe have never played a game before, but they loved it because it was an escape."
A short escape from our own realities is an enticing offer of virtual reality, but this escape isn't available without the creative talents and hard work of developers working on the other side. While Strachman has roots in the technology industry and Czoski in 3D graphics, both express a deep appreciation of art as being the heart and soul of what they do.
"We love art. We love making art. We love creating things that stimulate emotion and feelings."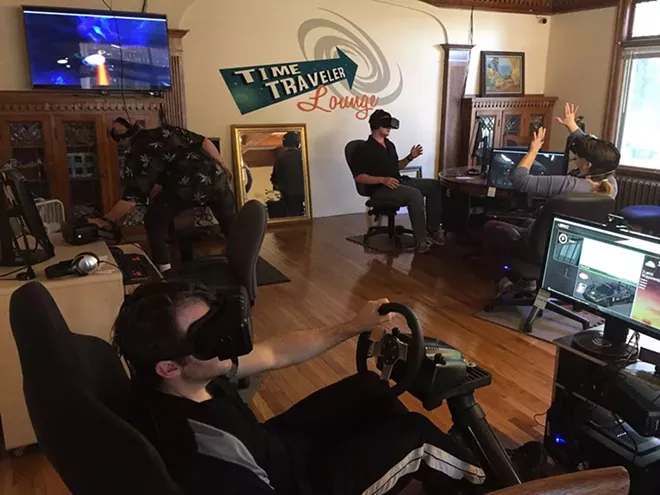 If you want to support these artists and experience virtual reality first hand, the folks over at NovaWake Studios are hosting a number of events to introduce the community to the world of VR.
This Thursday, Friday and Saturday evenings the Time Traveler Lounge hosts a "Beer Tasting with Virtual Reality Entertainment" event, starting at 7 pm. $15 for VR, $10 for beer sampling.

Friday, Nov. 27, the lounge presents an "Escape Reality" night from 5-9 pm with access to all VR experiences for $15.

Saturday, Nov. 28, the lounge hosts a family friendly "Board Game" night from 5-9 with a variety of games and virtual reality viewing experiences. $5 for one VR experience or $15 for multiple experiences.

The studio is located at 1521 E. Illinois Ave. #100.