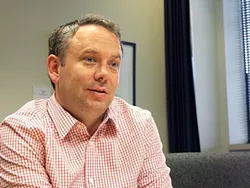 ON INLANDER.COM

Former Zag Kelly Olynyk goes viral again, and this time it's actually for basketball.

OTHER HEADLINES
•
Condon condemnation
A fourth ethics complaint has been filed against David Condon for how he handled the sexual harassment complaints against Frank Straub.
This one
comes from
local
chapter of the National Organization for Women, and hits Condon for failing "in his responsibility to provide a safe work environment for the women of the Spokane Police Department and, by extension, all women who work for the city of Spokane." (Spokesman-Review)
•
Neighborhood watch
A Spokane neighbor stopped a package
Christmas package thief
, and caught it all on camera. While KXLY has reported the man was a "Grinch," all indications continue to suggest that he was, in fact, a human being. (KXLY)
•
Used car
A low-income single mom gets her car back from thieves, but it's
very much the worse for wear
. (KREM)

• Ho, Ho, Ho, I have an assault rifle
A drunk driver attempts to thank two Good Samaritans who offered to help them out after he crashed into a barrier, by
pointing an assault rifle at them
. (KREM)
•
Ain't that a kick in the shins

Probably not helping international soccer's reputation for corruption, 75 Argentine team directors
voted for a new leader
— and produced a 38-38 tie. We'll let you do the math.
Okay, fine then. It adds up to 76. (New York Times)
• Dim career prospects

It's rough out there for
human rights lawyers
in China these days. (New York Times)
• Repeat offenders

At least 55 of the law enforcement officers
involved in fatal shootings
in 2015 have been involved in fatal shootings before. (Washington Post)
• Shooting first

Are we
pulling punches
when it comes to fighting ISIS in Syria? Or are we being pragmatic, ethical and wise? Officials debate. (Washington Post)