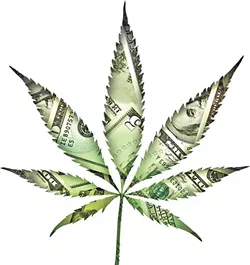 On Monday,
a federal judge heard arguments
on a case that'll have sweeping implications for one of the most vexing problems facing the legal marijuana industry: access to banking services.
At the center of the case is Fourth Corner Credit Union, a Colorado-based credit union set up specifically to provide much-needed banking services to the legal marijuana industry. Since states began relaxing marijuana laws, the nascent industry has had to operate using mostly cash, which has made it vulnerable to robberies and increased the need for security.
Spokane's Numerica Credit Union offers accounts
to marijuana growers and processors and retailers. Over the summer, Oregon's MBank, which catered to the industry,
announced it would stop offering its services
. According to
a survey
from
Marijuana Business Daily
, 60 percent of pot business don't have bank accounts.
With the blessing of Colorado's governor and a state charter, Fourth Corner Credit Union applied for a master account with the Federal Reserve Bank. The bank denied the application after the National Credit Union Administration said it couldn't provide Fourth Corner with insurance,
reports the International Business Times.
In response, Fourth Corner sued.
In court, Mark Mason, lawyer for Fourth Corner, argued that the State of Colorado uses Wells Fargo to deposit its tax revenue, according to the
IBT
, meaning the federal banking system is already servicing pot money.
"The Federal Reserve is not the enforcer of drug laws," he said, according to the paper.
In court, the attorney for the Federal Reserve argued that federal law doesn't even recognize medical marijuana and suggested that this was an issue that should be taken up by Congress, reports the
IBT.
Judge R. Brooke Jackson seemed inclined to support this argument. From the
IBT:
Judge Jackson empathized with Mason, saying, "I think there's a certain unfairness to allowing these big banks to serve this business and keeping you out." He also noted he "wasn't too impressed" with the Federal Reserve's other stated reasons for denying Fourth Corner a master account, such as its lack of deposit insurance and absence of a relationship with an established bank. But he suggested that his decision in the case — which he hinted might be issued fairly quickly — could hinge on the fact that marijuana is still prohibited in the eyes of federal law.
Update: In a follow up email, Numerica spokeswoman Elizabeth Giles noted that the credit union started providing banking services for marijuana retailers in October.